This Couple Made Quite A SAG Awards Statement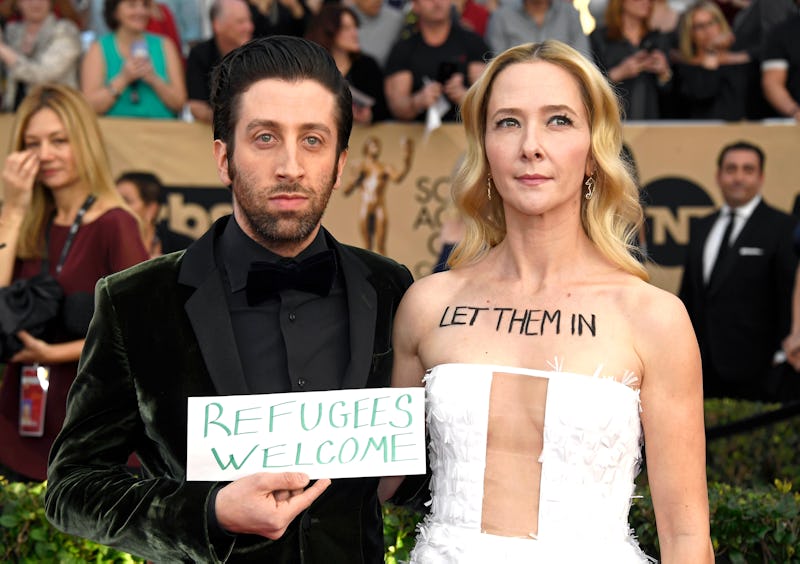 Frazer Harrison/Getty Images Entertainment/Getty Images
While many celebs wore statement-making outfits to the 2017 SAG Awards, Big Bang Theory star Simon Helberg and his actor wife Jocelyn Towne showed their support of refugees on the red carpet, making a literal statement of a different sort. With President Donald Trump attempting to ban immigrants and refugees from entering the country, Helberg and Towne opted to loudly, clearly, and beautifully display their displeasure and disagreement with this bewildering action.
Helberg, wearing a black shirt and tie with a green blazer, carried a sign that read "Refugees Welcome," while Towne had the words "LET THEM IN" scrawled across her chest in black capital letters while wearing a white, strapless, and floor-sweeping dress with a nude center panel between her breasts. Towne certainly didn't need to wear a necklace or a fancy updo to make a statement... because she did one better.
Their joint gesture showed how fashion, and more specifically, fashion-driven events, can make an impactful and powerful statement beyond labels, the ubiquitous "Who are you wearing?" queries, and accessorizing. The couple used this moment to express their thoughts and feelings, which are shared by millions of Americans.
Check out Helberg and Towne expressing themselves eloquently at the 2017 SAG Awards.
Towne's dress was lovely, but her neckline was most memorable.
Fashion spoke at the 2017 SAG Awards. It was as economical as it was impactful.