Little Mix Are To Feminism What The Spice Girls Were To Girl Power & Here's Why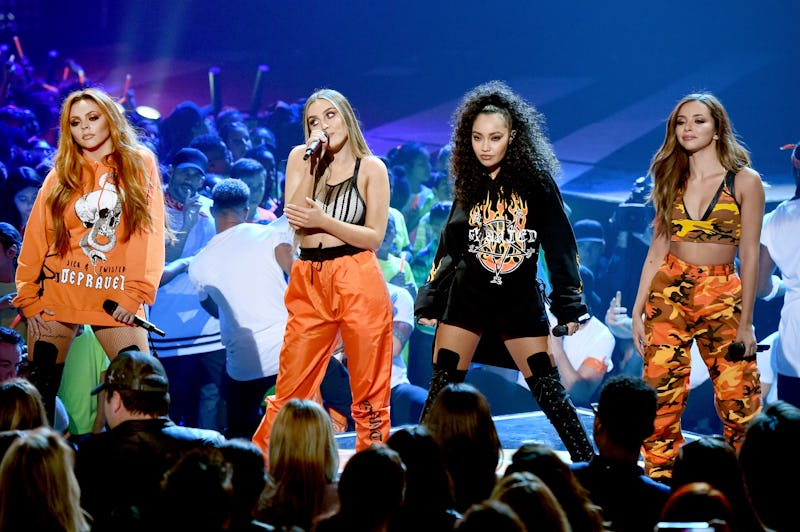 Kevin Winter/Getty Images Entertainment/Getty Images
They dropped their fifth album on Nov. 16 — and it is essentially wall to wall feminist anthems. Little Mix are on fire right now. The four-piece girl group that first came into our lives on X Factor have now been singing together for seven years. Seven years is basically forever in band terms. They're an established group with a clear message — love who you are inside and out. So why aren't Little Mix taken seriously? For people of my generation, who grew up in the '90s, we were blessed with girl power goddesses the Spice Girls, but Little Mix is currently doing what the Spice Girls did for millions of girls around the world. They have taken on the feminist baton and are pushing forward the message of self-love through their music, so why aren't they seen as 'serious' feminists?
Little Mix released LM5 on Nov. 16 and, needless to say, fans went wild. It has already hit number three in the iTunes album chart and it is easy to see why. Tracks like "National Manthem", "Woman Like Me", and "Joan of Arc" all address what it is like growing up female with the patriarchal pressures and beauty standards that still exist within society. The song "Strip" caused a particular stir on social media as Little Mix covered themselves in the abusive slurs they had had said about them and danced alongside other women who they feel personally inspired by, shouting the message loud enough for everyone to hear that you are great just as you are.
However, for some commentators, this is not quite good enough and merely a good faux feminist marketing ploy, an argument that might have stood better years ago — though the band's statements surrounding feminism half a decade ago did indeed leave something to be desired, they've since refreshingly and unabashedly embraced true equality. Other critics, including the Spice Girls' Mel C, have called their stage outfits too "provocative" for their young audiences. The girls have been the first to shut down these critics. In an interview with Attitude magazine, Jesy Nelson said, "You should be able to be whatever kind of woman you want to be. You should be able to wear what you bloody want to wear and rock it. As long as you feel good about yourself, that's all that matters. It just annoys me. We'll wear a leotard and they're like (pulls a face)."
Whilst Little Mix may not be feminist academics, or writers, or politicians, they are four women with a massive platform which they are using for good. They are teaching fans to scrap the patriarchal standards of beauty and behaviour in favour of being yourself and in 2018 that is a pretty positive and powerful statement in my opinion.
Leigh-Anne Pinnock spoke to PEOPLE about the role that sisterhood plays in the band. She said, "Little Mix wouldn't work without one of us. If one of us left, it would be over. We're friends. If anything, we're past friendship. We're sisters." And speaking about the role that the F word plays in the girls music, she wasn't shy to come clean, "I think if you would've asked us a couple years ago, 'Are you feminists?' we probably would've been a little scared of the word. It was weird. But now, we can easily say that we are. And it's not bashing men, it's just believing in equal rights. Now more than ever we want to use this platform to emit a positive message."
Being bold and outspoken about equal pay, clothing, and bullying within the music industry and more broadly, Little Mix are doing the most to make fans feel fierce, powerful, and comfortable in their own skin. The Spice Girls are heralded as feminist icons but Little Mix have taken on that message and ran with it. Whilst they will always have room to grow, at the end of the day they are four women in their mid-20s trying their best and making a massive positive impact. Why shouldn't they been seen as feminist influences?