Ariana Grande's Benefit Concert Is The Perfect Response To Terrorism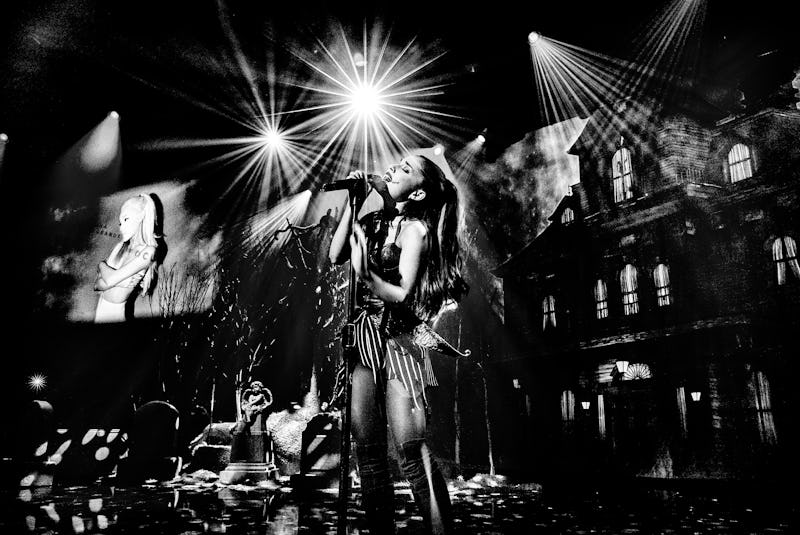 Christopher Polk/Getty Images Entertainment/Getty Images
Last Friday, less than one week after the terrorist attack that killed 22 and injured over 100 people at one of her shows in England, Ariana Grande announced a benefit concert for Manchester to be held in the city where the tragedy happened. Although some have argued that it's too soon to hold such an event or that it's unwise for the pop star to return to the same city, her response is the most powerful way to send a message to those who were hoping to wield power over Manchester.
Grande said in a statement, "Our response to this violence must be to come closer together, to help each other, to love more, to sing louder and to live more kindly and generously than we did before. I'll be returning to the incredibly brave city of Manchester to spend time with my fans and to have a benefit concert in honor of and to raise money for the victims and their families."
The event will be held Sunday, June 4 at Emirates Old Trafford. By returning to Manchester so quickly after an attack that shocked the world and vowing to "sing louder" than before, Grande and all those who attend will be defeating the tragedy's purpose. Not only will it prove to individuals with mindsets similar to the attacker's that the city of Manchester will refuse to be controlled by fear, it will show the rest of the world that the human spirit can prevail in the face of tragedy.
When the targets of violent attacks are places with no political or ideological significance, frequented by innocent civilians with no influence on whatever ideological issue the perpetrator of such attacks is, the goal is typically to spread fear and chaos. When innocuous places and events like pop concerts largely attended by children are targeted, the intention is to send the message that no place is safe. As Clark McCauley, psychology professor at Bryn Mawr College and former member of the American Psychological Association's Task Force on Reaction to Terrorism, wrote in his essay The Psychology of Terrorism:
Terrorism inflicts immediate damage in destroying lives and material, but terrorists hope that the long-term costs will be much greater. They want to create fear and uncertainty far beyond the victims and those close to them.
I experienced the escalating paranoia and fear that can permeate every aspect of daily life firsthand on a 2015 study abroad trip to Paris during which the Charlie Hebdo attack took place. Following the attack, friends and I initially felt safe enough to explore the city as long as we kept our distance from obvious political targets, but as the nonstop police car sirens blared around us and the constant breaking news alerts updating us on a manhunt that included details of robberies and shootings and ultimately in a hostage situation in a kosher supermarket flooded our phones, any sense of safety left us — even after the perpetrators were captured and killed.
But the city of Paris soon pushed back, with millions taking to the streets to march for liberty and peace and to defy the terrorist attempt to control their lives through fear. Perhaps one of the most enlightening aspects of demonstrations like the Paris march — and all peaceful responses to terrorism — is the realization of how outnumbered terrorists are; in times when it's easy to fall into the mindset framing most of humanity as terrible, this is a vital reminder.
The sold out benefit concert is set to live air tomorrow in more than 30 countries. All funds raised from the event will be donated to the We Love Manchester Emergency Fund.
On Friday, Ariana Grande visited fans still hospitalized from the attack. One such fan was eight-year-old Lily Harrison, who clearly is not letting her previous experience get in the way of enjoying life. "She's now ready to go for tomorrow's concert," said her father. "She feels like a rock star and has been listening to her Ariana Grande playlist and wants to go. After [Ariana's visit] last night, she would disown me and her mum if we didn't take her." That's possibly the healthiest attitude to have and precisely the message Sunday's tribute concert will send.