Being An Artist's Muse Isn't So Romantic After All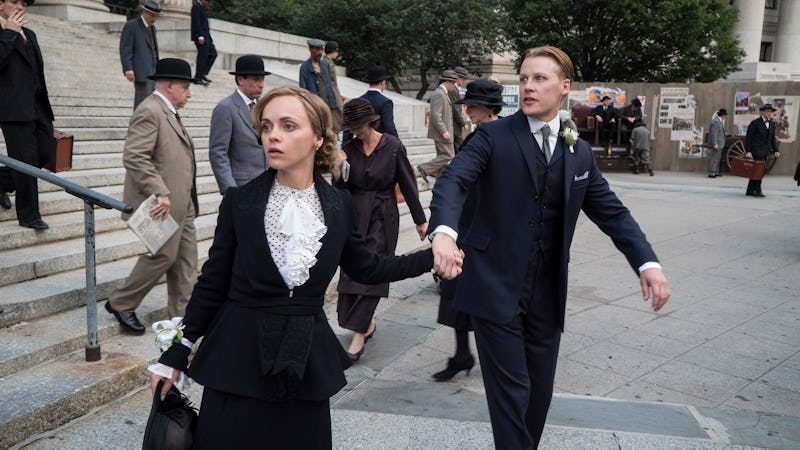 Nicole Rivelli/ Amazon Prime Video
Most people know something about Zelda Fitzgerald, but Z: The Beginning Of Everything seeks to change your perception of F. Scott Fitzgerald's often deemed "crazy" wife. In an interview with Bustle, Z: The Beginning Of Everything actors Christina Ricci and David Hoflin have a lot to say about the Fitzgeralds' famous and sometimes infamous life. Their relationship, as a married couple and as artists, propels the series, but it's the examination of Zelda as Scott's muse that really resonates.
"When you're a muse, are you owned by somebody?" posits Ricci, who plays the titular Zelda. "Are you able... are you allowed to surpass them? Guess not." Tellingly, not much is known about Zelda outside of her role as muse and wife to Scott. "I thought she was just the crazy drunk that ruined F. Scott Fitzgerald's life," Ricci admits, proving why this story needed to be told.
It seems like a rather romantic idea, to inspire great art. However, the reality may not be as nice as it sounds — especially when you have your own creative talents.
"What struck me about F. Scott," says Hoflin, who plays the author, "was he was a very sensitive person. He had a huge drive to become the best. He wasn't born into a family of huge wealth and he always aspired to be rich. I think Zelda was very much the muse that he needed to propel his writing into something spectacular."
The Amazon series is based on Z: A Novel Of Zelda Fitzgerald by Teresa Ann Fowler. It is a fictional account from Zelda's point of view. By showing this side of the story, the curtain lifts just a little bit.
"What does it actually mean to be objectified?" Ricci asks. "That is interesting for all women to take into account when you watch this. Here's somebody who wanted to be adored and worshipped, but then got caught in that trap of not being able to be this other thing too."
In the series, Zelda finds herself frustrated as a wife and as a human being when Scott is caught up in writing and there is nothing for her to do — no purpose except to exist.
"Really, what we're dealing with is a dysfunctional relationship," Ricci says. Season 1 is a bit of a whirlwind, as the two lovers meet and fall into an intense marriage in a short amount of time. "I don't think she had any sense of consequences," she says. "She made a lot of choices that she'd have to live with forever and I don't think she knew what she was doing. I like the idea of exploring the choices we make when we're younger and how, at one point in history if you were a woman and you made a choice at 18 you couldn't change that choices. You couldn't change your mind ever. That's fascinating to me."
It's an incredible story of a marriage, and one that hasn't really been explored before like this on screen.
"He didn't have a long life," says Hoflin of Scott, "and it was very tumultuous. He had the highest of highs and the lowest of lows and it's interesting from an actor's point of you to portray the contrast." High or low, the connection between him and Zelda was palpable. "They had maybe 20 years of marriage with each other through a hugely tumultuous time yet they never divorced." The link they have, that is established in Z: The Beginning Of Everything, has to be a huge part of that. Clearly, Zelda Fitzgerald was more than a muse.