All The Best Responses To Ben Z. Being Ignored On 'Bachelor In Paradise'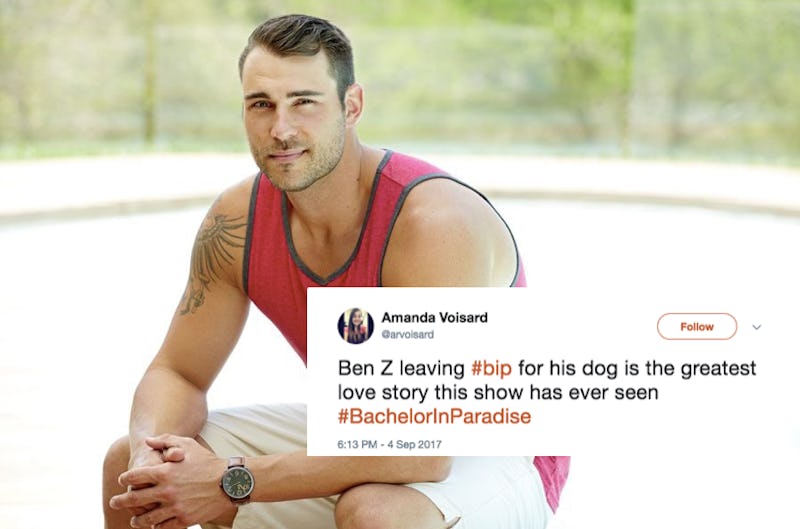 Bob D'Amico/ABC
This season of Bachelor in Paradise has been weird for many reasons, but one of the biggest has to be how severely underused Ben Zorn has been. Finally, this handsome prince has graced us with his reality television presence once again post-Kaitlyn's season, but none of the women have realized exactly what they're missing out on. Sadly, that led to Ben Z. leaving Bachelor in Paradise on Monday night's episode. And, while he was very excited to get home and see his dog again, fans of the show couldn't be more heartbroken.
As soon as Ben announced that he was heading out before he even had a chance to get eliminated during a rose ceremony, everyone took to Twitter to share their disappointment — and their disbelief that nobody in Paradise managed to sweep Ben off his feet. It's true; between BiP and The Bachelorette, it's pretty clear that he's a catch. Maybe he's just underrated, or his low key, quieter personality got lost underneath all the big drama this season's been bringing, but it does seem like it was the best idea for him to go home, even if those of us watching at home are going to miss him — as evidenced by the outcry on Twitter.
This True Statement
Some Fans Called It Tragic
Some Couldn't Understand How Anyone Let Him Get Away
And Others Were Just Glad He'd Be Reunited With His Dog
Ben might not have found love on the beach, but knowing him, he'll undoubtedly find the right person to share his life with when the time is right — and he won't have to leave his dog to do it.