Bill Nye Explained Why He's Going To Trump's SOTU — Even Though His Fans Are Pissed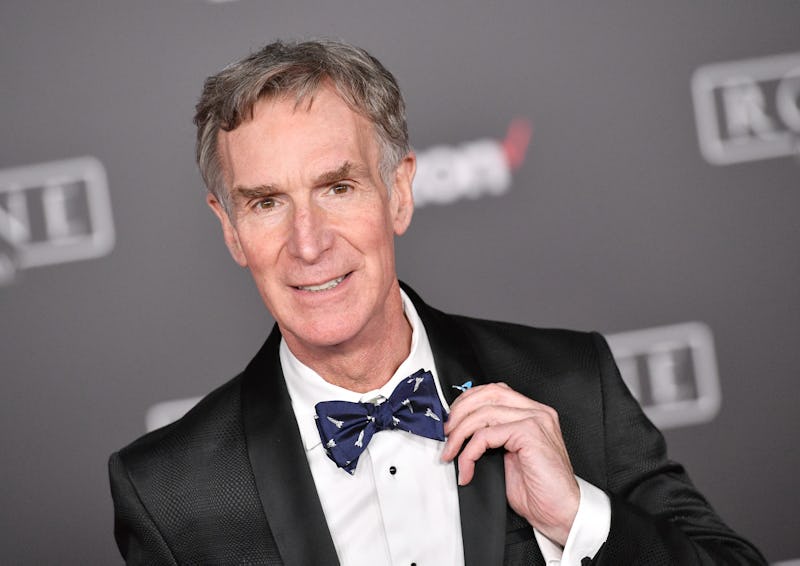 Mike Windle/Getty Images Entertainment/Getty Images
While President Trump addresses the nation Tuesday night, a celebrity who's criticized his administration's "anti-science movement" will sit alongside a GOP congressman who only recently acknowledged that humans contribute to global warming. Fans of "the Science Guy" are not happy about Bill Nye attending a State of the Union speech delivered by a president who's denied that climate change exists. But Nye says his attendance is tied to his love of science.
The beloved TV personality announced Monday on Twitter that he would be at Trump's speech as a guest of Rep. Jim Bridenstine (R-OK), who also happens to be Trump's pick to head up NASA. Nye explained in multiple tweets that Bridenstine invited him because of his role as CEO of The Planetary Society, "the world's largest and most influential non-governmental nonpartisan space organization."
Although Nye argued that his attendance "should not be interpreted as an endorsement of this administration, or of Congressman Bridenstine's nomination, or seen as an acceptance of the recent attacks on science and the scientific community," some of his fans still thought it was a bad decision. "A polite decline was the move," one Twitter user responded. Another wrote to Nye: "Whether your attendance 'should' be interpreted as an endorsement is completely separate from whether or not it will be."
Bridenstine was a controversial nominee to lead NASA, considering he claimed in 2013 that global temperatures stopped rising 10 years ago. The congressman changed his tune during his NASA administrator congressional hearing in November, though, telling Congress he believes "the scientific consensus is that humans are contributing and have contributed to the climate change that we have seen."
Nye took Bridenstine's more recent statement as proof that the congressman now shares his views — the basics, at least — that climate change exists.
"He's changed his mind, and in science that's generally a good thing," Nye said in a statement to Quartz. "I am hopeful that others will see the wisdom in the Congressman's evolving view and follow suit. Let's embrace the science and rise to the challenge of climate change."
Still, Nye's fans and other scientists didn't agree with the assertion that he could attend Tuesday's event alongside Bridenstine without endorsing the administration.
In an article published in Scientific American on Tuesday, a group of 500 women scientists condemned the decision, saying: "By attending the State of the Union with NASA administrator nominee Jim Bridenstine, the Science Guy tacitly endorses climate denial, intolerance and attacks on science." They added:
"As scientists, we cannot stand by while Nye lends our community's credibility to a man who would undermine the United States' most prominent science agency. And we cannot stand by while Nye uses his public persona as a science entertainer to support an administration that is expressly xenophobic, homophobic, misogynistic, racist, ableist, and anti-science."
Aside from Bridenstine's contradictory past regarding climate change, Nye has personally criticized the Trump administration for ignoring science. "My biggest concern is this idea that one's own opinion is given the same weight as what's scientifically understood," he told TIME in October. "We want to be able to get people to evaluate evidence and think critically about events and phenomena they see in nature." Just a few days ago, Trump implied in an interview with Piers Morgan that it's "too cold" for global warming to be real.
But, as Nye explained on Twitter, he's attending Trump's first SOTU in the hopes that the president will at least acknowledge the importance of NASA's work. "Historically, the Space Program has brought Americans together," he said, "and during his address, I hope to hear the President's plans to continue exploring the space frontier."