Why 'Black Panther' Is So Crucial For First Generation African Descendants Like Myself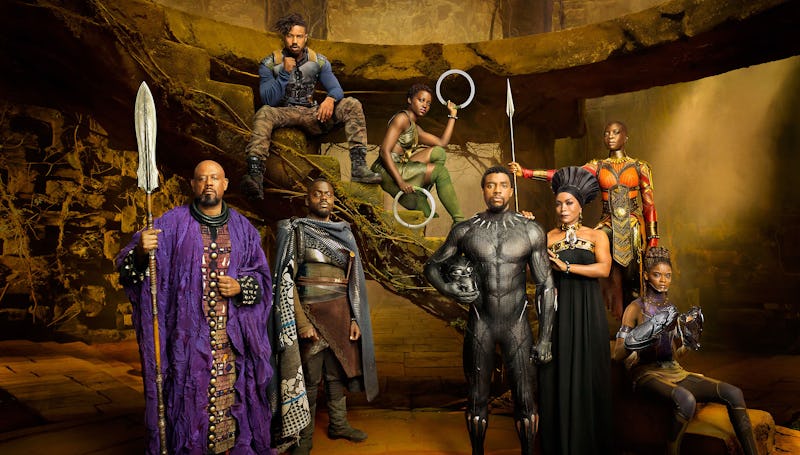 Walt Disney Studios Motion Pictures
The time is quickly approaching. Black Panther's Feb. 16 release is coming up, and the world is so ready to see this film. Already, Black Panther is the best-selling Marvel Cinematic Universe movie in pre-sales according to Fandango, and indeed, it's widely anticipated not just by comic book fans, but by the Black community at large — especially those of us, including myself, who are first and second generation African immigrants. Although Wakanda is a fictional country, it's an embodiment and embrace of Africanism that our Western culture needs to experience, and for that reason, the release of Black Panther could not be more exciting.
As a product of Nigerian immigrants, I am so ready to walk into theaters to watch Black Panther proudly wearing my native gele (head scarf) and ankara dress (kente cloth). For so many years, I would get made fun of for being a first-gen African descendant. Like other first-gens, I would get called offensive names like "African booty scratcher", "monkey", or "dusty African," and asked questions like, "do y'all have lions as pets?," or "why is your name so long?" And although there were times when I wanted to run from my culture, I remained a fighter for my heritage. One of the biggest reasons why was the fact that our African culture was rarely displayed on-screen. During my childhood in the late '90s/early '00s, hardly any popular culture embraced African countries and cultures, except for the flawed Coming to America. As such, I felt the need to stay strong in the face of ignorance and be proud of my heritage.
Today, things are a bit better. Over the last several years, I've seen more and more people embracing Africanism, with Ankara print-inspired fashion like the popular dashikis, hairstyles like Fulani braids, and the spreading of Afro-culture via social media. And if you log on to a streaming service like Hulu, Amazon Prime Video, YouTube or Netflix, you can access movies and shows like The African Doctor, Difret, Fifty, Shuga and Skinny Girl In Transit. Yet while it's great these works exist, they are not widely seen by everyone. Black Panther is thus special, as it will be experienced by a major audience and because of that, millions of people will get to see a conglomerate of different African countries' cultures portrayed in a film.
For young first and second generation immigrants, getting to witness this type of diversity on-screen is nothing short of phenomenal, especially in a political time where Trump makes comments about "sh*thole countries" and immigration is a hot-button topic. Black Panther is an empowering, necessary force, showing a world of Blackness that goes beyond Western standards and depicts all sides of Black culturalism. In Marvel's land of Wakanda, the nation is wealthy and technologically advanced, housing Earth's only known source of the precious metal Vibranium. Due to this, Wakanda has always been the target of others for exploitation of its resources, a fictional issue that mirrors the reality of actual African countries like the conflict over diamonds from places like Sierra Leone, Liberia, Angola, and Ivory Coast.
Black Panther will highlight these real-world problems, as well as showcase all the contributions African people have made and continue to make to the world. Just take the fact that on average, African immigrants are better educated than people born in the U.S. or any other immigrant population as a whole; Jeanne Batalova's 2015 research for Migration Policy found that of the 1.4 million African immigrants in the U.S. who are 25 and older, 39 percent have a Bachelor's degree, compared with 29 percent of all immigrants and 31 percent of the U.S.-born population.
This side of Africa is rarely shown on-screen or in the media, and Black Panther provides a much-needed alternative to the negative, stereotypical depictions of the continent we so often see instead. Too frequently, we get informercials featuring starving children with bones sticking out of their bodies, portraying Africa as a place whose people always need the help of White Americans, or media reports about outbreaks of disease or violence. These issues do exist, of course, but they're not representative of Africa as a whole, and it's time we get to see the other side of the continent.
Black Panther will feature the triumphs, the strength, and the fierceness of members of Black and African culture, and hopefully, the film will add plenty of fire to the movement to shatter all the ugly depictions and stereotypes of African countries that have plagued us for so long. There is still much work that needs to be done when it comes to the depictions of African cultures, but Black Panther is undoubtedly a move in the right direction.