Here's What To Do If You're Having Trouble Changing Your Snapchat Font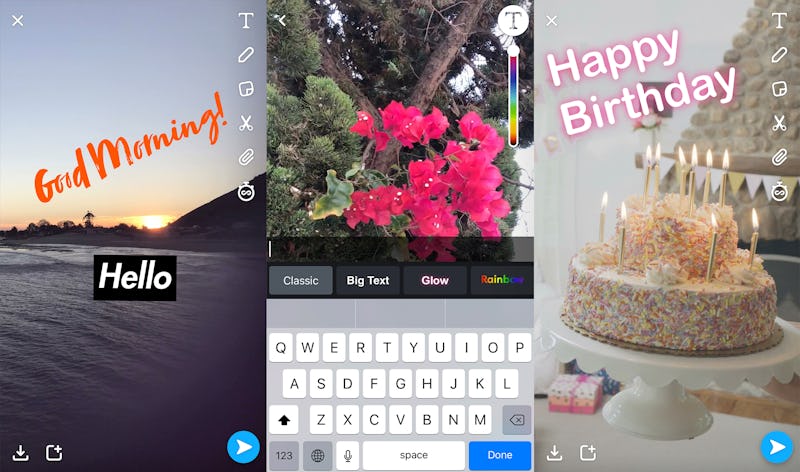 Snapchat
News about an update to pretty much any social media platform seems to always spread like wildfire — and I realize this is a totally cliche phrase, but you know that it's entirely appropriate in this case. One person in your friend group notices a previously unfamiliar feature on their Instagram or Twitter app and suddenly everyone else is madly searching Google for the details on how they too can get in on the newest version. In light of the recent news that you can now change the font of your Snapchat captions, you might experience this very scene... today. And if you're the one saying "Why can't I change my Snapchat font with the new Caption Styles update on the app," let me help clear things up so you can put your mad Google searching to rest.
Snapchat's new Caption Styles feature rolled out on Feb. 8 in conjunction with a few other cool functions, including 150 Lens templates (for iOS only) with which you can use to essentially create a custom filter for an event for as low as $9.99 (this is basically a simpler version of the On-Demand Geofilters that you're probably already familiar with from weddings and bachelorette parties). Caption Styles, however, is free to use (perk!) and is a really simple way to shake up the look of your Snaps.
Caption Styles options include Brush, Italic, Glow, Gradient, Rainbow, Fancy, and Old English, to name only a few, and you can even mix and match the fonts so that several styles are featured in a single Snap. Forget the dancing hot dog filter... this is the coolest new way to shake up the still pics and videos that you're sharing with your friends and in your Snapchat Story.
If this all sounds good to you but you haven't been able to figure out any way to do it and your Snapchat app looks exactly the same as it always has, no worries. Let's troubleshoot it together, shall we? Here are some potential fixes:
1. Confirm That The Snapchat App Is Updated
Apps are supposed to update automatically — or to at least prompt you to do so — but they don't always, so double checking the version you're working with is a great first step. Caption Styles will be available for both iOS and Android users as of Feb. 8, so manually check the App and Play stores, respectively, to see if there are any available Snapchat updates lurking.
2. Restart Your Phone
This is basically my solution for all tech-related glitches... and it does work most of the time! Assuming you have the most up-to-date version of Snapchat, you may need to turn your phone off and back on again to make sure that the update is functioning properly.
3. Start Typing
Now that you've updated the app and restarted your phone, I would recommend actually opening Snapchat and giving the new feature a try, because you might not notice a difference in the app interface until after you actually start to enter text! Open Snapchat and take a photo or video (with or without filters) just like you normally would. It's only after you tap on the screen to start adding in text (again, just like you normally would) that you'll see Caption Styles at work. Here, you'll be able to scroll through your font options, pick the one you want, and mix and match. From there, all you have to do is send the Snap or add it to your Snapchat Story for all of your contacts to see!
If you're the last of your friends to get access to this new Snapchat feature, don't sweat it. The fixes are easy!