Here's What To Do If Your Snapchat Lens Update Isn't Working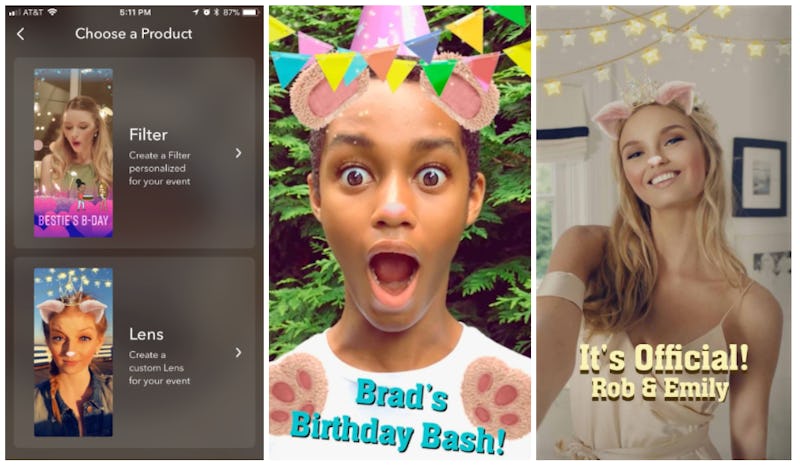 Snapchat
Just as we all have a favorite sweater or color or season, these days, we also all have a favorite Snapchat Lens. Lenses, or face filters as they're often colloquially referred to, are now a part of our identity — or at least, our identity of how we ~communicate~ with our fans — I mean, friends. And now, the app is taking that a step further and allowing users to create their own custom Snapchat Lens for events and celebrations, much like users have previously been able to do with Geofilters on the app. So, if you're wondering why can't I make my own Snapchat lens, don't worry. You can join in on the fun in a few simple steps.
Customizable Snapchat filters have become just as important to the events we throw as the invitation is. Everyone will obviously be Snapchatting the night away, so why not add a fun ~layer~ to the evening. It's been the ultimate party favor since its launch in 2016. But now you can count on another favor for your party. A totally customizable Snapchat lens.
Your favorite lens can now be personalized to any particular event. According to the numbers, this is very exciting news for the millions of us who use lenses on the regular. So regularly in fact that you might have begun to think that of your face with dog ears. A snapchat spokesperson tells Bustle, "From puppy faces to vomiting rainbows to dancing hot dogs, Snapchat Lenses are used by roughly 70 million people each day." Are you one of the 70 million lens users who wants to get in on the creating a more personal lens? Learn how to become a snapchat digital artist. Creating lenses will be available Feb. 8. Birthday parties, date nights and weddings will never be the same.
1. Go To Settings In Snapchat
When you open your Snapchat app, head to "Settings." There, you'll find "Filters and Lenses".
2. Choose Your Lens Template
Pick any pre-made Lens template — whichever is your favorite that you want to have everybody using the night of your grand event. Pick from themes that appropriate for your event like weddings, birthdays and other celebrations. Add text here too so everybody knows what event is going on. It's part of the fun! You can choose your own text to compliment the chosen lens.
Add flair to the lens with a multitude of font selections. Type "Happy Birthday Sarah" or "We're Getting Married" on the Lens to get the point across that this is a very exciting moment worthy of documentation and quality, customized content!
3. Set Up The Time Of Your Event
Taking up a few city blocks or are just celebrating in a single space? Great, the lens can cover that. Distance-wise, your Lens can be available anywhere from 20K to 5M square feet. So, get creative with your lenses. They can definitely handle the distance between party places.
4. Submit Your Lens
Once you've created your masterpiece, submit it for review. You'll want to make sure that you check out at least three hours before your event so that the Lens runs on time. As for pricing, that's based on location size, duration of your Lens, and other factors, but it starts at about $9.99. If you have a friend coming to town and you want to celebrate the reunion, this is the perfect gift for you two to document the day together.
5. Snapchat Away!
We all know how to follow Snapchat's directions by now. "Open Your Mouth" or "Raise Your Eyebrows" to start the fun of the Lens. Then quickly get to sharing the Lens you've customized to your story. Friends will definitely love tuning in to catch all the action as seen through this creative lens you've made. Get to celebrating and create your own Lens today!
Availability is currently in the U.S. on both web and the Snapchat app on iOS. But don't worry, global and Android availability is around the corner.