If You Can't Vote In Instagram Polls, Here's How To Troubleshoot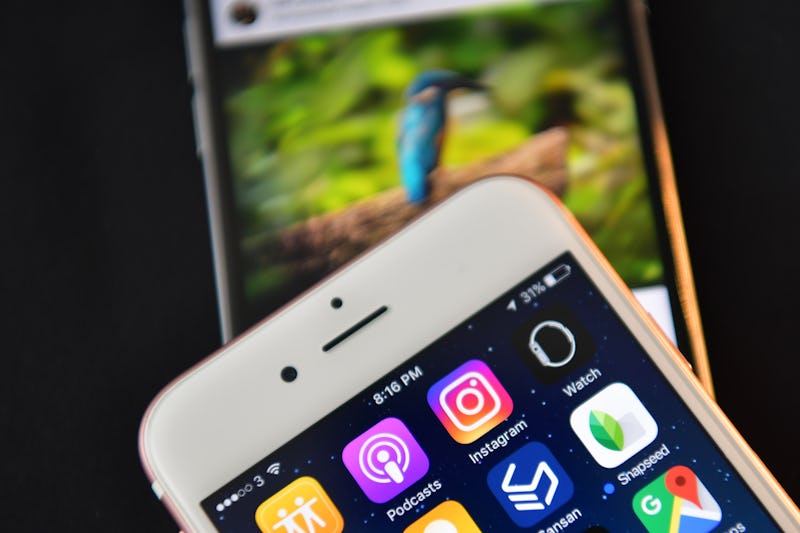 Carl Court/Getty Images News/Getty Images
Feeling left out is a gross sensation. But, feeling left out while you watch all your friends collectively enjoy something new and shiny, like, say, a spiffy new app addition, is even worse. So, if you've been wondering in response to its new update "why can't I vote in polls on Instagram stories?" all day, take a deep breath and keep reading. We're going to get this sorted out. Soon enough, you, too, can add your two cents to whatever poll your real-life friend or Instagram acquaintance is running. Maybe you'll help decide between rainbow sprinkles and chocolate sprinkles, black Adidas slides or navy Adidas slides, or even bangs or no bangs! (I mean, everyone should do what they want, but you get the point.)
When Instagram first hit the App Store in July 2010, the first images added to the database were by founders Kevin Systrom and Mike Krieger. From the first day, Instagram's signature trends and looks — which have now made their way into our aesthetic lexicon — were emerging: heavily edited photos, sunset photos and snaps of the dinner table (which, obviously, was cast in a nice sepia-toned filter).
Two months after its launch, Instagram already had one million users. Currently, the number hovers at 800 million monthly active users, according to a recent CNBC report, up 100 million new users just since April. 500 million frequent the app on a daily basis, which has expanded to desktop and online elements.
The meteoric rise of the image-based social platform can't be attributed to one specific element, but the adoption of Instagram by the post-Millennial generation has certainly helped its success. The other app those young'ns love? Snapchat. So it's no surprise that over the past year and a half Instagram and Snapchat have been in the midst of an arms race, vying for more users and more attention from "digital natives."
The turning point in the race happened in summer 2016, when Instagram introduced their Stories features. Previously, you could upload photos and videos onto Instagram just one way — you'd post it on your profile, it would show up in your followers' feeds, and there the photo would sit until you decided, maybe, after a year and a half, that a forever reminder of the time you tried to dye your hair blonde and it turned out orange was unnecessary.
And then, in August 2016, ~a whole new world~ opened up. Er, a whole new Instagram world. Instagram Stories allow users to upload as many videos or images as they want, edit them in any way they please, and breathe a sigh of relief because they disappear within 24 hours. They never populate your profile page, and users engage with them a lot because of it. Maybe its because the user has more freedom to be creative in a Story versus a real post. As a separate entity from your official Instagram posts, Stories ease the weight of picking the one perfect, perfectly edited picture to encompass a night out. Sometimes, Stories knows, you need more like... 15. And a weird blurry video of you singing along to "Despacito" with the bartender, decorated with a lot of weird stickers and geo-tags. Or something.
On Oct. 3, Instagram announced the first interactive Instagram Stories feature — a polling sticker, which allows users to create a two-option poll, place it in their Story and watch in real-time as answers filter in from their friends and mutual follows. It's deceptively addicting, honestly.
But some Instagram users may be running into an issue where they find they're unable to vote in a poll since the feature began rolling out — and that, my friends, is unacceptable. We can't have it. The good news is, though, that the fix is really, really, really, really simple.