Instagram's New Polls Feature Is Going To Be Your New Social Media Obsession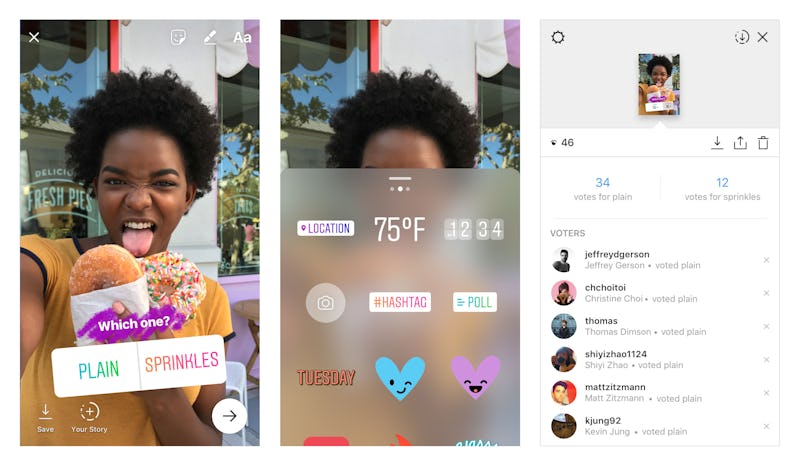 Instagram
Just as you were getting to be a pro at Instagram Stories, the app is upping its social game even more. As of Oct. 3, you can do more with the Stories themselves by adding polls to them. So, if you're wondering how to use this new feature, fear not, it's not as intimidating as it sounds like it might be: Here's how to get polls on Instagram Stories. Plus, you'll get feedback in ~real time~, which is nothing short of amazing. According to the company in a press release, this launch marks the first interactive feature on Instagram Stories — and it definitely sounds fun and like something that could become addictive AF.
But first, if you're not an IG Stories person and need a refresher, here's the deal. Instead of posting a usual pic — you know, a snapshot of your dinner or the amazing sunset you saw last night — with Instagram Stories, you make a little movie, of sorts, by posting several photos, videos, and/or Boomerangs into a slideshow. Easy, right? You can also use various filters or add text and/or drawings to your content. Basically, it's your "story" of the day, because it disappears in 24 hours. It appears at the top of someone's IG feed, but people don't "like" or comment on them as they would your regular Insta posts. (They can, however, respond to your Instagram story via Direct Message.)
As you know, social media platforms all compete with one another — each one has to stay fresh and differentiate themselves from the others. So it makes sense that Instagram's introducing an interactive poll sticker in Instagram Stories, which means you can ask a question and see results from your friends and followers as they vote. According to an Instagram spokesperson, for the first time ever, users will be able to interact directly through Instagram Stories outside of just direct messaging. What does this mean for users? Well. for starters, it'll be even easier for everyone to engage with their friends and followers.
Pretty cool, right? Here's a play-by-play of how the Instagram Stories poll sticker works and how to create a two-option poll in your Story.
1. Take A Photo Or Video For Your Story
Yes, this is probably a given, but it's an important step in the poll process!
2. Next, Select The "Poll" Sticker
The great thing is, you can place the sticker anywhere you'd like.
3. Then, Add Text To The Sticker
Think up a question to write up — and you can even customize the poll choices. In addition, Instagram is introducing two new advanced tools for the Stories: a color picker for text and brushes, and an alignment tool for text and stickers. YAS, please!
4. See Your Results In Real Time
This is the coolest part of all — seeing your poll results in real time after you share your Story. After someone has voted, they'll be able to see which choice is currently winning, so to speak. If ~you~ want to see your poll results, just swipe up to open the list of viewers for that part of your story. You'll then be able to see how many votes each option received, as well as see who voted and ~how~ they voted. Interesting, right?
As I said above, as social media platforms continue to grow in popularity, continually differentiating themselves has become a given, and polls for Instagram Stories is yet another example of a fun way to do so. Now if you'll excuse me while I think up a poll of my own... Have to test it out, right?