Why Cara Delevingne Won't Apologize For Being Angry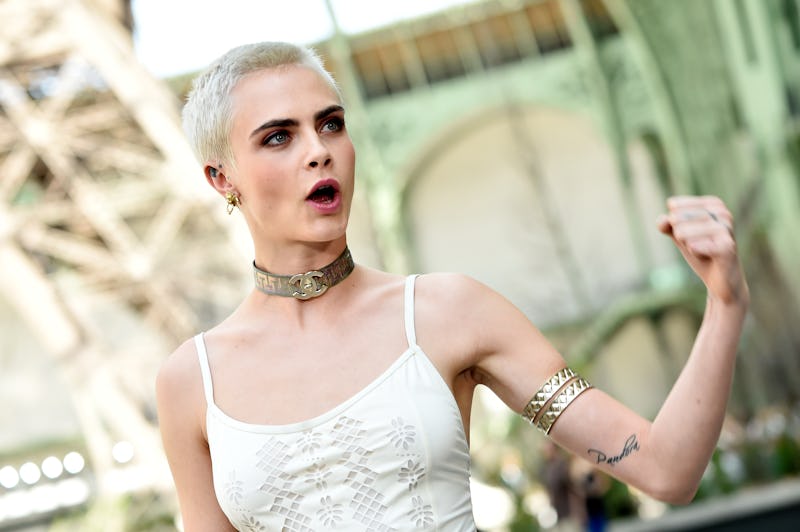 Pascal Le Segretain/Getty Images Entertainment/Getty Images
High fashion model and actor Cara Delevingne is working on transforming herself into a "strong woman," which can mean many things: powerful, tough, influential, passionate, resolute, confident — the list goes on. But the 24-year-old star, who is promoting her latest project, the epic space adventure film, Valerian and the City of a Thousand Planets, appears to be many of these things already. When we meet, after giving me a hearty hug, she positions herself on a couch in the Beverly Hills' Four Seasons, one hand clutching a piece of bacon, the other pulling down her ultra-short silver dress. She seems to be right at home with me — a complete stranger — and feels confident and comfortable engaging in whatever questions I ask. From my vantage point, Delevingne seemingly has the "strong woman" thing down. But the actor assures me it's not that simple, and there's one aspect of being strong she's trying to, well, strengthen: Not apologizing for being angry.
"I used to always feel bad about being angry," she admits. "I'd find it nearly impossible to be angry so instead of being angry at people, I'd be angry at myself. I feel like women do that a lot. So now, more and more, I'm learning how to be angry."
Delevingne, who is constantly working and appearing in the public eye, says she used to feel the pressure to please everyone. But that's an impossible task for anyone, and according to the actor, it often left her feeling voiceless. "There are so many occasions where people around you will be like, 'This is what you should do,'" she says, adjusting her heeled, over-the-knee boots. "But really, you need to go on your own. For me it's about being true to yourself, listening to your heart, being honest, and not be pushed around by other people or be told what to do."
And her evolving attitude towards anger is apparent. Just glance at her twitter feed and you'll see she's not afraid to speak her mind and stand up for herself. BuzzFeed even compiled her most heated tweets in a post that begins, "She's almost as talented at shutting down haters as she is modelling."
On the runway Delevigne is known for her fierce catwalk strut, those full eyebrows, and her down to earth and often wacky persona. The internet even dubbed her the most fascinating model in fashion. For an early 20something, she's already covered a hell of a lot of ground. And yet, she's trying to build her strength.
"I'm not going to sit there and be like, 'I'm the strongest woman,' because I'm not, of course. I'm vulnerable and have my days just as any of us do. I am aspiring to be a strong woman," she says, apologizing for the bacon grease on her hands. "But you choose who you make yourself. It's not about finding out who you are, it's about making yourself that person."
And for the actor, being honest sometimes means being angry, and that's OK. In 2017, the current political climate has given all humans, and women in particular, every reason to feel more than a little mad. No women ever needs to offer an excuse to feel any emotion, and Delevingne now knows that expressing her feelings does not need to be accompanied with an apology. "When you hold in all of that anger, you get sick, you get ill," she says. "It manifests itself in really bad ways. So again, I'm just trying to be honest with my emotions, I think that's a sign of being strong."
The ever-evolving star admits she still has much to learn on her quest to become a strong woman — whatever her version of that label looks like — and yet, one thing is certain: She has no intention of apologizing for wherever this emotional journey may take her.