Why Carrie Fisher Is A Role Model For Women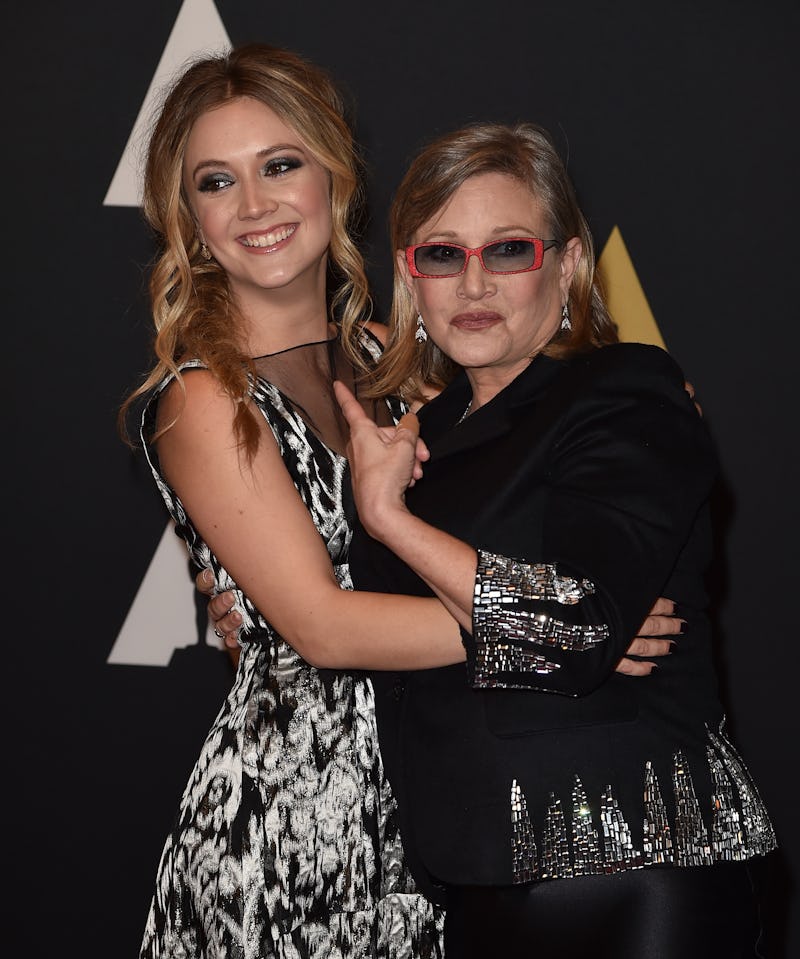 Kevin Winter/Getty Images Entertainment/Getty Images
Simply put, Carrie Fisher is a cool woman. I don't mean that superficially either. I genuinely adore her and am in awe of her many talents. So when I learned that Fisher reportedly had a massive heart attack on Friday, Dec. 23, my own heart sank in my chest. The Associated Press has since reported that Fisher is now in stable condition, according to her brother, and I wish her nothing but the safest and speediest of recoveries. And, perhaps a bit selfishly, I hope she recovers because I'd like an idol of mine to continue to create art I can embrace. Fisher is an important role model for women as an artist and as a feminist, purely because of the work she has done and the examples she has set in her own life.
Update, Dec. 27, 1:05 p.m. EST: Carrie Fisher passed away at the age of 60, according to People. Fisher's daughter Billie Lourd released a statement to People via Simon Halls that read: "It is with a very deep sadness that Billie Lourd confirms that her beloved mother Carrie Fisher passed away at 8:55 this morning. She was loved by the world and she will be missed profoundly. Our entire family thanks you for your thoughts and prayers."
Update, Dec. 23, 9:57 p.m. EST: Fisher is reportedly in intensive care and her condition remains "unknown," according to Entertainment Tonight. Despite earlier reports, her brother, Todd, told ET, "We certainly do not know her condition, that's why she is in ICU. I'm sure everyone wants to speculate, but now is not the time for that."
Earlier: To begin to appreciate Fisher, you must begin with Princess Leia. Leia's legacy should be a building block for understanding how powerful women can be portrayed on film and, further, how women can embrace that portrayal. Despite an enduring 1983 Rolling Stone article dubbing Leia a "space b*tch" (to which Fisher retorted, "She has no friends, no family; her planet was blown up in seconds — along with her hairdresser — so all she has is a cause"), Leia is truly a feminist icon.
Leia, and Fisher by extension, is both a soldier and rebel, ferocious yet feminine, witty, intelligent, and plenty more empowering adjectives that I could easily supply. But even when wearing that awful, male gaze-y gold bikini, Leia remained ready to kick butt and take names, which makes her Force Awakens reveal as a General even better and unconsciously causes me to pump my fist in the air. That's all thanks to Fisher's embodiment of the character.
But Fisher is so much more than Leia. At 60, she is as active in film and literature as she ever was. She was recently seen in Star Wars: The Force Awakens, Catastrophe, and Maps to the Stars. Over the last few months, she has been on a tour promoting her new book, The Princess Diarist. Her drive to create is inspiring in ways I can only hope to replicate. Her strength not only shines through in her work, it is the public definition of what she represents to women.
While she refuses to let her creative light dim, she is also brutally honest about every aspect of her life. In a world when women may be signaled to stay quiet and polite, Fisher uses her voice to speak her truth and I love her all the more for it. She's remained outspoken about her recovery from a cocaine addiction, admirably taking responsibility for it in a 2010 Guardian interview. On Good Morning America, Fisher told interviewer Amy Robach that ageism, while totally insipid, was affecting her career and that exercise was totally overrated; she basically voiced many a woman's thoughts on the matter. To see an older, wiser woman — and a celebrity woman at that — simply give no cares about what people may think of her and speak her mind is so important for other women to see. It may give us a way to turn our meek voices into loud ones.
Fisher is the kind of woman that has experienced the light and the dark in life. She may be the child of celebrities (actors Debbie Reynolds and Eddie Fisher, in case you were wondering), but she is far from the kind of jaded the lifestyle of constant fame could cause. Fisher is an adoring and supportive mother. She is what a role model should be: honest, resilient, a producer of work worth study and admiration, and above all else, human in a way that feels accessible to those who look up to her.
Fisher is important to women because she embodies all of these qualities. She is a strong woman; I only hope I can continue to learn from her as time goes on.