Why 'Crazy Rich Asians' Matters So Much To Non-American Asians Like Myself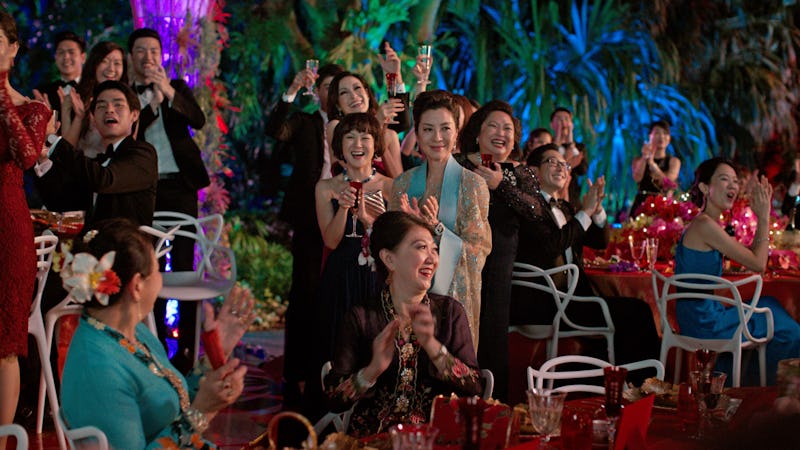 Warner Bros.
I was first introduced to Kevin Kwan's Crazy Rich Asians by a former editor of mine. Being Asian writers and gossips, we reveled in the novel's playful nod to the region's rich and powerful, as well as its take on relationship drama, identity, culture, class, and family dynamics. I was delighted (and surprised) when a movie version of the book was announced; given Hollywood's general lack of interest in Asian productions that don't promote martial arts choreography, I hadn't thought a major film that doesn't exploit the Asian-ness of its characters could actually happen. But indeed, it has — and as someone who identifies as Asian, not Asian-American, I'm hoping the impact of Crazy Rich Asians reverberates beyond box office numbers.
Helmed by Asian-American director Jon M. Chu, Crazy Rich Asians, out Aug. 15, has an impressive international roster of pan-Asian talent, including Michelle Yeoh, Henry Golding, Jing Lusi, Remy Hii, and Fiona Xie. The film is a rom-com interwoven with family drama, and it successfully turns on how Asian storylines are typically done on-screen. It's no secret that Hollywood has an ugly history of portraying Asian characters with racist stereotypes that include but are not limited to: the inability to speak clearly in English, submissiveness, extreme conservatism, fetishized sexuality, inheritance of some sort of mystic wisdom, martial arts or acrobatic prowess, over-the-top academic ambitions, and culture or traditions that are considered "strange" or "savage."
These portrayals started back in the 1920s, when Anna May Wong, the first Asian-American to star in an audible motion picture, rose to fame through roles like "the exotic slave girl" and "villainous Dragon Lady" despite being a Los Angeles native. Later on, Marlon Brando used prosthetics and makeup to manipulate his features while playing a Japanese translator in 1956's The Teahouse of the August Moon; Mickey Rooney embraced the now-infamously racist role of Audrey Hepburn's Japanese landlord in the 1961 classic Breakfast at Tiffany's; John Hughes propped up racial stereotyping through the highly-caricaturized Chinese exchange student Long Duk Dong (get it?) in his 1984 coming-of-age crown jewel Sixteen Candles.
Sadly, racist Asian stereotypes are still alive and well today. Just take the trope of the Rebellious Super Girl, an Asian character great at fighting and, for some reason, who always has dyed hair. It's been around for years, but was seen just recently, with Yukio of Deadpool 2. These offensive portrayals have long shaped a very narrow image of what Asian people should look/sound/be like, and it influences the way the public views me or anyone else who is Asian. I've had people ask condescending questions about my English ("Is English the first language in Indonesia?"; "How is your English so good?") and ignorantly inquire about my country ("Does Indonesia have air conditioning?"; "Is everyone there poor?"). And whenever I speak bluntly or behave boldly, I've found that people are often surprised.
I try to chalk it up to ignorance, but it's clear that this backward perception about my Asian-ness is shaped by the images that we've been fed on-screen. As an Asian millennial from a well-educated, middle-class family, I'm part of a pretty big group; according to Migration Policy, 60 percent of native-born Asians and 79 percent of Asian immigrants are between 18 and 64. Yet there hasn't yet been a character or film that actually resonates with my identity.
Crazy Rich Asians, though, shows Asian characters in a way that the American public hasn't really seen before — as people, not as a curiosity, a filler, or a slapstick joke. And Hollywood's decision to make the movie — the first major American production in the last two decades to feature an all-Asian cast that isn't a period piece — signals a major shift in pop culture. You won't find any martial arts acrobatics or laughs from characters getting lost in translation. Instead, viewers of Crazy Rich Asians will encounter relatable and charming characters that will likely remind them of someone in their lives, whether they are Asian or not.
Constance Wu, who plays protagonist Rachel Chu, summed up the movie and book's significance for Asians perfectly to Time when she said that author Kwan doesn't make Asians cool but "focuses on making our stories whole." And it's true; while of course, there are elements of Asian culture and traditions in the movie, they are important details in a story that at its core is really about love and family. The thought of seeing my Southeast Asian roots acknowledged and appreciated by Hollywood sends a shock wave of pride through my body, as it does for many others.
Not everyone is jumping to congratulate Crazy Rich Asians on making it to the big screen, however. After the first trailer was released, some folks on Twitter protested the film's limited representation of skinny, straight and mostly Eastern Asian-looking characters.
These are valid complaints, as like our non-Asian counterparts, Asians come in all shapes, sexualities, skin tones, and from various cultural backgrounds. But for someone like me, who comes from Indonesia — one of the Southeast Asian countries mentioned in Kwan's book — it's hard to imagine another chance to be able to relate with the Asians I see on screen, even if it's just in the tiniest way. And besides, it's unfair to place the burden of representing an entire community onto a single movie. Any major entertainment production that doesn't depict Asians through tired one-dimensional stereotypes is progress in the film industry and society, so it should be supported and embraced.
Hollywood is finally getting the memo that moviegoers are hungry for more diverse content, and it's long past due. Crazy Rich Asians may not be a complete representation of the Asian community, but it is a much-needed beacon of broader representation for all of us.