Andrew Lincoln Is BACK On 'The Walking Dead,' But It's Not What You Think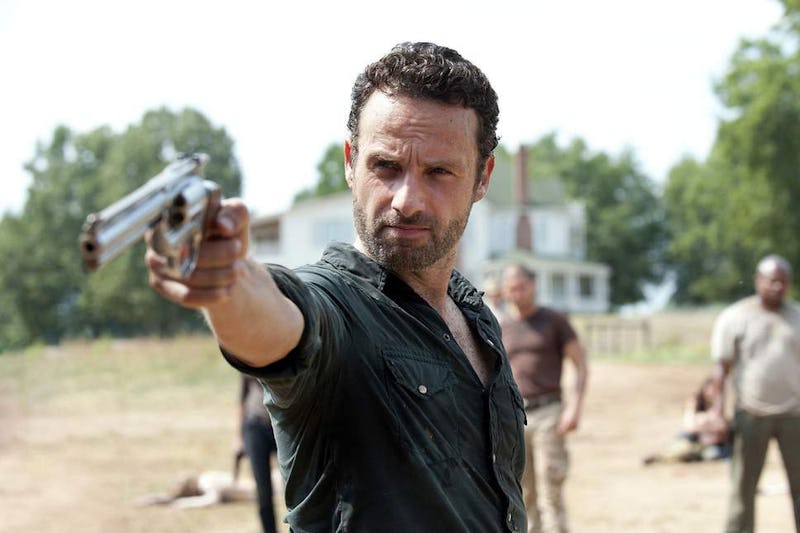 FOX
Andrew Lincoln playing a sheriff from the Deep South in a zombie apocalypse? Well, it was always a no-brainer, wasn't it? But spoiler alert: The Walking Dead's main man Rick Grimes won't be around for much longer. Some say that the show might lose its bite without him, but after spending almost nine seasons running from flesh-eating walkers, he's finally going to be dinner for the undead. Allegedly, leaving the show was of the Love Actually actor's own volition. But what I want to know is, why did Andrew Lincoln quit The Walking Dead?
Lincoln announced that he was leaving the show while speaking at the San Diego Comic Con back in July, according to the Hollywood Reporter. "There seems to be an elephant in the room," Lincoln said to a packed out audience, "this will be my last season playing the part of Rick Grimes."
It was the first time Lincoln spoke about his departure from the show, since speculation of his exit started back in May. A source close to the Hollywood Reporter told the site that Lincoln's co-star, Norman Reedus, who plays the legend that is Daryl Dixon, would be replacing Lincoln as the new number one on the show's call sheet.
But Lincoln had, at least publicly, been considering being the zombie's dinner since February. In an interview with The Hollywood Reporter, which was published on Feb. 25, Lincoln told the publication that Rick's future on the show "didn't look good." Hey, no kidding. By the end of Season 8, Rick was already looking pretty close to undeath as he was seen bleeding profusely from his abdomen against a tree, as Vanity Fair reported back in March.
But don't worry, by the sound of things, Rick won't just be left to rot there. The show's executive producer, Greg Nicotero, reassured fans that "we wanted to give his story a send-off that people would know that we were paying tribute to his journey," as he told Comic Book on Aug. 29.
"It was really important to us. Him and I worked a lot on that story. I grew up with the guy. I'm old. Everything that we've been through together. Day one on set. I got to watch him blossom as this amazing actor."
Aw, shucks.
But it looks as though Lincoln is set for some exciting projects after he bows out of one of TV's top shows. According to Comic Book, he'll be working behind the scenes, on the visual effects for Todd McFarlane's epic reboot of the 1997 Spawn movie. He's also set to put himself behind the camera, rather than smouldering in front of it, for The Walking Dead. Speaking to Entertainment Weekly on Sept. 25, he confirmed: "I'm going back to shadow a director, and my intention is to direct next year."
So, it looks as though our man's hoping to lend as much talent behind the scenes as he did when all attention was focused on him. I mean, good for him, but I sure am going to miss that unreasonably well groomed beard of his.
The Walking Dead Season 9 premieres on FOX UK on Monday Oct. 8 at 9 p.m.