The New 'Walking Dead' Showrunner May Have Hinted At How Exactly Shane Is Coming Back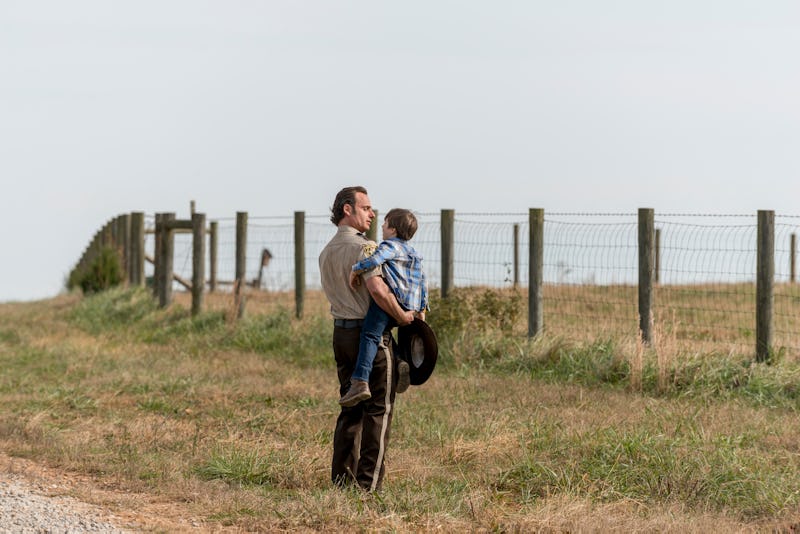 Gene Page/AMC
His character died back in Season 2, but Jon Bernthal is set to return to The Walking Dead. At the first-ever AMC Summit on June 20, the series new showrunner Angela Kang provided some clues about The Walking Dead Season 9, which may explain how Shane makes his comeback. Kang confirmed that next season will play with time, which is certainly significant. Timeline manipulation isn't really anything new to the franchise, especially since flashforwards and flashbacks dominated the first half of Fear The Walking Dead Season 4. But Kang not only said that The Walking Dead will jump in time for Season 9, but also hinted that the series could possibly go back in time as well.
During the Kick-Ass Women Of AMC panel, the showrunner was asked what she's looking to do for her first season as showrunner of The Walking Dead. "I think what's really fun for me is that we're working on a season that has a really fresh look and feel," Kang said. "We're playing with time in this season, so we get to jump forward in the story. We come in on some pretty fun stuff."
Back in Season 4, The Walking Dead featured a time jump and then a flashback to the Governor. For Season 9, fans had reasoned that there would be another time jump since one occurs after the battle with the Saviors in the comics. AMC hadn't confirmed this theory, but Kang's statement makes it official. And it stands to reason that Season 9 will start in the future — and not Old Man Rick dream future, the actual future.
The season probably won't follow a linear path after the time jump. As TVLine reported, AMC has not confirmed anything, but sources told the publication that Bernthal will return for one episode. Considering that Carl shot Shane's reanimated corpse in the head in Season 2, the most logical way he could return would be through a flashback. But it's not like Rick hasn't seen dead people in visions before (*cough* ghost Lori at the prison *cough*), so Kang's time comment may be confirmation that Shane will appear in scenes from the past.
Although Kang didn't discuss it, Season 9 is also rumored to be Andrew Lincoln's last hurrah on the series, which could explain why Rick might be taking trips down memory lane. And Kang noted that Season 9 will be centered on the original major characters. She was asked if she intends to highlight the female characters more as the first female showrunner of the series.
"I'm really focusing a lot on the core character relationships in the show that have been long-lasting," Kang said. "I think for people who are really invested in, say Michonne, Maggie, Carol, there's such great material for them. As well as, of course, Rick and Daryl and those other characters that we love."
But Season 9 won't only focus on the survivors who the show has followed since the first few seasons, Kang brought up another female character that viewers will see a lot of in Season 9 — Jadis, aka Anne, played by Pollyanna McIntosh. "I think we're going to see Anne in a way that people will be very surprised by, seeing a different aspect of her character," Kang said.
While she didn't offer a ton of specifics during the AMC Summit, the show's brand new boss did offer a few tidbits to get fans psyched for new episodes. And her comments don't exactly disprove the theory that The Walking Dead Season 9 may take a journey through time to bring Shane back from the dead for one final altercation with Rick.