Chelsea Was Blindsided By This Choice Of Arie's On 'The Bachelor'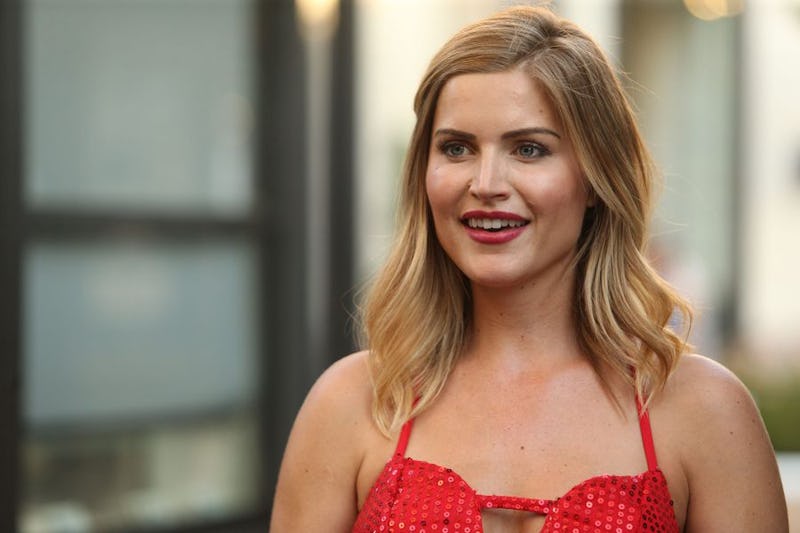 Paul Hebert/ABC
The whole premise of The Bachelor is to slowly eliminate contestants until the Bachelor finds the love of his life, but, as a fan, it doesn't make it any easier to say goodbye to the ladies that you become attached to (speaking from personal experience, that is). Why did Arie send Chelsea home on The Bachelor? She really wasn't expecting to pack her bags, and it was sad to watch her go.
Way back in Week 1, Chelsea was the lucky recipient of Arie's first impression rose, and she even nabbed one of Arie's first kisses. When Arie handed Chelsea that rose, he said, "Even though you haven't shared that much, I want you to open up and I want you to know that I'm here for you." Safe to say that things were going really well for Chelsea and Arie at the beginning of the season, and then... I don't really know. Something switched. Chelsea and Arie's relationship was probably just eclipsed by other relationships moving more quickly toward Arie's end goal of marriage (since all he can talk about is wanting a wife).
Chelsea is also a single mother, and while he was fine with that during Emily's season of The Bachelorette, (Emily was a single mother at the time), Arie talked a lot about Chelsea's kid. I don't know if he didn't want one or if he did, but he was mostly all like, "Cool, you're a mom." Not, "Cool, I'd love to parent your kid." Beyond that, Arie didn't seem to know a lot about Chelsea. She's more than "just" a single mom, but it didn't seem like that had really clicked for him.
In any case, Chelsea was completely blindsided when Arie didn't give her a rose. Although he did the whole, "You're such an amazing person" thing with Chelsea, he didn't any offer any specific reason as to why he didn't think it was going to work between Chelsea and himself. "I didn't see this coming. I thought there was definitely more, and I'm disappointed in that, because that's where I go wrong every single time," Chelsea said through tears after her elimination. "I'm still hopeful. As a person, I want love." That was sad, because Chelsea clearly just wants someone to share her life with. But you know what? Arie wasn't that guy, and things will be OK. After the episode of her departure aired, Chelsea posted on Instagram thanking everyone who supported her Bachelor journey along the way.
Since The Bachelor wrapped, Chelsea seems to have gone back to the life she was living before the show. She and her son live in Portland, Maine, and they're strolling through winter wonderlands and making the most of the very long, very cold season up in New England.
On Chelsea's ABC.com profile, she said that France is "where all the love stories seem to be based in the fairytales I heard as a little girl," so I wonder if it hurts even more that Chelsea was sent home after Arie had brought everyone to Paris. She and Arie also probably wouldn't have been compatible, seeing as she said in her bio that she hated when a date was way over the top with PDA. "Let me breathe!" is what she wrote, and I gotta tell you — after watching Arie kiss all of those women, Chelsea would have probably given up on Arie fast. Arie is a face grabber, and he also likes to touch a lot and play with his date's hair.
So, even though Chelsea got her heart broken on The Bachelor, let's look at this as a silver lining. Chelsea is sure to find a man that's a better match for her than Arie, and they'll be two peas in a rose-free pond. And if not? There's always The Bachelorette.