Don't Be So Quick To Judge Ashley On 'A Million Little Things'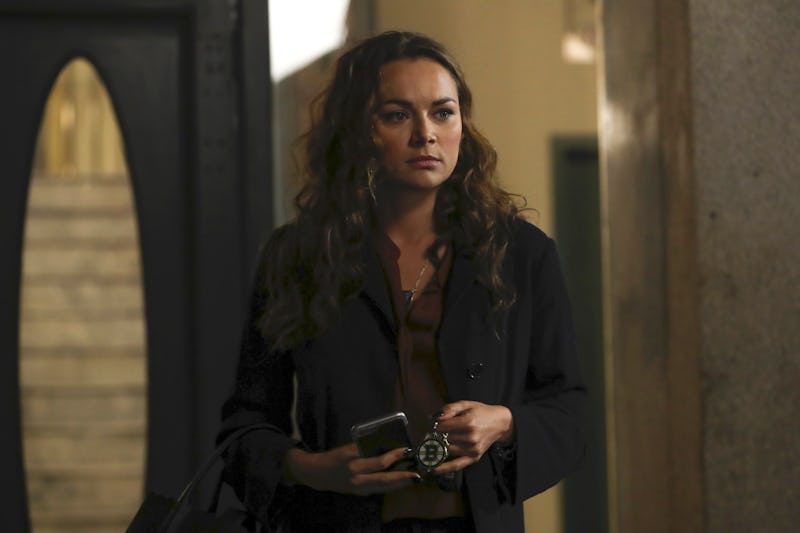 Jack Rowand/ABC
Every week, audiences learn more about the friends in Jon's life, but his assistant Ashley is still a mystery on A Million Little Things. She seems very close to Jon's life and family. His wife Delilah doesn't consider it weird at all that Ashley just pops over all the time. But should everyone be so trusting? Why did Ashley hide Jon's note on Million Little Things? His assistant is keeping a big secret from Delilah.
After Jon's death, Ashley took the note that he left for Delilah and opened it herself. It revealed a secret folder marked "Rutledge" that contained a life insurance policy made out to Jon's three best friends and a mystery woman named Barbara Morgan. Ashley has so far kept the existence of the note a secret from everyone, and she continues to do shady things like delete Jon's computer files and make mysterious phone calls about his assets.
Even though there's a lot of other drama for the show to explore, Christina Ochoa, who plays Ashley, told HollywoodLife that Ashley's mystery isn't going to fade into the background. "The folder is still in play, let's say that. The folder is in fact pretty prominent," she said.
What's most important about the note might be the fact that Ashley took it before she even knew what was inside. Sure, the note led to a secret folder with even more secrets inside — but before she discovered that, Ashley was just stealing what was presumably Jon's final words to his wife. Many have suspected that Ashley and Jon had an affair before his death. Perhaps Ashley was worried that Jon would have come clean to Delilah in the letter and Ashley didn't want to be wrapped up in that. Perhaps Ashley was simply in love with Jon and jealous that he left Delilah a note and not her. Maybe Ashley decided that if she didn't get a note, no one would.
But those are fairly obvious theories, and the show's creator DJ Nash has promised that all isn't as it seems with Ashley. "I'm sure as social media has suggested, that everyone has a pretty good sense of who they think Ashley is, and we are going to flip that," Nash told IndieWire.
In an interview with TV Guide, Nash added that he does think Ashley "genuinely loves Jon," and that she's therefore making decisions with him in mind. "I think she believes that all of the things she's doing are honoring Jon," Nash said. "In terms of Ashley, there's stuff going on about Jon that the rest of the group of friends wasn't aware of, and we're going to learn more about that as the season progresses."
Maybe Ashley just wanted to protect Jon's memory and worried that he might have come clean in the note about something not-so-good that he'd done in his past. Whatever the truth is, there's clearly more to Ashley than she or the show is letting on — and it probably isn't the most obvious answer.
If you or someone you know is experiencing suicidal thoughts, call the National Suicide Prevention Hotline at 1-800-273-8255 or text HOME to the Crisis Text Line at 741741. You can also reach out to the Trans Lifeline at 877-565-8860 or the Trevor Lifeline at 1-866-488-7386, or to your local suicide crisis center.