'Bachelorette' Contestant Chris Almost Folded Under Pressure & Becca Wasn't Having It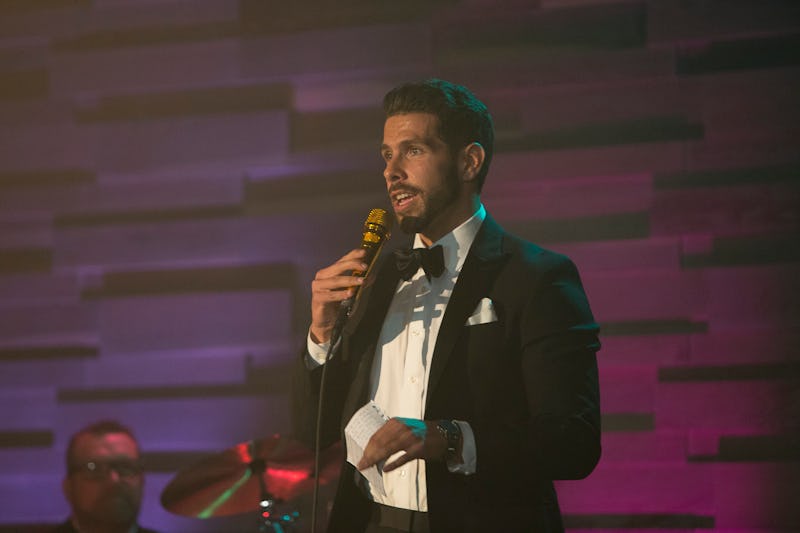 Paul Hebert/ABC
Monday's episode of The Bachelorette was a big night for drama — and a bigger night for sending guys home. But when it came to Chris, who voiced his displeasure at the way he felt Becca and the show were treating him on multiple occasions, he was totally safe. Becca has made it more than clear that she's not messing around this season, so what's going on? Why did Becca keep Chris on The Bachelorette despite the fact that he's already made it obvious that he's not cut out for this kind of love story?
Becca didn't exactly explain her choice, so it seems like it may just be because she feels some kind of connection with Chris that she still thinks is worth exploring, even if things are a bit dramatic between them. It's only week five, which is just halfway through the season, so it makes sense that Becca would still want to keep him around if she felt that spark — and when she and Chris finally had the opportunity to talk after all the drama that happened, he admitted that everything he's been saying and doing has really been out of fear for how strong his feelings are for Becca.
To be totally fair, Chris had a pretty good start this episode. He totally killed the Wayne Newton challenge, and his performance of the song he wrote for Becca was the only one who really got the crowd fired up. But after he didn't receive the date rose for his performance, he started thinking that maybe if he wasn't one of Becca's frontrunners at this point, maybe he should just go home. That's obviously a pretty big jump when it's still relatively early on in the season, but Chris took the (slight) rejection very personally.
After that, there was a lot of cocktail party confrontation, including interrupting other guys so he could have more time to talk to her and explain his feelings, and all signs seemed to point to Chris getting sent home. But somehow, he wasn't, and it might have been because he saved himself during his final conversation with Becca before the rose ceremony.
He told her:
"I not only see you as a potential wife, but I've told you before, I'm legitimately falling for you. . . It was the first time I hit, like a wall. And that's when my fear crept in. Maybe I needed a little bit of adversity to make me realize not only what's in front of me to maybe also change, because the old me probably would have left. But the old me realizes what I have in front of me, and what I have in front of me is something special, and I'm not gonna run away from that. I f*cked up. I think that's pretty much the way I can say it best, and I'm sorry, and I want you to believe me."
And once he told her that he wants to stick around and see how things go, it seemed clear that he probably wasn't going anywhere. After all, Becca's proven herself to be the kind of gal who doesn't feel the need to wait for a rose ceremony if she definitely thinks someone should go home — and when that rose ceremony did roll around, Chris did end up getting a rose.
Chris might be safe another week, but he should probably tread very lightly in the future. It seems inevitable that Becca might have at least a few doubts about him in her head, and if she needs to make a cut, she'll make one. And TBH, if Wills gets interrupted one more time... well, it's going to be quite a scene for Bachelorette fans to experience.