Why Did Ben Higgins & Lauren Bushnell Split?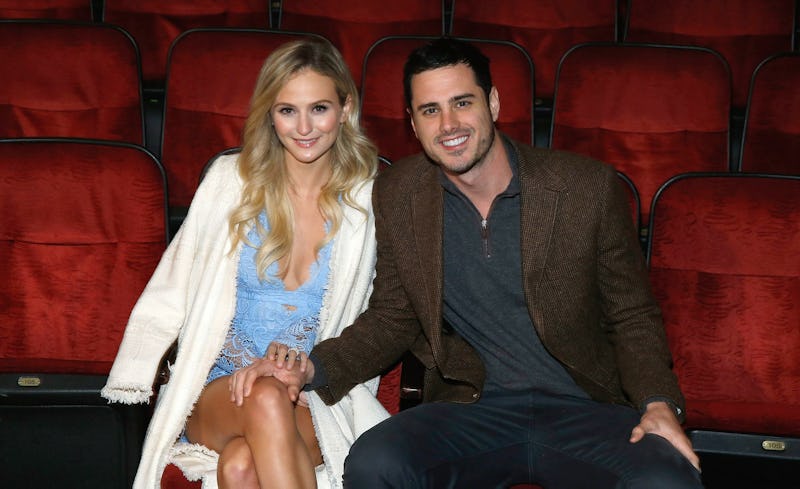 John Lamparski/Getty Images Entertainment/Getty Images
Bachelor Nation is shooketh today as we process the news that Ben Higgins and Lauren Bushnell have broken up. Outwardly, this Bachelor-created couple gave the appearance of stability and unity. They were a regular item on red carpets, at awards shows, and in interviews. So, why did Higgins and Bushnell break up, you ask? The details are still developing, but let's see what we can puzzle together.
In an official statement released to People, reps for Bushnell and Higgins have commented on the breakup thusly:
It is with heavy hearts that we announce our decision to go our separate ways. We feel fortunate for the time we had together, and will remain friends with much love and respect for one another. We wish nothing but the best for each other, and ask for your support and understanding at this time.
This joint statement makes it feel like an amicable breakup, to be sure, but it nonetheless removes the sting of suddenness from the entire event. The pair, which met while during Higgins' season of The Bachelor, have never been prone to public drama nor have they ever given onlookers pause in terms of their compatibility. Indeed, one might argue the most dramatic event in their relationship occurred on The Bachelor, when Higgins told Bushnell and Bushnell's romantic competition, JoJo Fletcher, that he loved them during the Fantasy Suites phase of the show. But that was so long ago, it's hardly reason to this that was the straw that broke the camel's back.
Looking through Bushnell's Instagram, the last time they were pictured together was about a month ago. Higgins posed with his now-ex's family and she captioned the photo simply: "Family" with a heart emoji. Not exactly damning evidence of a couple on the rocks.
Interestingly, the last time Bushnell showed up on Higgins' Instagram was about a week after that Bushnell family photo. The former couple posed for a group photo where Higgins was quite affectionate when speaking about his now-former fiancée, even going so far as to say she was "icing on the cake" in terms of the quality of his dates.
So, we may not know right now precisely why this couple broke up, but we do know that something major happened within the last three weeks. Let's hope that the two remain amicably split and that nothing too serious has happened to either of them.