Monday Night's 'Bachelor In Paradise' Included A Shocking Two-Person Exit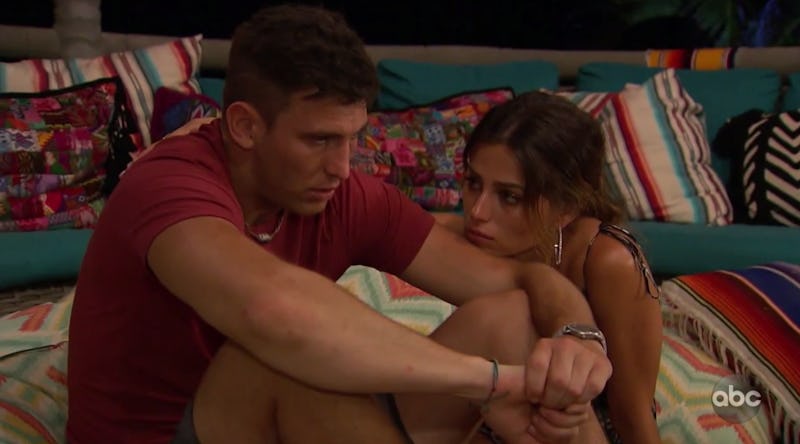 ABC
Another one bites the...beach? Well, two did, actually. After an emotional breakup (even though they weren't officially together?), Kristina and Blake left Bachelor in Paradise after realizing they weren't on the same page in their relationship. Although it's unfortunate that neither of them found love this time around, it's kind of ironic that they made their exit together, considering they also shared the first one-on-one date during Week 1 to discuss their first bad breakup.
It's like their story came full circle in the worst of ways, but it was a learning experience for them nonetheless. The two had been giving each other friendship roses for a few weeks before Blake ultimately decided to try give thing another shot romantically. Kristina was immediately hesitant, having been heartbroken by him already. She still cared about him as a friend, but ultimately couldn't see herself having feelings for him again.
"I was gonna say I would give us a chance and try, but I don't think I'll be able to get where I need to get with you," she told him. "I can't get there, if I'm being real. It would have been very misleading of me to continue with these dates. I'm sorry, like…I really did not want to upset you. I really think I was trying to be as open as I could be."
Kristina also said his interest felt disingenuous because it wasn't there from the beginning. "The fact that we were really open and pursuing other people just makes me wonder, are we wanting each other at this point because we're safe, or is it because we actually want each other?" she told Blake. "It's a question we'll have to answer, but right now I feel like this is the right decision for me to make, to leave Paradise [and] remove myself from the situation."
Blake was completely taken aback and immediately broke down in tears. He decided that it was time for him to leave as well, as there was nothing left for him in Paradise. "I genuinely wanted a future with Kristina," he told the cameras. "I thought we were going to leave together. I don't know how she doesn't see what I see. How can I be this wrong every time? Every time I'm this wrong. It feels like I just got my heart ripped out again by Becca."
He then wondered if the experience had anything to do with the very layered Stagecoach scandal that took place at the beginning of the season. "Part of me feels like I deserve this, like it's just karma you know?" he said. "She just didn't want me. I wasn't enough. Not for Becca, not for Hannah, not for Kristina. I made some mistakes, but I'm not a bad person. I know it. Why did I come to Paradise? I learned a lot, but at what cost?"
As the episode was airing, he also shared somewhat of an epiphany that could be an answer to that question. "To say Paradise was rough for me is an understatement. I have no one to blame but myself for that," he wrote on Instagram. He continued:
"It's not easy putting yourself and all of your mistakes out there for the world to see. No matter the differences all of us had on that beach, I will always have respect for each and every one of you, being brave enough to be yourselves and chase the love we all feel we deserve. Never forget that we are all human and not characters on television. I want to thank those of you that have sent me kind words and encouraging messages. Those have helped more than you will ever know. I hope that this is not the end of my story and I can look back at this summer and be grateful for the lessons learned and the friends made."
He may not have found love, but at least he learned something from the experience. And that's a better reason than to go on Paradise.