Brandon & Leah Jenner Are Nothing But Honest About Why They're Splitting Up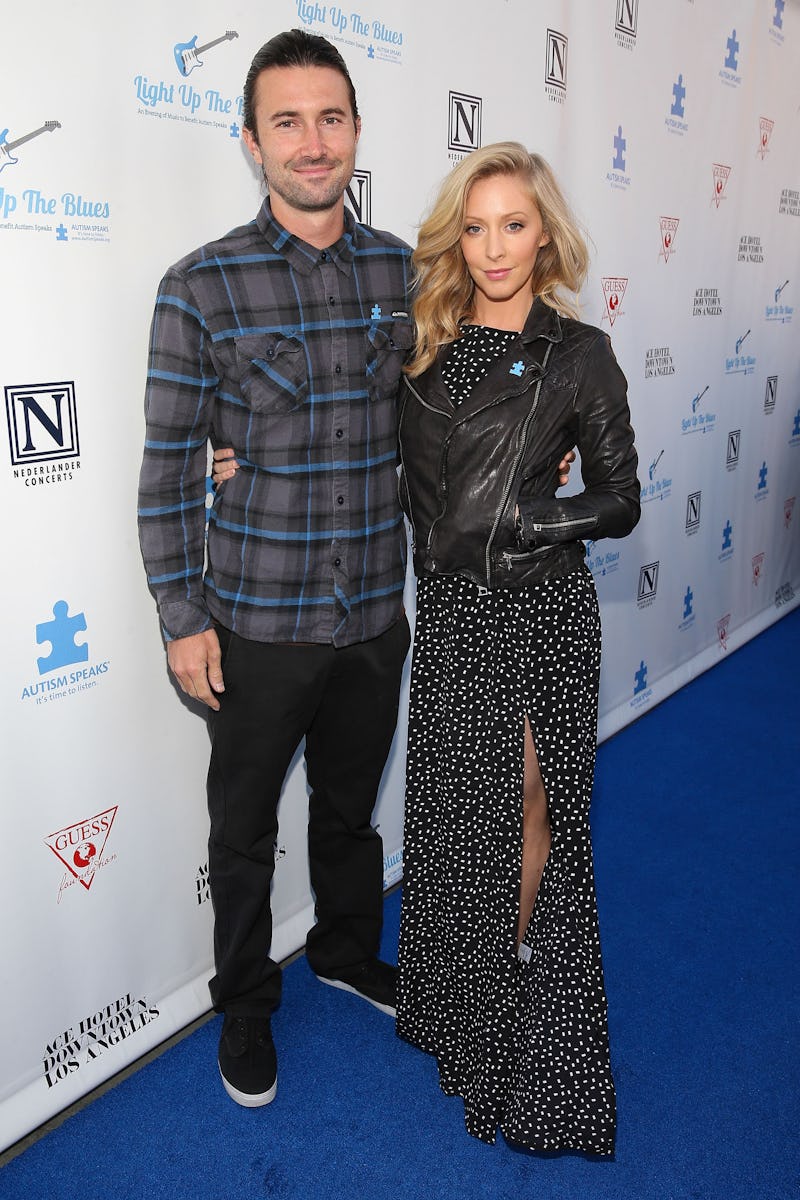 Imeh Akpanudosen/Getty Images Entertainment/Getty Images
After 14 total years together, Brandon and Leah Jenner have split, they both announced on Instagram on Monday. The news may come as quite the shock to fans, especially those who follow them and also watched the two on Keeping Up With the Kardashians. You might even be wondering why Brandon and Leah Jenner split. As sad as their breakup might be, you can rest easy in knowing that the former couple still care about each other.
In their joint statement posted on social media, Brandon and Leah made it clear they hold no ill will toward one another nor did their split have anything to do with a third party, lies, or arguing. It seems to have been a natural progression and a mutual decision.
"It is with love in our hearts that we feel it's time to share some personal news with you all," their message began. "After celebrating fourteen beautiful years together, we have lovingly come to the decision to end the romantic aspect of our relationship. We are deeply proud of the life we've cultivated together and are truly grateful for the bond of friendship we hold and cherish today. It is stronger than ever."
The statement continued:
"Even though we have chosen to separate as a couple, we still love one another very, very much and remain a major part of each other's lives- as best friends, family and loving parents to our daughter. There has been no lying or cheating or fighting that prompted this change, just an expansion of our individual evolution which has inspired us to support each other in a new way. We are still, very much, a loving family and are bonded by a deep connection that is rooted in love. Here we openly share our truth with you all and, respectfully, we won't be commenting further so anything that might state the contrary of this message would, undoubtedly, be a fabrication."
They didn't go into further details or explain what exactly what they meant by "an expansion of our individual evolution," and they probably won't. As they said in the conclusion of their announcement, they won't be making any further comments.
If you need more proof that they really are on good terms, on Sept. 8, Leah posted an Instagram of Brandon smiling. Next to the image, she wrote, "The best Dada ever."
Like they mentioned in their statement, Brandon and Leah are parents to their 3-year-old daughter, Eva James Jenner. Leah gave birth to Eva on July 22, 2015. According to Entertainment Tonight, Brandon and Leah first met in middle school, so they have known each other most of their lives. They got married in May 2012. At the time of their wedding, Linda Thompson, Brandon's mom, told People, "Brandon and Leah are the most beautiful reflection of each other. They not only bring the best out in each other, they believe the best about each other."
Well, Thompson's words seem to still ring true even today. Despite Brandon and Leah no longer being together, they continue to support and love each other as former partners and current friends. They really do seem to bring out the best in each other no matter what.