Catt Sadler Announces She's Leaving E! & Claims It's Because Of Equal Pay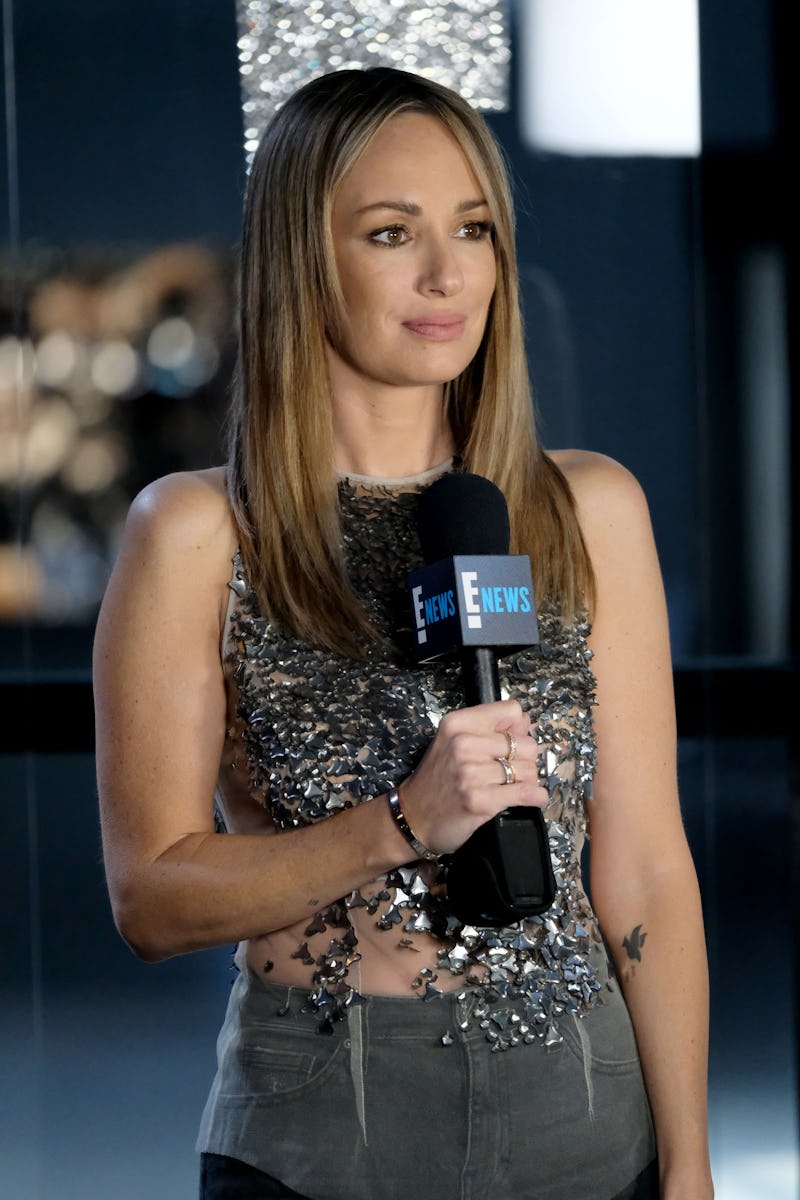 Mike Coppola/Getty Images Entertainment/Getty Images
E! News just lost a member of its team that had been a host for more than a decade. On Dec. 19, Catt Sadler left E! News and revealed that she quit because she was reportedly not receiving equal pay as her male co-host, Jason Kennedy. Why Sadler left E! News was explained on her website, TheCattWalk, and she told PEOPLE magazine how difficult it was to quit her "dream job." However, she said that she chose to leave after an executive at E! reportedly informed her that Kennedy was reportedly making nearly double her salary. When she asked to be compensated equally, E! reportedly denied her "repeatedly." However, in a statement to Bustle, an E! spokesperson said,
"E! compensates employees fairly and appropriately based on their roles, regardless of gender. We appreciate Catt Sadler's many contributions at E! News and wish her all the best following her decision to leave the network."
Sadler had been with E! for 12 years, first starting off with the now-defunct The Daily 10 and then moving on to E! News. This year, she split her time co-hosting the E! News evening series twice a week and The Daily Pop, a two-hour daytime series. On her blog, Sadler said that pulling this "double duty" was "creatively challenging but genuinely one of the most fulfilling years of my professional career."
Her contract with E! was to be extended this year. But after she learned about the reported "massive disparity in pay between my similarly situated male co-host and myself" and was reportedly not given a pay increase that she felt she deserved, she chose to leave. Dec. 19 was Sadler's last day with the network.
"Information is power. Or it should be," Sadler wrote on her blog. "We are living in a new era. The gender pay gap is shrinking, although admittedly we have a long way to go. And well, I learned this first hand. My team and I asked for what I know I deserve and were denied repeatedly." She claimed:
"Know your worth. I have two decades experience in broadcasting and started at the network the very same year as my close friend and colleague that I adore... But how can I operate with integrity and stay on at E if they're not willing to pay me the same as him?"
Although she didn't explicitly state who her "close friend and colleague" is on her blog, Sadler confirmed to PEOPLE that it is Kennedy. (Along with co-hosting the E! News evening series, Kennedy is a correspondent for the network's signature red carpet coverage.) And while Sadler is being transparent about her alleged reasons for leaving E!, she does not want Kennedy to receive any backlash for what she perceives to be their pay inequality based on gender.
"Jason Kennedy is one of my best friends in the whole wide world. He is like a brother to me. And in no way do I want this to reflect poorly on him," she told PEOPLE. "It's important that people don't vilify him because he isn't the problem — the system's the problem, the structure's the problem. And I really do mean that. Because that's been a hard part of this whole thing because I love him dearly. And to be honest, he has been such a champion for me in every sense. But it's not his decision."
After 12 years at the network, Sadler cited on her website the "dream" opportunities she had as a host, from reporting from the royal wedding of Prince William and Kate Middleton to co-hosting with the Kardashians. "It was my desire to stay at my job," Sadler claimed on her blog. "Unfortunately, however, my decision was made for me and I must go."
She said her choice to leave was "scary," especially since she is a single mom to her two sons. Yet as she explained to PEOPLE, she feels a responsibility to herself and other women to be "an agent of change" when it comes to the gender pay gap. "Countless brave women have come forward this year to speak their truth," Sadler wrote on her blog. "Females refuse to remain silent on issues that matter most because without our voices, how will we invoke lasting change? How can we make it better for the next generation of girls if we do not stand for what is fair and just today?"
Based on reactions on social media so far, she is already making an impact and raising awareness due to her openness on the subject. While she certainly will be missed from the E! lineup no matter the reason that she let, her words may inspire other women to advocate for themselves and know their worths.
Editor's Note: This article has been updated from its original version.