This Is Actually The Third Wave Of CEOs Quitting Trump's Councils In Protest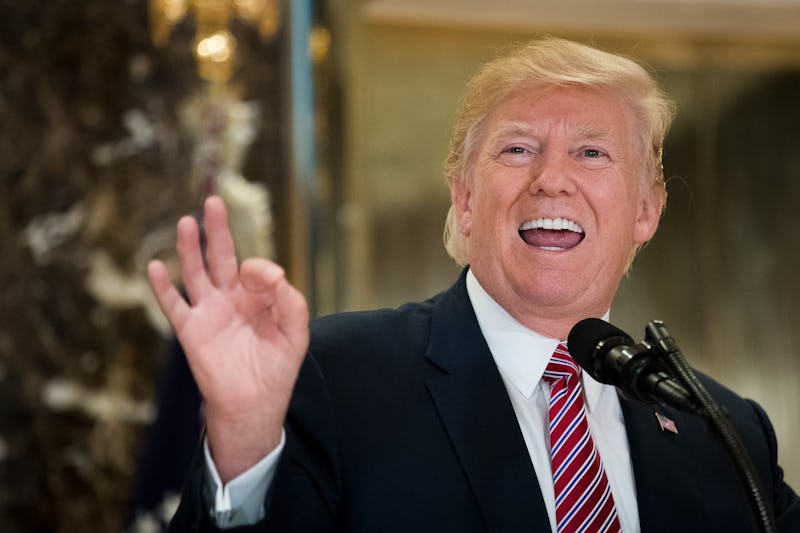 Drew Angerer/Getty Images News/Getty Images
Donald Trump announced via Twitter Wednesday that the presidential advisory councils on manufacturing and strategy and policy would be ending, which isn't much of a surprise given their short but turbulent history. CEOs quit Trump's advisory councils left and right this week, but there were signs of trouble from the very beginning.
The first resignation came from former Uber CEO Travis Kalanick, who quit the Strategy & Policy Forum less than two weeks after Trump's inauguration. Kalanick cited the Trump administration's first executive order banning immigration from select majority-Muslim countries as his reason for quitting when he informed his employees of the decision. "There are many ways we will continue to advocate for just change on immigration but staying on the council was going to get in the way of that," Kalanick said in an email to his company at the time. "The executive order is hurting many people in communities all across America."
The next round of resignations occurred once Trump decided to withdraw the United States from the Paris climate — after that, Bob Iger of Disney resigned from the council on manufacturing, and Elon Musk of Tesla resigned from his position on both councils. "Am departing presidential councils. Climate change is real. Leaving Paris is not good for America or the world," Musk said via Twitter of his departure. "I've done all I can to advise directly to POTUS, through others in WH & via councils, that we remain."
But the councils' futures weren't doomed until this week, when Trump tried to morally equivocate the white supremacist protesters in Charlottesville with the counter-protesters who showed up to stop them. Eight members of the manufacturing council resigned their posts, including representatives from the AFL-CIO, Campbell Soup, Intel, and Under Armour. Yet even as it was being disbanded anyway, the Strategy and Policy Forum refused to disavow the president in its statement.
"As our members have expressed individually over the past several days, intolerance, racism and violence have absolutely no place in this country and are an affront to core American values," the group said in a statement, according to NBC News. "We believe the debate over Forum participation has become a distraction from our well-intentioned and sincere desire to aid vital policy discussions on how to improve the lives of everyday Americans."
Trump's business experience and connections were the single qualification for the presidency that he pushed the hardest during the campaign. Now that his industry support has fallen, it's unclear how Trump plans to bounce back from this. His administration seems to be falling, domino by domino, as staffers and advisors keep exiting and PR scandals keep piling up.