This Is Why Chloe Returned To 'Dance Moms'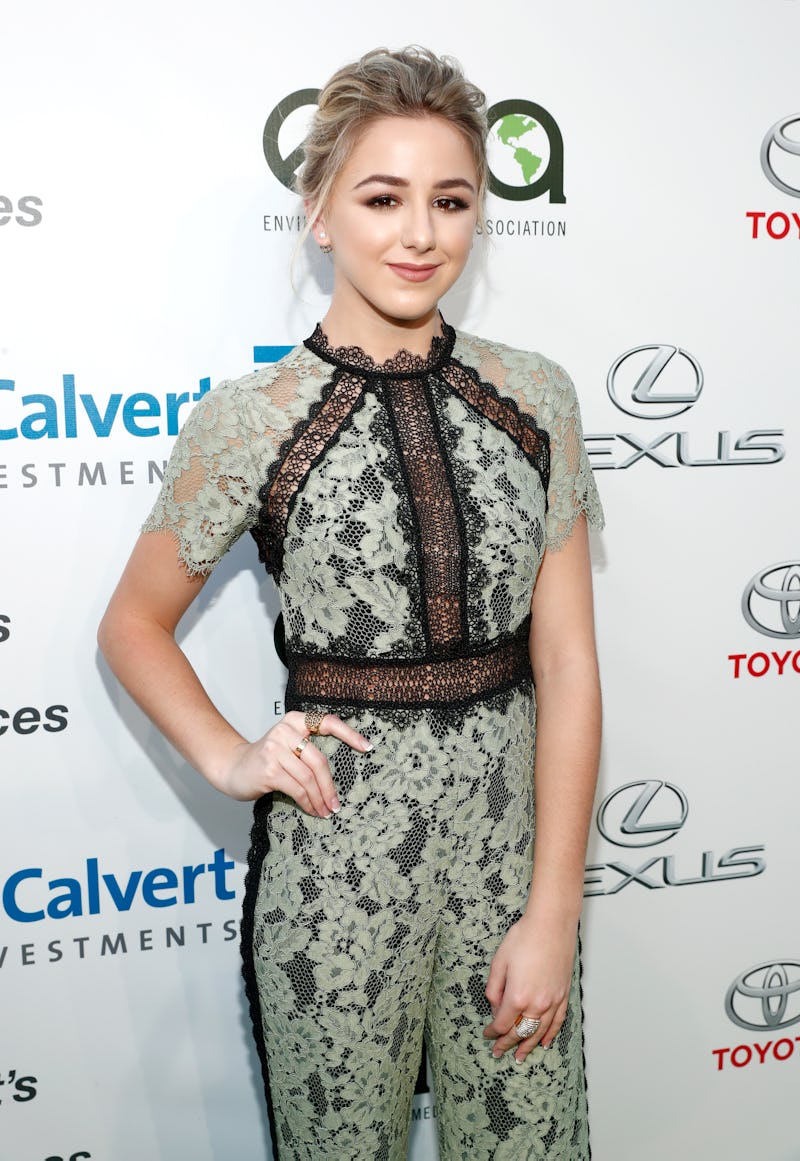 Rich Polk/Getty Images Entertainment/Getty Images
In case you missed it, the ALDC is on the road to Nationals — but the competition may be upstaged by something far more exciting when Chloe Lukasiak returns to Dance Moms for the Season 7 finale. The fan favorite and her mom, Christi, left the show after Season 4, but Chloe's star has only risen since her departure from the reality series. She began training at Studio 19 and went on to win both a Teen Choice Award and an Industry Dance Award in 2015. Last year, Chloe made her movie debut in Center Stage: On Pointe and she has two movies coming out in 2017 — so, it's safe to say she doesn't need Dance Moms to succeed. In an interview with Bustle, Chloe talks about her surprising decision to return to the series.
"My mom and I had been talking one night and she said that the girls were coming back to Pittsburgh and it might be the last competition," she recalls. "I teared up because that was my childhood. Growing up, it was all I knew. I got a little sad about it and then I thought, 'what if I came back for the finale? How funny would that be?'" What started out as a joke turned into a dream come true for Dance Moms fans who know the show hasn't been the same since Chloe's departure.
Like every other choice they've made regarding Dance Moms, Christi and Chloe's decision to return was mutual. "My mom respected my decision because when we did the show, it was always something that we agreed on, including when it was time to leave," she says. It's still top secret whether or not we'll get to see Chloe dance in the finale, but she says the best part of the experience was reuniting with her teammates. Although she sees them at awards shows and events, Chloe says their reunion in the dance studio was special.
"I miss the relationship that we used to have just because for the two years I've been off doing my own thing and they've been still on the show, so we've just kind of grown apart," Chloe says. "It was really nice to see them again and reconnect." She's still close friends with Nia, and Chloe hints that her former teammate's reaction to her entrance is priceless. "It's the most amazing thing I've seen," she says.
Although Chloe left Dance Moms under tense circumstances, she says her return was a positive experience and she has no regrets. "I feel like I've grown up a lot since leaving the show and I've gained my own voice," Chloe says, adding that she speaks a lot more in the finale than she ever did during her time as a regular on the series.
Chloe still dances at Studio 19 when she's home in Pittsburgh, and takes every dance class she can squeeze in when she's at her second home in Los Angeles. Chloe says that she hasn't been competing, but she misses it and she may reenter the competition circuit sometime soon. "It's something my mom and I have been talking about," she says.
Although Chloe is devoted to her dance training, it's certainly not the only thing that's keeping her busy. Case in point — her very first fashion line launches this spring and, although she can't provide many details at this time, something tells me her fans will be clamoring to buy every item Chloe designs. The line is inspired by her own sense of style, and Chloe has a very wise number one rule when it comes to fashion: "Any time I go to an event or anything, my outfit has to be comfortable," she says. "That's a key component for me."
Ever since she began to divide her time between Pittsburgh and Los Angeles, Chloe says her style has evolved. "It's a mix of east coast and west coast fashion, which is kind of how I dress," she says. "The west coast fashion has influenced me a lot. I find myself dressing for warm weather even when it's freezing in Pittsburgh."
In addition to her fashion line, Chloe recently completed her third film. She stars as Lexi in the sci-fi film Loophole and says her character is totally different from her previous roles in Center Stage: On Pointe and Cowgirl's Story. "[Lexi] plays video games and she doesn't really care about what she wears. She just kind of goes with the flow," Chloe says. "She was a really interesting character to play." And, she got to prepare for the role in the most fun way ever — by playing video games like Mario Kart. Chloe adds that she loved adding a new genre to her repertoire: "It was a lot of action and I got to work with stunt people, so it was really fun," she says.
Between dance, acting, and fashion design, Chloe says 2017 is already shaping up to be a super busy year. When she does have downtime, her very favorite thing to do is read — and she even hosts a book club on her YouTube channel. Chloe recently finished reading The King's Cage, by Victoria Aveyard, and is in search of a new series to start.
I can't wait to see what will happen when Chloe reenters the ALDC in the Season 7 finale — but we can rest assured that she'll handle it with maturity and grace, even if Abby doesn't give her a warm welcome. Either way, Chloe has a bright future ahead of her and it sounds like 2017 is shaping up to be her most exciting year yet.