Here's What Might Be Behind Trump's Wiretap Claim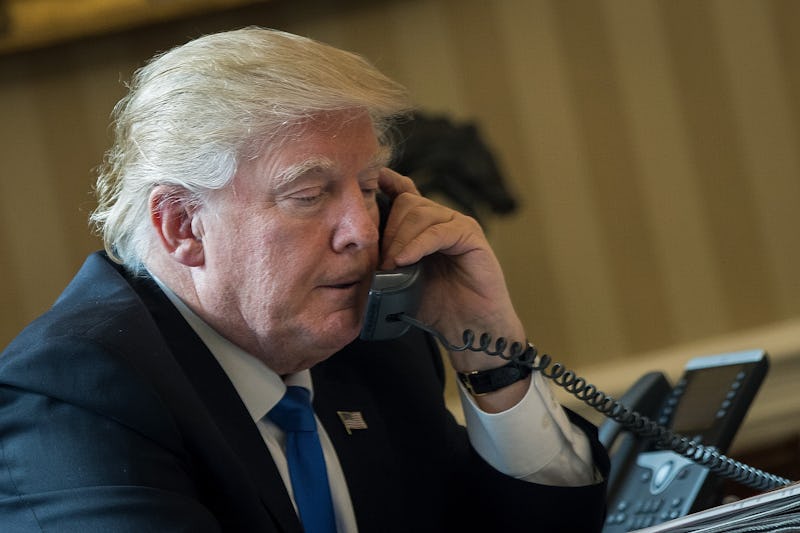 Drew Angerer/Getty Images News/Getty Images
Some call it rage-tweeting. Others call it distraction. However you define it, President Donald Trump's latest tweet storm has everybody talking. In a series of tweets published early Saturday morning, Trump accused former President Obama of wiretapping Trump Tower during the tail end of the 2016 election. The president has so far provided no evidence to support his explosive claim, making it hard to understand exactly why Trump accused Obama of wiretapping.
"Terrible! Just found out that Obama had my 'wires tapped' in Trump Tower just before the victory," Trump tweeted in the first of four tweets published on the subject Saturday. The president went on to compare the alleged action to McCarthyism and the Nixon Watergate scandal. "I'd bet a good lawyer could make a great case out of the fact that President Obama was tapping my phones in October," Trump tweeted before implying Obama was a "bad (or sick) guy."
Former President Obama has since issued a statement denouncing Trump's allegation. "Neither President Obama nor any White House official ever ordered surveillance on any U.S. citizen," Kevin Lewis, a spokesman for former President Obama said in a statement issued Saturday. "Any suggestion otherwise is simply false."
It's not 100 percent clear what spurred Trump's claim that Obama wiretapped Trump Tower as he provided no evidence or support. However, it seems more than likely the tweets are a reaction to the ongoing federal investigation into alleged communications between members of Trump's campaign staff and senior Russian officials, which has brought the president's administration under heavy scrutiny.
In a report issued in January, U.S. intelligence agencies concluded "the Russian Government aspired to help... Trump's election chances when possible." In January it was also reported – but not confirmed – that the Justice Department had sought to obtain a FISA warrant over the summer to monitor the electronic records of two Russian banks reportedly suspected of handling donations to Trump's campaign. According to a report by the BBC, neither Trump nor any of his associated were named in the FISA warrant that was – reportedly – ultimately issued in October.
It has also been suggested that Trump's allegation was inspired by a story published by Breitbart on Friday, which suggested Obama's administration employed "police state" tactics to monitor the Trump campaign in an effort to undermine the then-Republican nominee. According to the Washington Post, the story had "been circulating among Trump's senior staff."
Although his accusation Obama wiretapped his home and campaign headquarters have stirred up intense debate, neither Trump nor the White House have elaborated on his claim, making it nearly impossible to know for certain what motivated Trump's wiretapping allegation.