Donald Trump Jr. Met With A Russian Lawyer In June 2016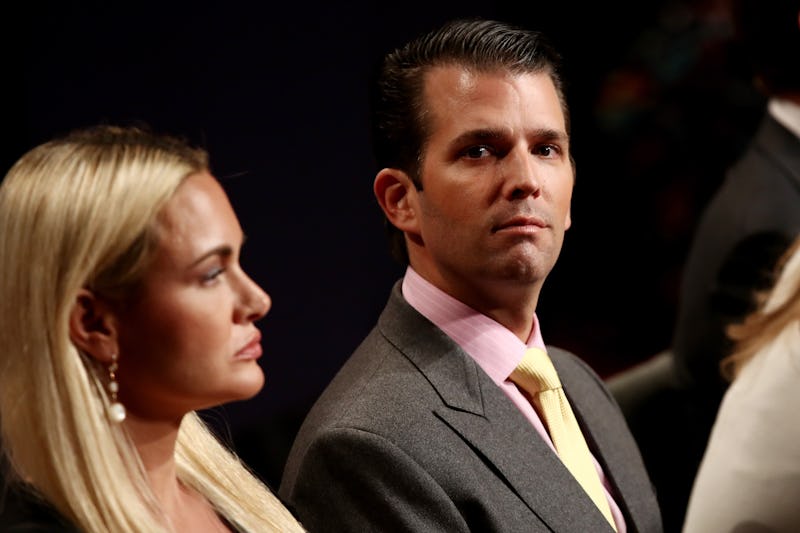 Win McNamee/Getty Images News/Getty Images
The 2016 presidential election ended months ago, yet questions about potential collusion between the Trump campaign and Russia remain. Trump has vehemently denied those claims, referring to the investigation into them as a "witch hunt." However, suspicions were refueled after The New York Times reported that in June 2016, Donald Trump Jr. met with a Russian lawyer who has connections to the Kremlin. On both Saturday and Sunday following the Times' reports on the meeting, Trump Jr. revealed why he sat down with Natalia Veselnitskaya.
In his official statement on Sunday following the Times' second report, Trump Jr. claimed that his father "knew nothing" of the meeting, that it lasted no longer than a half-hour, and that there was no type of follow-up. Mark Corallo, a spokesman for Trump's lawyer, reaffirmed that "the president was not aware of and did not attend the meeting," according to the Times.
After pleasantries were exchanged, the woman stated that she had information that individuals connected to Russia were funding the Democratic National Committee and supporting Mrs. Clinton. Her statements were vague, ambiguous and made no sense. No details or supporting information was provided or even offered. It quickly became clear that she had no meaningful information. She then changed subjects and began discussing the adoption of Russian children and mentioned the Magnitsky Act.
Prior to the Times' second report that Veselnitskaya had reportedly claimed to have damaging info about the Clinton campaign, Trump Jr. gave a slightly different explanation:
On Saturday, Veselnitskaya told the Times that she and Trump Jr. had not discussed campaign matters and that she had never "acted on behalf of the Russian government" or "discussed any of these matters with any representative of the Russian government."
In March, Trump Jr. claimed he did not recall having any set-up meetings with Russia, though he suggested it was possible he had crossed paths with Russian citizens.
Did I meet with people that were Russian? I'm sure, I'm sure I did. But none that were set up. None that I can think of at the moment. And certainly none that I was representing the campaign in any way.
Though Trump Jr.'s statements about his now-confirmed meetings with Russian citizens have painted slightly different pictures, what ultimately matters is what was discussed — not whether or not he met with Russians.
According to the president's son, the Magnitsky Act was reportedly the main topic of the June 2016 meeting. The act, which Vladimir Putin strongly opposes, allows the United States to deny visas to Russians believed to have been involved in human rights violations. In fact, Veselnitskaya is known for backing a campaign dedicated to bringing that 2012 act down.
Still, Trump Jr.'s meeting with a Russian lawyer claiming to have damaging info about Hillary Clinton doesn't look good for an administration being investigated for possible collusion with Russia.