Drake & J. Lo Are Reportedly Dunzo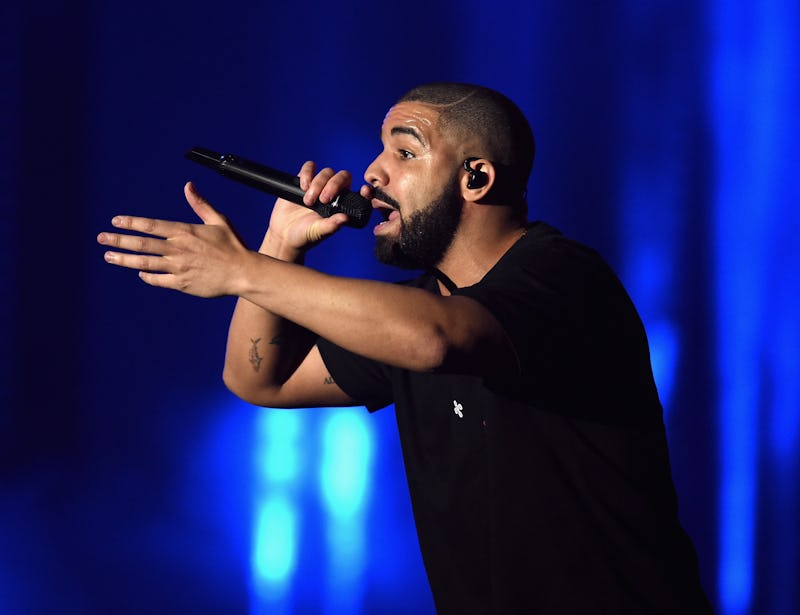 Kevin Winter/Getty Images Entertainment/Getty Images
After apparently dating for only a couple of months, Jennifer Lopez and Drake have reportedly called off their relationship. "Multiple sources" confirmed to Us Weekly that the relationship "died down a bit" and that the couple are done "for now." But why would Drake and J. Lo end things? (Bustle has reached out to reps for Drake and Lopez, but did not receive a response at the time of publication.)
Well, according to a source who spoke with E! News — and I'm not sure if this is a different source than the one who spoke to Us Weekly or just one person who's got all of the major gossip magazines on their speed dial — Lopez and Drake "have taken some time apart, not because they don't want to be with each other, just because their schedules started getting insane."
Sounds reasonable enough. I mean, I quite honestly never believed that these two were actually dating. Call me a cynic, but the whole J. Lo and Drake arrangement always seemed like a publicity stunt to me. I know, I know, I'm cold hearted, but I call it like I see it! After all, there were rumors that they were collaborating musically.
The E! insider continued:
"J. Lo and Drake are still talking, so people should know they are not in any means angry or that some incident happened. It mainly had to do with timing. They have just cooled things off a bit and it's not as fast as it was in the beginning. They very well may go to dinner tomorrow or in a month. They are in each others' lives, just doing their own thing now."
Adding fuel to the fire, Lopez recently posted a cryptic Instagram quote that totally seems like the kind of thing someone would share online after going through a breakup:
Drake began his tour in Europe in January (and is missing the upcoming Grammy Awards because of his schedule, despite being nominated for eight awards) and Lopez recent resumed her Jennifer Lopez: All I Have concert residency in Las Vegas, so it does seem like their busy schedules could actually have been the reason this romance died down. The couple never officially confirmed their relationship status, though, so it's entirely likely that the world will never know what really happened. Bummer, I know.