The Reason Fern Britton *Really* Left 'This Morning' Is So Different To Rumours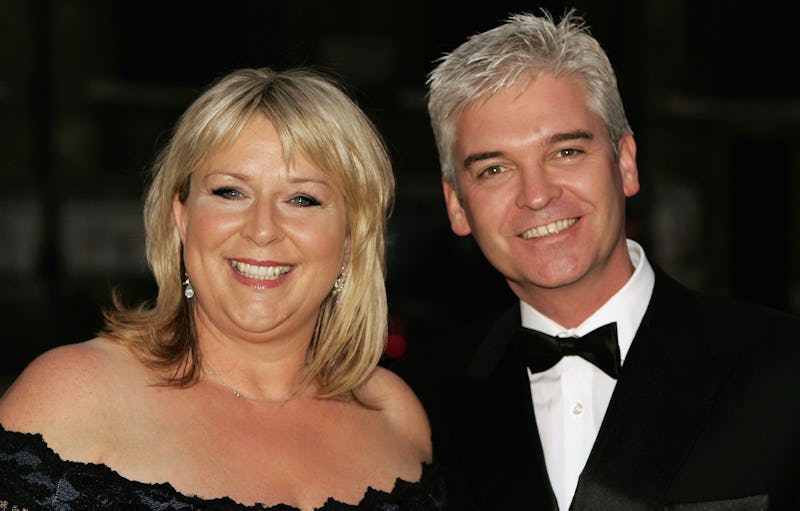 Gareth Cattermole/Getty Images Entertainment/Getty Images
Tuesday evening sees ITV's long-awaited documentary This Morning: 30 Unforgettable Years finally hit screens, and it sounds as though it's going to be a seriously fun trip down memory lane. Packed with modern clips of Holly Willoughby and Phillip Schofield, along with old-school, much-loved moments from hosts of yesteryear. But what happened to the OG presenters like Fern Britton? In fact, didn't she quit? Hang on a minute, why did Fern Britton quit This Morning?
Well, Britton spoke to Hello! magazine back in February 2018 to reveal all about why she left in 2009. And despite rumours, it seems the whole thing was extremely drama and scandal-free.
"I did ten years of it and I loved that show," Britton explained to the publication. "I can't tell you how much I loved it. But after ten years I just felt it was right to stop."
There had been talk of Fern quitting because of a pay gap issue between her and her co-host Phillip Schofield, which she vehemently denied when asked about during that same interview. "That certainly wasn't true, not least because I had no idea what Phillip had been paid; I knew what I was being paid and it was more than fair," she added.
"It's appalling that, if you are doing the same job as a man, you are paid less and I am absolutely all for equal pay but at the time, even if Phillip had been paid more than me, he was doing more programmes on television. It is wrong for someone else to be paid more than you are for the same job. But it's terribly important to find out where your 'enough' is because everybody's different and I was very happy with my 'enough'."
Britton also addressed many fans' desires for her to return to This Morning during that same interview, and made it clear it was not something she was planning on doing for the time being. She added:
"I do love working in television but I haven't done prime time for a very long while and there is always that point when you have to accept that you just have to move out of the way and let other people in. I do still work for the BBC, and I do a bit of this and a bit of that and a bit of radio, so I am very happy with the stuff I have."
While Britton won't be returning to the This Morning sofa anytime soon, she will be featuring in Tuesday's 90-minute bumper documentary This Morning: 30 Unforgettable Years. The one-off special will chart the show's history right back to its very beginning in 1988.
In the documentary, Richard Madeley and Judy Finnigan will join current hosts Holly Willoughby, Eammon Holmes, Ruth Langsford, and of course the legendary Schofield, to look back at the past 30 years on This Morning, with a focus on the endless number of hilarious comedic highlights. From live on-air mistakes to the range of superstars who've been interviewed on the show's sofa, it's undeniably going to be full of laughs and nostalgia.
This Morning: 30 Unforgettable Years will air on Oct. 2 at 7.30 p.m. on ITV.