'Bachelorette' Star Garrett Came Clean To Becca About A Major Part Of His Past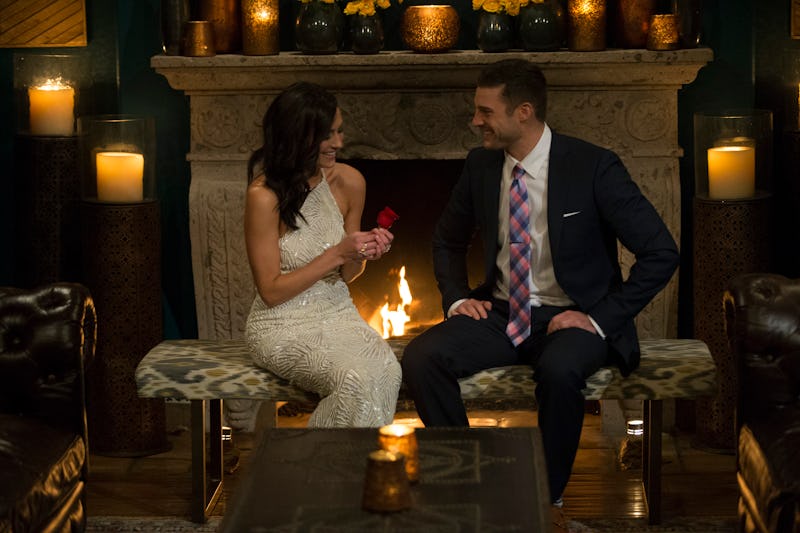 Paul Hebert/ABC
Garrett may have gotten the First Impression Rose from Becca on night one of The Bachelorette this season, but she still has a lot to learn about him — and on Monday night, he came clean about something huge from his past. Not too long ago, Garrett was married, although he says their relationship only lasted for two months before he and his now-ex-wife called it quits. But why did Garrett get divorced in the first place? According to him, it just wasn't the right relationship for him to be in.
At the end of their one-on-one date (which involved shopping and bobsledding at an Olympic park, NBD) Garrett opened up about his past to Becca. While they got cozy in a cabin, the conversation got real, and it didn't take long for Garrett to open up about his last big relationship. Although he seemed a little hesitant at first, he let Becca know that he fell in love for the first time after college at 23, and after they realized they both loved adventure, they ended up getting married. And unfortunately, it just didn't last. All told, Garrett and his ex dated for a year and a half before they got engaged, stayed together for a year leading up to the wedding, and then were divorced two months later. But what broke up the marriage?
The first thing Garrett told Becca was, "I think that I fell in love with and got married to the wrong person," which — duh, that's pretty much why everyone gets divorced, right? But when he dove in deeper with it, it made a lot more sense why this relationship had to stay in his past.
According to Garrett, he felt like there was some emotional abuse going on, and that his ex was trying to get him away from his family and closest friends. He told Becca:
"She was very emotionally abusive. She would take me down emotionally and then she would build me back up. So I was on, like, this rollercoaster ride. What she was doing, which I didn't realize, was driving a wedge between me and my family and a lot of my close friends."
Even though their relationship clearly wasn't in a good place, Garrett says he still wanted to make things work. He told Becca that although he saw some red flags from his ex, he wanted to put effort into their marriage, because no one in his bloodline had ever gotten divorced. In the end though, what they had wasn't worth saving, and Garrett was forced to move on.
Even though Becca was a little hesitant about Garrett's past, she sounded able to get over it — though Chris Harrison himself has mentioned that Garrett being heartbroken over his divorce will affect his behavior on the show going forward. Harrison told People:
"Garrett is that guy who always makes it about Becca. He always puts her at ease. So she gravitates toward him. But there's a little backstory to Garrett. He's heartbroken, and it wasn't that long ago. So he's a little bit reluctant and he's definitely a very slow mover, which is very difficult for Becca to handle. That will come out over time."
Garrett has already been caught up in Bachelorette controversy because of his social media history, which came to light after the season had already wrapped. On the show, his relationship with Becca has been less complicated, but it's clear the pair will have things to work through as the season goes on. Maybe Garrett will open up more about his former marriage over time, but if not, it sounds like Becca is making peace with learning he has divorce in his past. Now, fans will just have to see if this changes the way she feels about him, because so far, it seems like Becca is all in.