Garrett Is Still Posting About His Life On Instagram Post 'Bachelorette' Scandal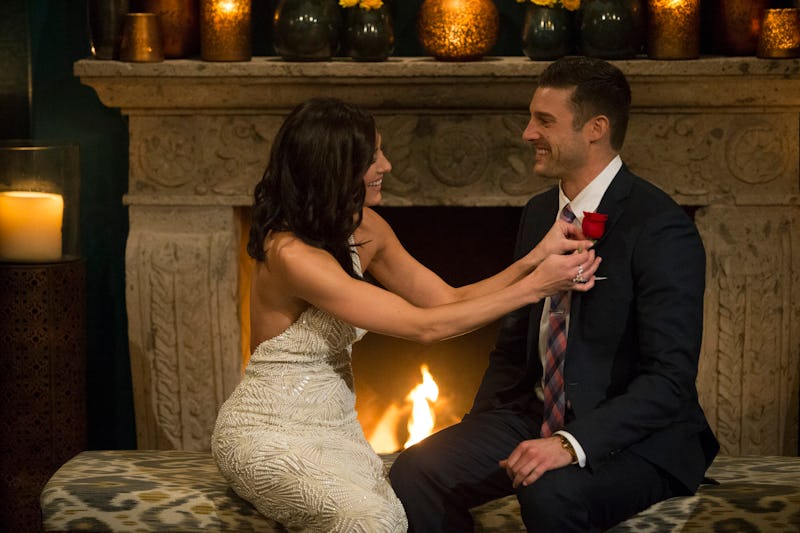 Paul Hebert/ABC
Few contestants have had such a busy post-filming experience as Bachelorette frontrunner Garrett. Shortly after the show premiered, he got caught up in a social media scandal when it was discovered that he'd reportedly "liked" several offensive posts with anti-feminist, transphobic, and school shooting conspiracy ideals. Garrett later apologized on a new Instagram account with a lengthy post. But what else has Garrett been doing since The Bachelorette wrapped filming?
According to Becca's Instagram of her returning home, the show concluded filming around May 16. The show then began airing on May 28, and it's been a whirlwind for Garrett since then. Many fans dislike him based on the comments about him online and his Instagram history, but Becca's on a "let's be open minded" tour with regards to Garrett. She told Entertainment Tonight, "I want viewers to be open to everyone, and I want them to go through this season with me, and watch my love story unfold with all of these men, because that's how I went into this journey." She added, "People say and do certain things. I've done things in the past that I'm sure it wasn't the best thing."
With Becca as basically his PR person, it seems Garrett's been able to go back to normal life. Mostly. Here's what he's been up to:
Apologizing For Those Instagram Likes
His second post on his new Instagram is all about the scandal. It's four photos long and reads in part:
"To those who I have hurt and offended: This is all new to me. I went on the Bachelorette for the adventure and possibility of falling in love, not fame ...
I also take full responsibility for my 'likes' on Instagram that were hurtful and offensive ... I have learned an extremely valuable lesson and am taking steps to grow, become more educated, and be a better version of myself ... My Instagram 'likes' were not a true reflection of me and my morals ...
Let my mistakes be a lesson for those who mindlessly double tap images, memes. and videos on any social media content that could be many things including hurtful, degrading, and dehumanizing. I do not want my social media to define who I am, and I will take better care moving forward to support all walks of life. Again, I sincerely apologize and am sorry for any hurt, damage, or offense I may have caused."
Fishing
Garrett taught Becca how to fly fish in the premiere, and it appears to be a serious hobby of his based on IG.
Skateboarding
He's been hanging out in San Diego a lot, based on the tag on this photo (and some others). Garrett's ABC bio says he currently lives in Reno, Nevada, but that he grew up in central California — so he clearly likes to hop back now and again.
Hanging Out With Friends
Guess they're all chill with his Instagram likes.
Promoting The Show
This is pretty standard for contestants. Alongside three stills from the show, he wrote: "Watch me try and ball with a bunch of savages tonight. #bachelorette #abc."
Golfing
He's definitely an outdoorsy guy, which Becca seems to relate to.
Honoring His Dad
Is it really Father's Day if you don't post about it on Instagram? Garrett's caption for his dad reads, "Happy Fathers Day to my extremely hard working and hilarious Dad!" Clearly he caught the fishing bug from his father.
Not Laying Low Even At All
Having a bunch of people scrutinize his Instagram behavior has not deterred Garrett. After his initial account was found to have liked all those offensive posts, he simply closed it and opened a new one. Sure, he apologized, but he also jumped right back onto social media without really skipping a beat. It's an interesting choice. He even posts Instagram stories pretty regularly. They're usually along the lines of what he's posting on his page — hanging with friends, fishing, being active outside.
He may not want his social media to define him, but it's definitely a good place to go if you want to keep up with Garrett after the show. Let's see if this account lasts.