Heather Had Her Reasons For Leaving 'RHOC'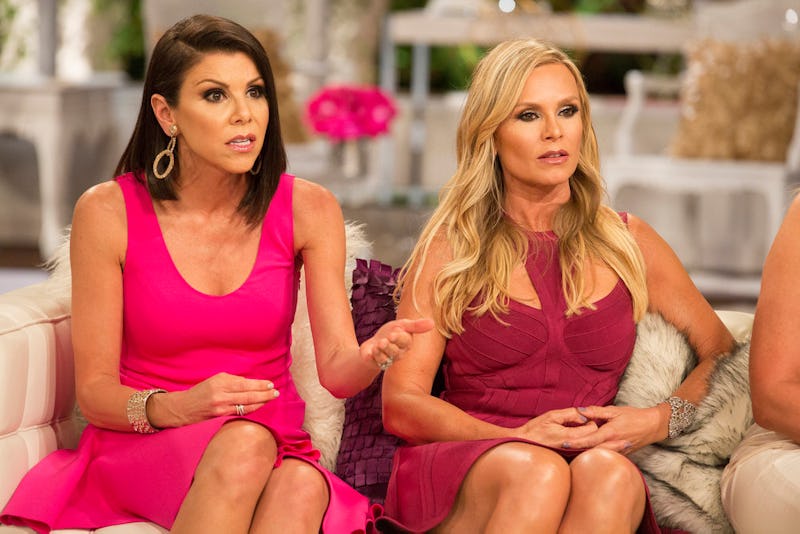 Isabella Vosmikova/Bravo
The original Housewives franchise, The Real Housewives Of Orange County, has been around for over a decade, in part because the show isn't afraid to change up the cast every few years. But why did Heather Dubrow leave RHOC? She was always a valued member of the cast — the practical, even-keeled one with a weakness for "champs." Heather didn't really have many of her own storylines in recent seasons, ever since her her suite of housewarming parties for her absurdly large new home were complete. As it turns out, Heather decided to leave the show herself. She wasn't asked not to return.
Heather gave a statement to Bravo in January 2017 about why she wouldn't be returning for her sixth season. "After a lot of careful thought and deliberation, I have decided not to return to RHOC this season," she wrote. "These past 5 years have been an incredible journey and I'm so proud to have been a part of such an iconic piece of pop culture." She went on to thank all the companies involved in making the show. She concluded: "However, at this point in my life, I have decided to go in another direction and do what's best for my family and career. Should I change my mind, I thank Andy Cohen, Evolution and Bravo for telling me that the door is always open."
And in an episode of her podcast Heather Dubrow's World, she explains why she made the decision to leave RHOC on her own. "If you're wondering why I've decided to not come back, it wasn't an easy decision," Heather said. "You know, it's hard to walk away from something, first of all, that's been successful for five years, and truly has given us so much." But there were a few developments in her life that led her to make that choice. "First of all, my kids," she said. "My oldest kids are now teenagers, and I just felt like they need to make their own decision about being on television and exposing their lives."
"For me personally, I have some really cool, interesting opportunities that I want to explore. I don't know where they're going to go, but I want the opportunity to explore them," she continued on the podcast episode. She didn't explain exactly what these other opportunities might be, but it's possible that Heather will be working on a solo reality project or maybe even returning to acting full time (remember the whole Hot In Cleveland scandal?). In early January, Heather did post a behind-the-scenes 'gram from the set of Young & Hungry while filming a guest spot on the Freeform series.
In both of her explanations, Heather doesn't rule out the possibility of a future cameo or even a full-fledged return. After all, Lydia is returning to RHOC for the first time since her one-season run in 2013. It's possible that after spending some more time with her family and pursuing other projects, she could be back.
As for her costars, Heather said of them on the podcast, "I will miss the girls," but "I felt like… it was time. But it's all positive and I wish them all the best." Sounds like it's not a feud or a disagreement that drove Heather Dubrow to leave The Real Housewives of Orange Country — just a desire to move on from the series that started it all.