Why 'Jane The Virgin' Made This Major Casting Change For Season 4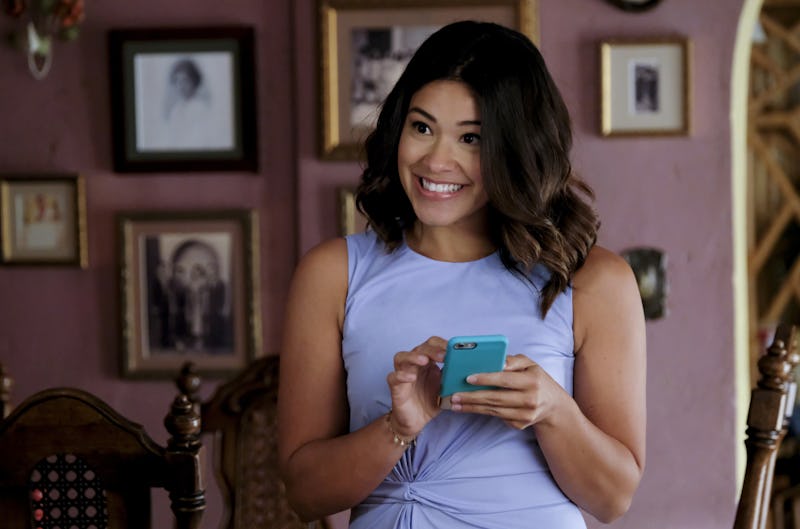 Scott Everett White/The CW
Mateo, the little bundle of joy so unexpectedly bestowed on our beloved Jane Villanueva, is getting a new — but equally cute — when Jane The Virgin Season 4 premieres on Oct. 13. Jane's son, previously played by Joseph Sanders, will now be played by Elias Janssen. Janssen is featured prominently in the poster for the show's new season, and he looks ready to take on the challenge. But why did was Mateo's character recast on Jane The Virgin in the first place?
From the looks of it, there wasn't any behind-the-scene issues that kept Sanders away from his role as Jane's four-year-old son. Fans can attest to how adorable, funny and energetic he was every single time he was onscreen. TVLine reported that anonymous sources told them Sanders was simply too busy with school to commit to the role for another busy season of filming. Bustle has reached out to The CW for further comment on the change, but the Twitter account that's apparently managed for Sanders by his mother seems to support that statement.
In a string of tweets, Sanders' mother confirms that her child simply didn't have the time to commit to the role for another year. She thanks the fans who have expressed interest in whether he'd continue as Mateo, and also thanks the network and other actors on the show.
In the meantime, Sanders has been seen on that account living it up. He's taking karate lessons, having LEGO-themed birthday parties, and has appeared in commercials.
Sanders had played Mateo for the past 11 episodes of Jane The Virgin, ever since the show had flashed forward from the time he was a baby to the time he was about 4 years old. Fans quickly became enthralled with his charismatic presence and were quick to tell Joseph and his mother just how much they'd miss him after they learned of his departure.
"Does he know we are heartbroken?" wrote one fan on Twitter, alongside a generous amount of crying emojis. "We'll miss him! He made Mateo such a lovable character," wrote another.
Dedicated fans of the show might remember Janssen's angelic face though. He portrayed a 4-year-old Rafael back in a 2016 episode. What better way to keep the genetic history of the show consistent than having the same boy play both a young Rafael and also Rafael's son? Janssen is also not new to TV, having also portrayed Mindy Lahiri's son Leo on The Mindy Project. Gina Rodriguez herself, who plays the title character on Jane The Virgin, praised Janssen in an Instagram post. She called him "pure love" and asked fans to welcome him.
While many, if not most, fans were supportive and understanding of the recast, some people on Twitter got weirdly nasty about the prospect of a new Mateo. Rodriguez clapped back immediately to a now-deleted tweet that presumably slammed the young actor.
"I'm going to need all y'all commenting on new Mateo to take one dirty second and realize you are insulting a 5 year old!" Rodriguez tweeted. Good for her. It's a TV show, people. Sanders is pursuing his dreams in other ways, and Janssen is sure to do just as good of a job with the role. Particularly with child actors, recasts can happen often.
They're pursuing school, they're not aging on speed with how their character ages, or they want to pursue other roles. It's hard to expect someone at such a young age and such a pivotal point in their development as human beings to be able to commit to an indefinite amount of seasons and episodes — it's just not always realistic. Fans of Sander's Mateo can continue following his career — and he's sure to have a big one ahead of him — while also enjoying the fresh face that will grace their screens this season.