The Reason Why Kanye West Reactivated His Twitter Is SO Mysterious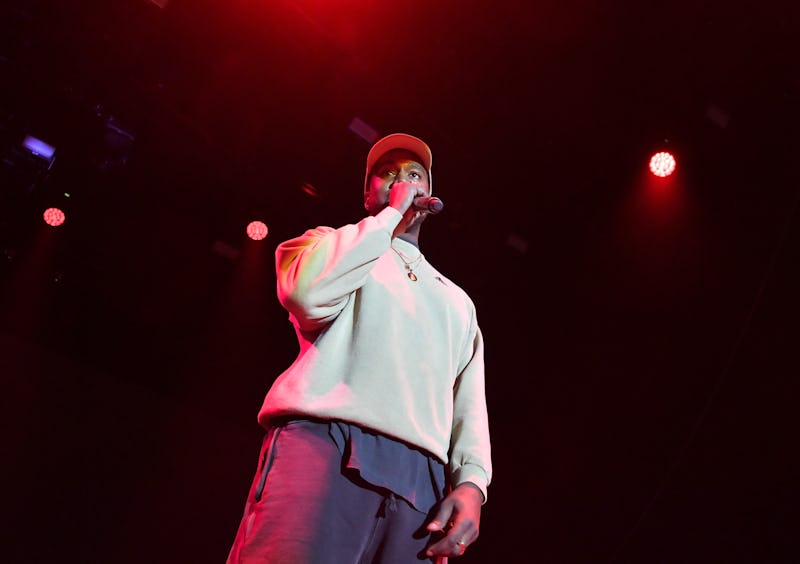 Neilson Barnard/Getty Images Entertainment/Getty Images
Khloé Kardashian welcomed her first daughter with boyfriend Tristan Thompson, and somehow, that's not the most exciting news to come out of the Kardashian-Jenner family this week. Why did Kanye West reactivate his Twitter on Friday April 13? Why did he tweet one thing, delete that tweet, and then retweet Twitter CEO Jack Dorsey welcoming him back to the platform with the tweet that West has since deleted? There is so much to unpack here. (Bustle reached out to West's reps for comment on the Twitter reactivation and the deleted tweet, but has not yet received a response.)
Kanye West's Twitter feed has long been a source of fascination. In the past, he's used it to drop philosophical nuggets of wisdom ("Fur pillows is actually hard to sleep on"), lectures about up-and-comers ("I am your O.G. and I will be respected as such"), and promote his family's projects. Since finishing his The Life of Pablo tour in 2016, Kanye has mostly left the public eye, though. West deactivated his famous Twitter and Instagram accounts in May 2017.
And then, late on Friday, April 13, West returned to Twitter and Dorsey noticed.
It's not instantly clear why West suddenly returned to the social media platform. According to Uproxx, he reportedly directed a tweet at Nike — and then he reportedly deleted it. (Bustle reached out to West's reps regarding the deleted tweet, but have not yet received a response.) According to screenshots of West's tweet, he posted a headline about "Nike's reworked Monarch shoe," captioning it "Yeezy 700 vibes" accompanied by the emojis "guy with hand over face," "sobbing," and "cry-laughing."
Dorsey's welcome back to West also includes a link to a tweet, which is now deleted. What did it say and why was it deleted? Was it the same Nike tweet? Why reactivate now? What's going on here?
It seems that West removed the tweets early on April 14, but his Twitter account is still up and remains activated, with the Dorsey retweet as the sole tweet on his feed. 'Ye has not yet offered a public explanation for this, on Twitter or elsewhere.
So for now, it looks like West has returned to social media, even if the reason behind his return is unclear. Before deactivating his account, West's Twitter was prolific and his very quotable tweets inspired embroidered products and even frame versions on Etsy.
Just hours before Kanye's Twitter went back up, The Hollywood Reporter reported that he might be working on a book of philosophy called Break The Simulation. According to The Hollywood Reporter, West described one of his philosophical beliefs:
And I've got this philosophy — or let's say it's just a concept because sometimes philosophy sounds too heavy-handed. I've got a concept about photographs, and I'm on the fence about photographs — about human beings being obsessed with photographs — because it takes you out of the now and transports you into the past or transports you into the future. It can be used to document, but a lot of times it overtakes [people]. People dwell too much in the memories. People always wanna hear the history of something, which is important, but I think it there's too much of an importance put on history.
Perhaps the Twitter reactivation — and the erasure of old tweets — is the first step in getting started on that book. Or perhaps West is putting his philosophy into action, showing that society should be too concerned with old tweets and everyone should move forward into the future. For right now, only West truly knows what was behind his return to Twitter.