Here's Why Khloé Might Have Given Her Baby Such A Literal Name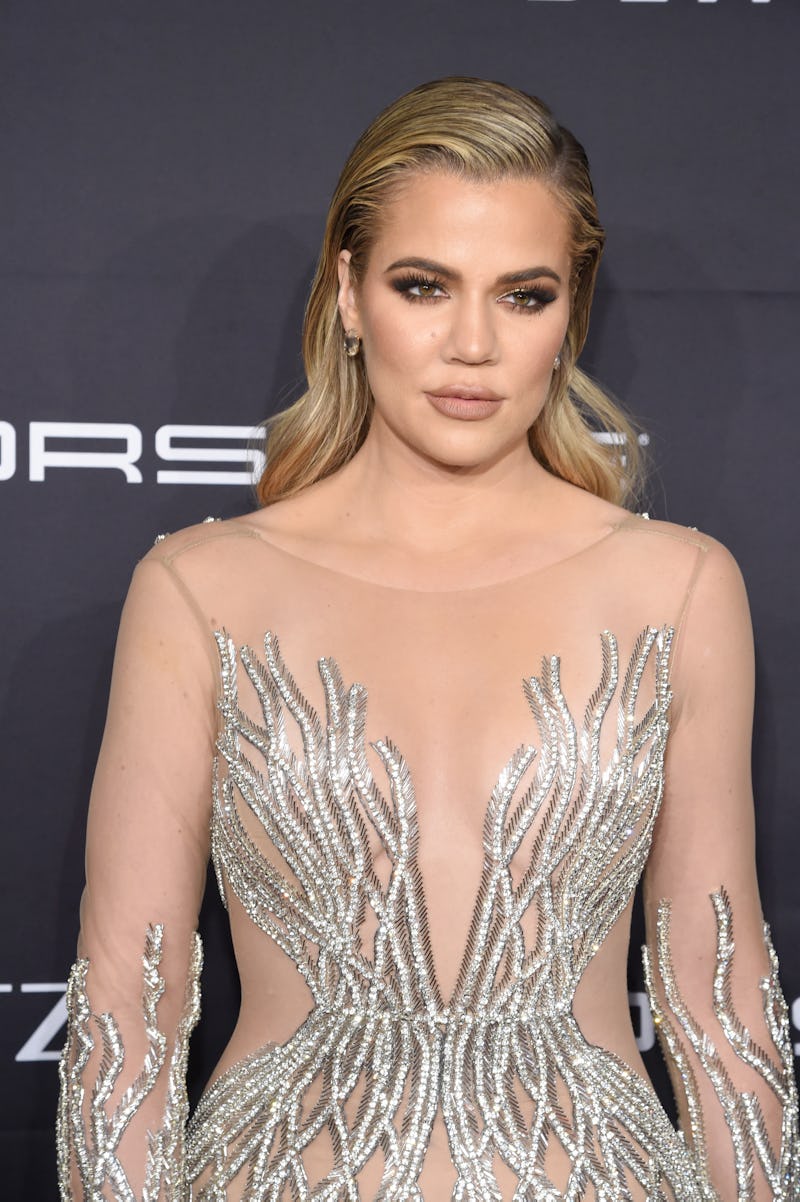 Jamie McCarthy/Getty Images Entertainment/Getty Images
On April 16, after loads of speculation as to what the moniker would be, Khloé Kardashian revealed the name of her baby girl. But why did Khloé Kardashian name her baby "True"? The name actually has some pretty cool familial ties.
Writer and Kardashian expert Mariah Smith noted on April 16 that there may be a personal meaning behind the name. On Twitter, she wrote that Kris Jenner's grandfather was named True Otis Houghton. This fact was soon confirmed by Jenner herself on Instagram, who said that her grandfather was named "True" and that her father Robert Houghton's middle name is "True." She wrote, "so i am so excited Khloe named her daughter True!!! #lovebug #familytradition" So, Kardashian went with a super special choice for her daughter's name, and it's so adorable.
However, some Twitter users have joked about a different meaning behind the name. One user said, "She gave her that name because Tristan was lying to Khloe, so she wants her daughter to always say true not like Tristan." Another fan joked, "I guess someone has to be a True Thompson because it sure ain't Tristan."
Could it be that Kardashian named her daughter "True" as a way to tie things back to those alleged cheating-related lies? Sources such as TMZ and the Daily Mail reported that Thompson was allegedly cheating on the Keeping Up With the Kardashians star only days before they welcomed their daughter.
But, unless Kardashian clarifies things herself, the interesting "True" connection with the Cleveland Cavaliers athlete can only be described as pure speculation. And based on the family connection, it probably had nothing to do with the allegations at all.
While fans had no idea she would name her baby True, they did already know what letter her daughter's name would start with. She didn't reveal her child's name until now, but she did say what first initial she was considering for her baby. On March 4, she told fans on Twitter that she was probably going to go with a "T" for her child's name, but that "K" was an option, too.
She later told another fan on March 19 that she was more decided on what initial she would use for baby Thompson. Kardashian told a fan that while their suggestion of "Ella Thompson" was a lovely name, that she was going to "T" route. So, it makes total sense that she'd name her daughter True, considering that she already said that she wanted to give her child a "T" name.
Kardashian also revealed True's last name in her social media announcement. There was speculation as to whether her daughter would have the Kardashian surname following the cheating allegations. Yet, the KUWTK star announced that her child's name was "True Thompson" in her post. Many users on Twitter bemoaning the choice since they would have preferred a True Kardashian. While Kardashian revealed the baby's first and last names, she did not reveal whether True has a middle name. If she doesn't have one, she could be following a new Kardashian/Jenner family tradition.
Like her sisters Kim Kardashian and Kylie Jenner before her, Kardashian did not reveal whether her baby had a middle name upon releasing details about the moniker. As TMZ has noted, neither Kim nor Jenner gave their newborn daughters, Chicago and Stormi, respectively, middle names. It's still possible that True has a middle name, that the Revenge Body star has just not revealed yet. But, it's also possible that Kardashian is sticking with the new tradition with the lack of a middle name.
In her name announcement, Kardashian couldn't help but express her happiness over welcoming her bundle of joy into the world. She wrote, "Our little girl, True Thompson, has completely stolen our hearts and we are overwhelmed with LOVE." So, it sounds like things are going incredibly well for Kardashian and her baby girl, True.