Khloé Shared Baby Name Plans Before Tristan's Cheating Scandal, But Now What?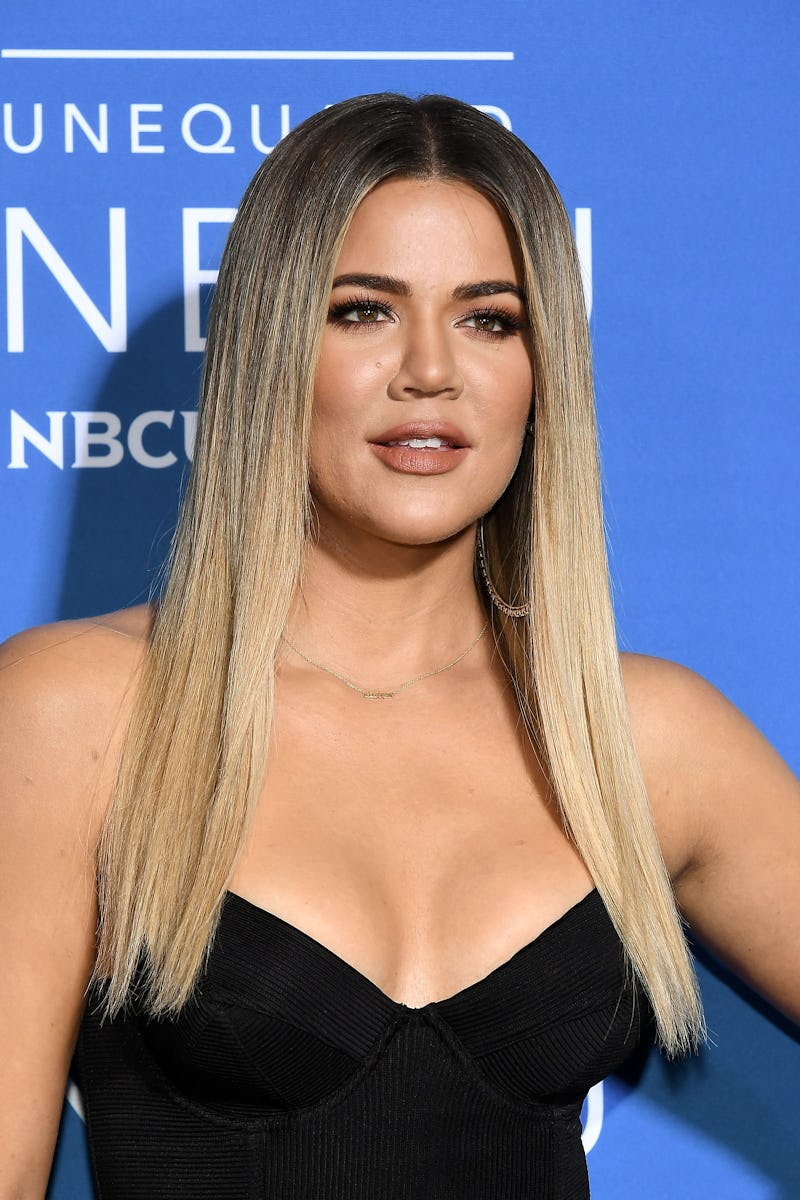 Dia Dipasupil/Getty Images Entertainment/Getty Images
According to a report from TMZ, Khloé Kardashian gave birth to a baby girl on April 12. Considering all of the controversy surrounding the child's father, Tristan Thompson, you might wonder: Is Khloé Kardashian's baby's last name "Thompson?"
Kardashian's child's name has not been reported just yet, so, as of right now, it's unclear whether the reality star will give her child the Thompson name or will give her the Kardashian moniker. Until the Revenge Body star reveals the full name of her little one, her daughter's surname status is kind of up in the air.
Multiple members of Kardashian's family were reportedly by her side for the delivery, which took place at a hospital outside of Cleveland. Kourtney Kardashian, Kim Kardashian, and Kris Jenner were all there for the birth, as was Kardashian's BFF Malika Haqq, per TMZ. Many sources, from TMZ to The Blast, have also reported that Thompson was there for the child's birth. TMZ previously reported that, despite the cheating allegations, the basketball player would be present in the delivery room. "Sources familiar with the situation" related that Kardashian was gong to put her feelings aside so that Thompson could bond with her child following the birth.
While Kardashian hasn't revealed any other details about her daughter just yet, including her last name, she has previously been open about what she might name her baby. Although, that was before Thompson allegedly cheating. (Bustle reached out to Kardashian and Thompson about the scandal, but did not receive a response.)
At Kardashian's baby shower, which took place on March 10, per E! News, her child was referred to as "baby Thompson." The reality star and her family also posed in front of a neon pink sign that read that read "Baby Thompson," as seen on her Instagram account. So, it was safe to assume back then that her daughter would be getting that name.
Now, that could still be the case. Since there haven't been any details about the little's one's name yet, it's anyone's guess as to whether she'll rep the "Thompson" name or not. However, the name situation is a lot iffier now following all of the recent cheating allegations against Thompson.
On April 10, the Daily Mail reported that the Cleveland Cavaliers player had apparently gotten close with a woman on April 7 in New York City. TMZ later reported that Thompson had allegedly gone back to an NYC hotel room during the early morning of April 8 with a woman.
Following these reports, TMZ published another article that allegedly showed Thompson cheating on his girlfriend with two women at a Washington D.C. club in October 2017, when Kardashian would have been around three months pregnant. Thompson and Kardashian, or any of her family members, have yet to comment on any of these allegations.
Since Kardashian had already decided on the last name for the baby (Thompson), all that was left was to decide what their first name would be. Although, the Keeping Up With the Kardashians star noted on Twitter that she was having a little trouble trying to figure out a name, she did know what letter she wanted her daughter's name to start with.
While previously saying that she'd go with a "K" or a "T" for her child's name, she definitively told a Twitter user that she was set on a "T" name on March 19. Since the child reportedly has no name yet, according to TMZ's initial report, could Kardashian still be deciding what she wants to name her baby girl?
Maybe Kardashian will follow in Kylie Jenner and Kim's footsteps and announce the child's name via social media. Or maybe she'll hold off for a KUWTK-style name reveal. Fans will just have to stay tuned and keep up with Kardashian to find out her daughter's full name.