The Real Reason 'Love Island's Charlie & Ellie Split Is Actually So Sad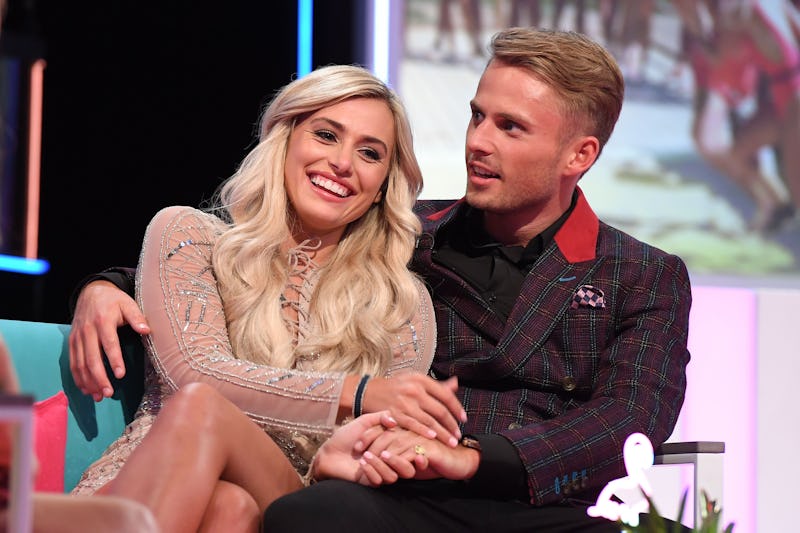 Jonathan Hordle/Shutterstock
The Love Island curse has struck again as another couple from the 2018 series have sadly broken up. Despite moving in together literally a month after leaving the villa, Charlie Brake has revealed on Instagram that he and fellow Islander Ellie Brown have broken up. That said, his super short and painfully polite statement left a lot of information to be desired. I mean, what happened? Why did Love Island's Ellie and Charlie break up? Well, turns out, trouble's been brewing for a little while for the former couple.
Charlie took to his Instagram stories to break the news of their split on Wednesday, which can still be seen via Metro. In a text post, he wrote: "Just to inform you all, Ellie and I have decided to part ways. I wish her all the best!"
Ellie has yet to say anything about the split, however I've reached out to her agent to see if she has anything else to add. I'll let you know if I hear back.
Things seemed like they were initially going well for the couple, who met during this recent cycle of Love Island. Although she was initially paired up with Dr. Alex George, she wound up falling for Charlie and became one of viewers' favourite couples.
After leaving the show, Ellie revealed to the Daily Mail that she had moved in with Charlie earlier this July at his home in Chelsea. Beyond it being a next step in their relationship, it was also for logistical reasons as she previously lived up in Newcastle and a lot of her work was down in London.
She told the paper: "I'm living with Charlie at the minute, because I haven't been able to go home and we don't want to stay in hotels. But I do need to move down south permanently, because there's too much work for me down here. And what I've said to Charlie is that even if I do end up having somewhere of my own, I'll end up staying with him six nights out of seven anyway."
Sadly however, Ellie revealed on Instagram a few days ago that she was moving into her own apartment and while she didn't say it explicitly, it was pretty obvious that she had moved out of Charlie's home. In an Instagram story, she was seen sitting in a car and captioned it: "On my way to pick up the keys to my first ever apartment."
It didn't seem like it was a temporary move either, as she thanked a car hire service for "helping [her] with [her] 25 boxes of clothes and shoes." You don't just pick up and move 25 boxes into a new flat unless you're planning to be there for a very, very long time, do you? Looking at the post, it didn't seem like Charlie was in the car with her, and you can see the Instagram story as reported by The Sun here.
Her surprise move came just days after what seemed to be a loved-up couples' holiday in Switzerland, which the pair photographed and shared all over their social media. It looked absolutely amazing as the pair basked in the sights, hiked their way around Gstaad, enjoyed the spa, and enjoyed a quick canoodle or two. It just goes to show you never know what's going on behind closed doors.
Before their break-up, the couple's relationship had been plagued by a number of rumours. The Sun even claimed that Charlie had "lobbed her stuff out the window of his flat in Fulham." A source told the outlet that Ellie had "had a go" at him following his alleged flirtation with a woman on a plane, which apparently triggered their row.
They were also said to have gotten into "a screaming row" by an insider at the Love Island reunion party. I have reached out to Charlie and Ellie's rep for comment regarding the claims but am yet to hear back.
Of course, Ellie and Charlie aren't the only members of the Love Island 2018 cast to call it a day.. Samira Mighty and Frankie Foster were the first to split following the final of ITV show. Then, Laura Anderson and Paul Knops broke up too, as well as Laura Crane and Jack Fowler.
Being in a relationship is hard enough without the rest of the world watching, so here's hoping the rest of the Love Island gang pull through. Come on Jack Fincham and Dani Dyer, I believe in you.