Jasmine Got A Little Too Real On 'The Bachelor'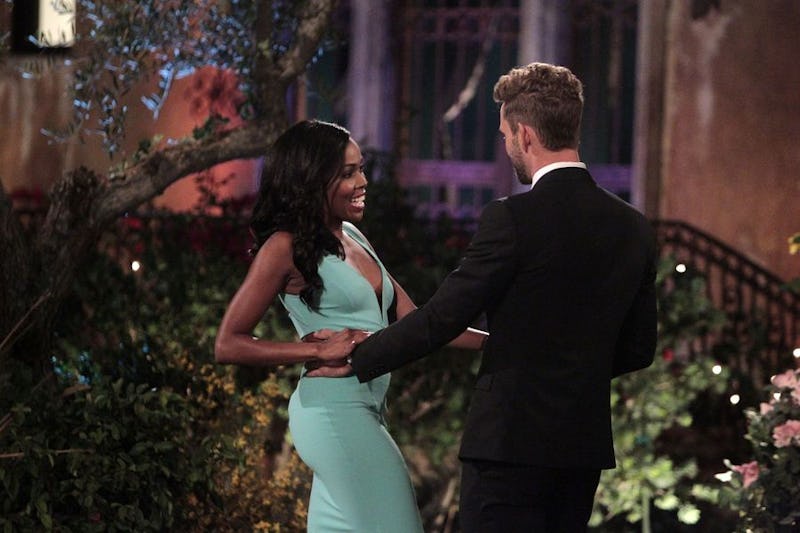 Rick Rowell/ABC
It's not a season of The Bachelor without a dramatic exit from one of the contestants, and so far in to Nick Viall's season, I was starting to worry that I would miss out on the opportunity to see some fireworks. Thankfully, that's not really the case, because Jasmine was eliminated from Nick's season of The Bachelor. The fact that she was dumped wasn't the dramatic part, but her ramblings before Nick decided to send her home were quite interesting.
Let's back this one up here. Jasmine and all the women seemed to be having a good time on their post-volleyball group date party (that is, after the crying stopped), but when Jasmine starting seeing all of the other women getting picked for conversations (and past dates), she couldn't take it anymore. She couldn't hold it in, and she confronted Nick as to why he wasn't seeing her. Jasmine told Nick that she wanted to choke him — in both a normal and sexual way — and it was... interesting and very awkward. Nick is used to being fawned over, and, well, Jasmine was not fawning over him. She was mad, and she was venting her frustrations about their lack of a relationship. Nick was not into it.
After all of the rambling was over, Nick decided that he wasn't feeling it (or Jasmine) any more, and he quickly whisked Jasmine into a waiting car. It wasn't even a rose ceremony! He just has cars waiting! Nick did the whole "I'm sorry" thing, and Jasmine did the whole, "Don't be sorry unless you are" thing, and I've seen enough episodes of The Bachelor to know that that's as good as it's going to get for these two. The upside? Jasmine knows her worth, and I'm sure that she's going to hold out until she finds a man that has more time for her.