Nikki Haley Just Resigned As UN Ambassador After Less Than Two Years On The Job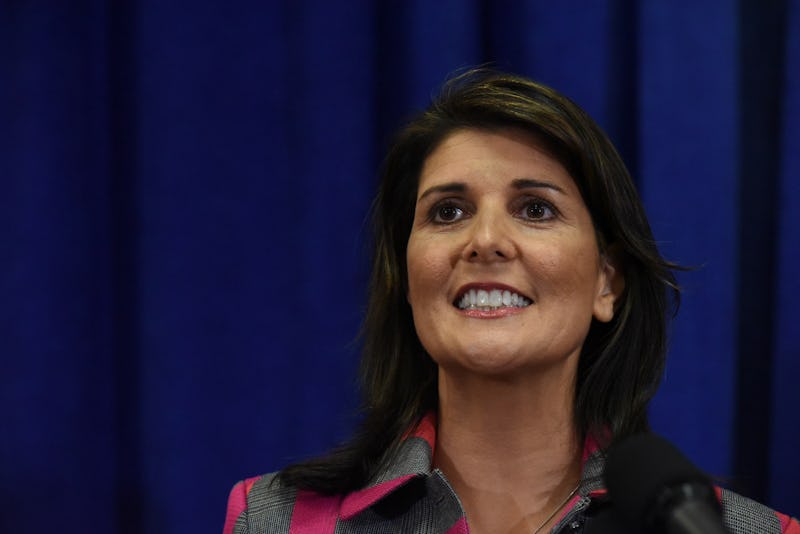 Stephanie Keith/Getty Images News/Getty Images
The list of Trump administration officials who have stepped down grew Tuesday morning when President Donald Trump's ambassador to the United Nations, Nikki Haley, resigned. The former governor of South Carolina served as UN ambassador since the beginning of Trump's presidency.
The president tweeted Tuesday morning that he would make a "big announcement" with Haley in the Oval Office around the time NBC News' Geoff Bennett reported seeing Haley walk into the West Wing. During their Oval Office meeting, Trump said Haley wants to "take a break," per France 24 reporter Philip Crowther. She will reportedly leave her position at the end of the year.
Haley apparently told Trump six months ago that she wanted to take time off when she approached her two-year anniversary in the Trump administration, Reuters' Michelle Nichols reports. Despite her early departure, Trump praised Haley's work as ambassador, while she said it's "been an honor of a lifetime," per Crowther.
Naturally, her exit raised questions about what she would do next. But Haley assured everyone in the Oval Office Tuesday morning that she isn't planning to run for president in 2020, Crowther reports. It's unclear where she'll be headed, or whether her "break" will mean a complete break from work.
Trump also said on Tuesday that he hopes Haley will eventually come back in a different role. "You can have your pick," he told Haley, per Nichols. Although Haley didn't comment on whether she'd return, she did confirm that she'll be campaigning for Trump in the 2020 presidential election, Reuters' Roberta Rampton reports.
Although Haley seemingly criticized Trump's "siren call of the angriest voices" in 2016 when she gave the Republican response to President Barack Obama's State of the Union address, she largely stood by him in her role as ambassador. She oversaw the nation's exit from the UN Human Rights Council, which she called the UN's "greatest failure," and defended Trump's decision to declare Jerusalem the capital of Israel.
Their working relationship wasn't without disagreements, however. When Haley announced that Trump would impose new sanctions on Russia in April, the president was reportedly furious since he hadn't decided to do so, as The New York Times reports. The White House responded by claiming Haley had "momentary confusion" when she announced the sanctions, which prompted her to defend herself by saying she didn't "get confused."
"I don't agree with the president on everything," Haley wrote in a Washington Post article criticizing the administration's anonymous New York Times op-ed writer. "When there is disagreement, there is a right way and a wrong way to address it. I pick up the phone and call him or meet with him in person."
Ivanka Trump and Jared Kushner were also in the Oval Office when Haley announced her departure, and she praised them both. "Jared is such a hidden genius that no one understands," she said, per CNN's Josh Dawsey.
Haley hung out with former deputy national security adviser Dina Powell over the weekend, as Dawsey notes. Powell left the Trump administration in January after less than a year on the job. What they talked about is between them, but a few days later, Haley officially tendered her resignation.