'Love Island's Olivia Attwood Has Hinted She's Not Over Chris Hughes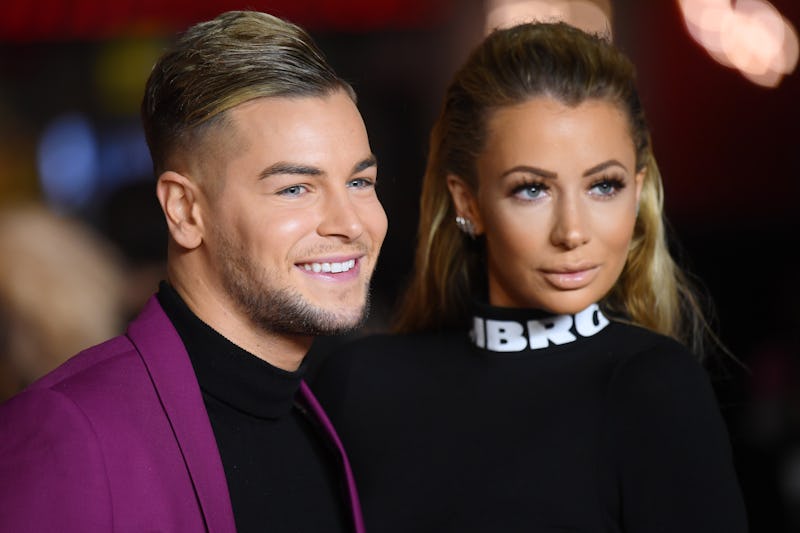 David Fisher/Shutterstock
Love Island stans, I'm about to take a trip down memory lane. Ever since it was announced that Olivia Attwood would be on Celebs Go Dating, I was hit with a bout of nostalgia for the relationship that just wasn't meant to be: her and Chris Hughes. The pair met on Love Island 2017 and while their relationship was always quite touch and go, they seemed like the real deal. So where did it all go wrong? Why did Olivia Attwood and Chris Hughes split?
Well, let's backtrack a little. Remember when the couple landed their own reality show last year, Crackin' On? Originally, that actually supposed to be a lot longer than it was; six episodes in fact. However, that didn't happen because they broke up midway through filming. Talk about awks. The tense series, which IMHO was one of the most uncomfortable reality shows ever, came to a dramatic end when the pair came face-to-face one last time to call time on their relationship before breaking down in tears.
Chris initiated the split, however, on the show, he made it clear that it wasn't because he didn't love Olivia anymore. Instead, it was because they weren't happy anymore which is more devastating TBH.
He told her on the show: "I love you, I always will. You know that, nothing doubts that. You can't kid yourself."
When Attwood later called him out for not trying and for "walking away" from the relationship, he explained: "I'm not walking away from us, I'm saying this is the only thing we can do."
"It's not the only thing," she responded.
"It is. We've tried everything and we're not happy," he told her.
On the show, they also previously rowed over their flirtations with other people, with Hughes accusing Attwood of going out and "acting single" which prompted her to brand him "the biggest flirt."
I've reached out to their reps to see if there was anything else going on behind the scenes we should know about which might have contributed to the split, but they haven't said anything to me just yet. Breaking up is always hard to do, but I can't even imagine how difficult it must have been to have that conversation on camera — immortalised for the public forever.
Opening up about Chris on Celebs Go Dating, Attwood revealed about what their relationship was really like before the split. She said: "Obviously I was with Chris. That's the hardest one for me to talk about right now, because I feel like it's still really raw. Unfortunately one of the most toxic relationships I've ever been involved in. I think we just battled over everything."
After breaking up with Olivia, Chris confirmed in April that he had moved on with Emily Blackwell of Made in Chelsea fame. However, things eventually fizzled out between them and they were slowly faded out of each other's social media accounts. The Sun later reported in July that he and Love Island star Stephanie Lam had been "dating on and off for six months." However, there's been no further comment on that rumoured relationship.
On the other hand, Attwood was believed to have reconnected with her ex-boyfriend Bradley Dack following her split from Chris, with The Sun claiming they had "rekindled their romance earlier this year." However, that clearly did not work out as she is now on Celebs Go Dating.
Celebs Go Dating is on E4, daily at 10 p.m.