The *Real* Reason Take That Split Up In The '90s Will Break Your Heart Into Pieces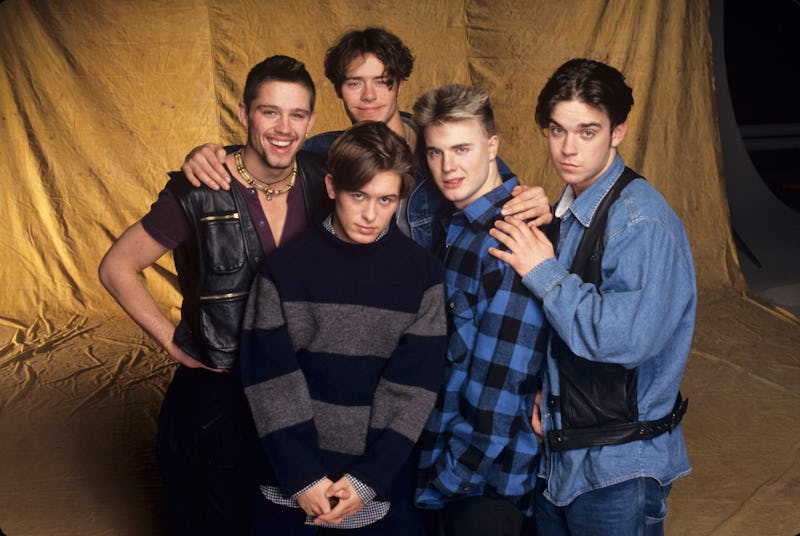 Iris Honold/Shutterstock
This year, Take That will celebrate 30 years in the music business. With a BBC special to mark the occasion and some new music on the way from Gary Barlow, Mark Owen, and Howard Donald, it's a big year for the iconic boyband. However, it hasn't always been such plain sailing for the group. While it's great to see them back together (minus two members that is; Jason Orange and Robbie Williams), why did Take That break up anyway? I mean, they've been away for ten years. That's a pretty long time.
The group first got together in 1990, and enjoyed their first chart success in 1991. Number ones like 'Relight My Fire', 'Pray', and 'Babe' made them household names. However, by 1995, cracks began to surface in the group. Williams was becoming increasingly unhappy with his ideas for new material being rejected — and it showed. Barlow admitted in the documentary For The Record that his pal eventually became so unhappy, he gave up and was no longer interested in having any creative input. Then, in the July of that year, Williams announced he was leaving the band.
Opening up about his departure, Williams appeared on BBC Radio 4 Mastertapes many years later, and explained how it all happened. At that time in his life, the star had been enjoying the party lifestyle a little too much and it had started to make his bandmates uncomfortable. This eventually led to them confronting him. Williams revealed: "I wasn't in a very good way. During the afternoon, Jason Orange said, 'Bob, we need to sit you down and have a chat. So you're going to leave after this tour and what we've decided is, we think it's best you go now, so we can prove we can do this as a four-piece. What do you think?' That was the opening of the door. That's all I needed."
The following February, Take That announced they were formally disbanding. Their cover of the Bee Gees' 'How Deep Is Your Love' would be their last number one until they reunited in 2006. But why did they break up after Williams left?
It turns out, the remaining members started arguing a lot with each other and Williams' departure was the catalyst for the beginning of the end. In fact, the tension between them got so bad that Owen admitted in the For The Record documentary that he was relieved when the band split, adding that he "felt no regret at all. For me it was the best news of the year."
Not everyone took the news so well though. Barlow in particular has spoken out about how difficult that time was. Speaking to the Guardian, he said: "Within six months, this piano drove me mad. I would spend days just looking at it, lying underneath it, rubbing my face on it, slowly going insane, trying to work out why this thing wasn't delivering to me like it used to. It wasn't not being famous any more, or even not being a recording artist. It was having nobody who needed me, no phones ringing, nothing to do."
I spoke to a representative for Take That to see if there was any more to the story. However, a spokesperson for the band tells me that there is nothing more to add to what's already been said.
Although Take That fans were devastated when the group split, it turned out that 1996 wasn't really the end of the road. After a decade-long hiatus, Take That reunited in 2006 (albeit without Williams) and their comeback was a huge success.
However, in 2014, Orange decided it was his time to leave the group. He released a statement at the time, explaining that while he was proud of what they had achieved, "at a band meeting last week I confirmed to Mark, Gary and Howard that I do not wish to commit to recording and promoting a new album."
Despite being two members down, the group have gone on to enjoy success as a three piece. So much so that Owen, Howard, and Barlow confirmed last month that they will go on a massive UK Greatest Hits Tour in 2019. In addition, to mark the band's 30th birthday, they will also be filming a Take That special for BBC One, and it's expected that Williams and Orange will be making cameos to celebrate. In the documentary programme, Take That And Us, the band will look back at their time together, funny anecdotes, and highlight performances. And I am sure that in three decades of knowing each other, they are going to have more than their fair share of stories, which I for one can't wait to hear.