Take That Want YOU To Be Part Of Their TV Special & Yes, You Heard Right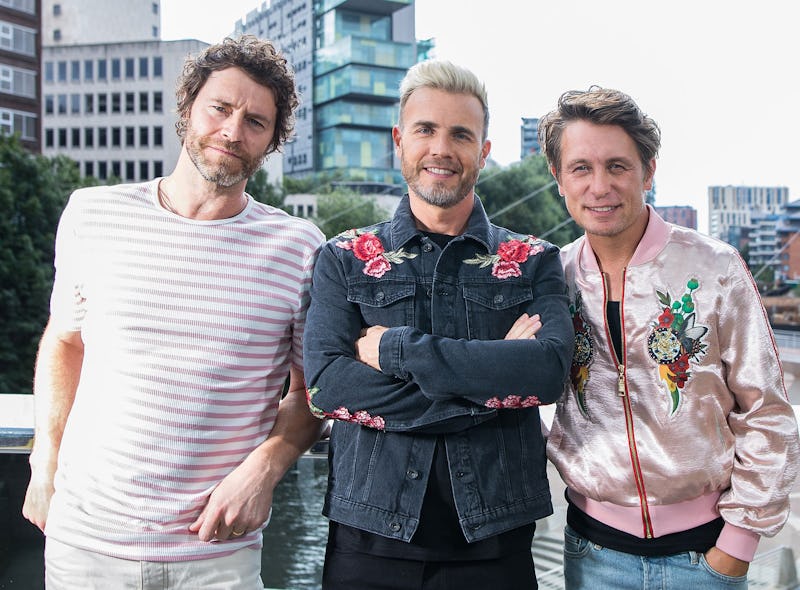 Joel Goodman/LNP/Shutterstock
Whether you are an OG fan from the '90s or you're more accustomed to their newer stuff, I challenge you to find someone who hasn't heard 'Back For Good', 'Shine', or 'The Greatest Day'. Exactly. Take That are iconic. And now, after spending three decades smashing the charts, touring arenas, and wowing audiences on stage, Take That are celebrating their 30th anniversary with a BBC special. And guess what? They want you to be part of it.
BBC One has commissioned an hour-long programme to be released before the end of the year to mark the achievements of Take That, as one of the UK's most recognisable and successful boybands in history. And this is where you come in. You see, the show, title Take That And Us, will feature fans from all over the world.
Gary Barlow, Howard Donald, and Mark Owen want fans to share how their music has affected them and, even changed their lives. If you met them ten years ago as a loved-up teenager and completely embarrassed yourself, used one of their songs as your first dance song at your wedding, or simply love their music to dance around the kitchen to, they want to hear from you.
If you think you have a tale good enough to tell Mr Barlow himself then producers are urging fans to visit www.mytakethatstory.com and upload short clips of themselves telling anecdotes to be considered to be used in the programme.
The Take boys will also share their own favourite memories and funny stories from the last three decades. So if you're as nosey as me and would just love to have been a fly on the wall in a Take That tour bus back in the day then this might be your chance to get the gossip.
Producers at Indigo TV, which is the company behind the new show, said in a press release issued to Bustle UK: "It's incredible to think that Take That and their music have been part of our lives and entertaining us for nearly three decades. As we — and the band — will discover in this close–up 30th anniversary special, Take That have influenced a generation of fans and sometimes in ways you might not expect."
In addition to fans set to be making a special appearance in the upcoming 30th anniversary special, it has been reported by The Sun that former band mate Robbie Williams and Bee Gees legend Barry Gibb are also keen to be involved.
The documentary style programme will feature interviews and never before seen footage of the band in their hey day too.
Kate Phillips, the controller of entertainment commissioning at the BBC commented: "This entertaining programme will shine a light on how everything changes as we celebrate the band and the music they've created over an incredible career."
But what have the boys in Take That had to say about the special to celebrate their long stint in show business? They commented in the same press release: "Has it really been 30 years? There's only one way to find out we said, as we accepted the offer of taking a closer look at our three decades in music. We've handed over our own personal camcorders from the 90s, we've asked fans to share their stories from over the years and we're bringing the story up to date by sharing some behind the scenes from our lives today as we prepare for the launch of our Greatest Hits record."
So, if you want to be involved and share how Take That's music has influence you, then send a clip in. The date for the celebratory programme is yet to be released, but who knows? You might be watching yourself alongside the Take That boys later this year on the BBC.