DeMario May Not Be On 'The Bachelorette' For Just Love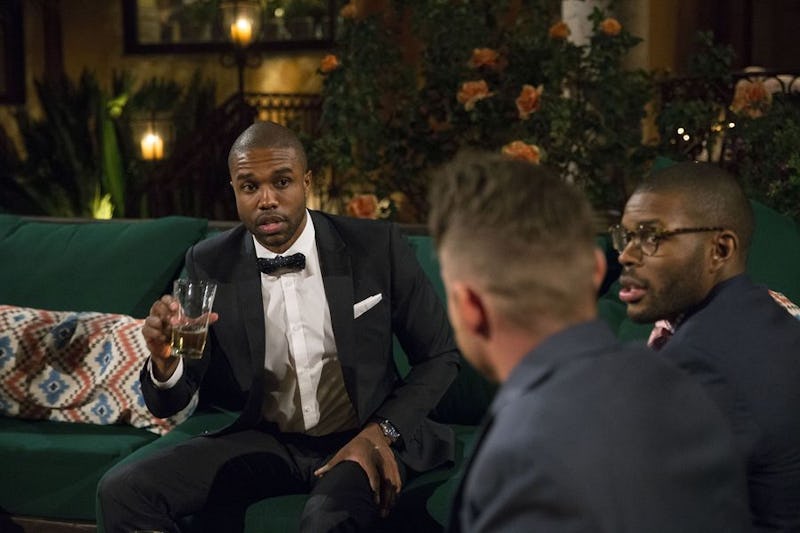 Paul Hebert
Remember how Rachel Lindsay was surprised with meeting her first few suitors on After The Final Rose in March? One of those guys who showed up early was DeMario, and from the moment he was introduced, I loved him... but now, it seems there's a chance he's not on the show for "the right reasons," whatever those are. So why did Nick Viall's contestants warn Rachel about DeMario? They're worried about his intentions.
During Monday night's season premiere, a few of Rachel's Bachelor costars showed up to offer her advice and to gossip about her contestants. While Raven brought up how much she loved the way DeMario knew what he wanted when he showed up to ATFR with plane tickets to Vegas for them to elope, not everyone agreed with her. In fact, according to Whitney, another one of Nick's constants, Sarah, apparently knows DeMario in real life. Sarah wasn't present for this advice sesh, but Whitney brought her concerns up to Rachel. She was pretty vague about why Rachel should be careful, though. It seemed implied that he could be there more for the fame than to fall in love and find his future wife — something I don't even want to think about, because I liked him so much off the bat.
The good news? Rachel didn't seem too troubled by it, since she said if there's a genuine connection, she doesn't care what someone's reasons are for going on the show. That's a pretty cool way of looking at it, especially since she has no idea how legit this warning is. It seems like DeMario won't be ruled out just because of what she's heard about him — props to Rachel for keeping an open mind.
DeMario does come off as a good guy, so hopefully, he's just as nice as he seems. Don't hurt Rachel, dude. There are a lot of guys in that Bachelor mansion who would not take that lightly already.