Tyra Banks Came Back Home To 'ANTM' For One Big Reason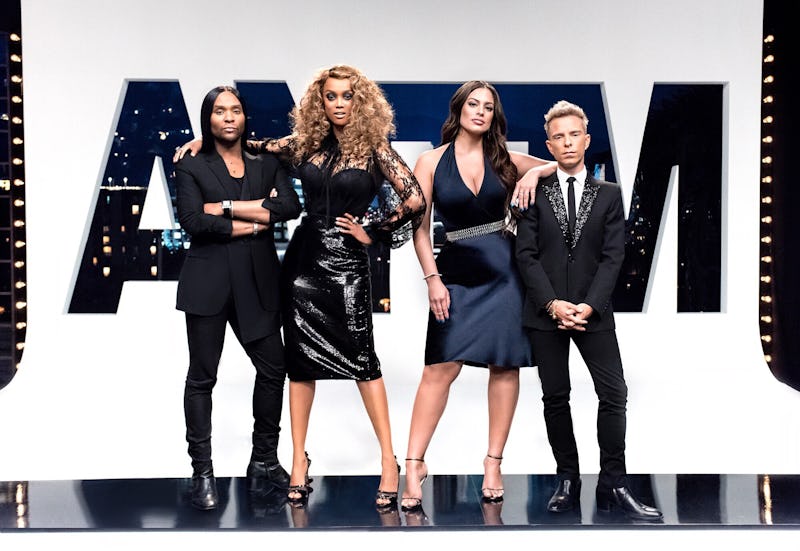 Vh1
Calling booty toochers everywhere: the Queen of the Tooch herself is back. That's right, Tyra Banks is returning to America's Next Top Model for Cycle 24, premiering Jan. 9, and she's bringing all her smizing fierceness with her. As great as Rita Ora was as the host of Cycle 23, most fans just couldn't imagine ANTM without Banks. But, though certainly no fans are complaining, many might be wondering: why is Tyra Banks coming back to ANTM (associate producer: Brittany Chanel Jackson)? What made her change her mind about leaving the series, when her initial decision seemed so definite?
It seems like the adoration of her most diehard fans had a great deal to do with it. Though Banks served as an executive producer for Cycle 23, that wasn't enough to satisfy the ANTM base, who felt that the series just wasn't the same without the Queen of Smize. "You know, I thought that I would be gone and be gone forever," Banks told E! News about her return to series. "However, I have very large ears…and I really was listening to social media." In statement released about her decision, Tyra similarly expressed that it was the adamant calls from fans for her return that changed her mind about retreating from the ANTM camera. "I'm overwhelmed and humbled by the intensity of the ANTM fan base whose deep affection for the show led me to have a change of heart," she said. "After giving it a lot of thought, I realized that remaining behind the camera wasn't enough because ANTM is woven into my DNA."
So if you were one of those fans who just couldn't stop tweeting at Banks to return, you might have had a real impact on the supermodel's decision to return as host and head judge.
Banks' return comes with some major changes for the series. The show's age limit, traditionally 27 and younger, has been removed for the first time in ANTM history. "You know I've stood for diverse beauty and erasing cookie-cutters when it comes to what is deemed beautiful. There have been 23 cycles of America's Next Top Model and every single cycle, we say, you have to be 27 years old or younger. Know what I hear all the time? 'Tyra, come on! Why have an age limit?'" Banks said in an Instagram video announcing the decision. "So you know what? I'm taking that age limit off. You want to audition for America's Next Top Model? I don't care how old you are, honey, you just need to know how to smize and be open to learning how to work the runway like a supermodel."
And Cycle 24 might contain some familiar faces. Celebrity stylist and image architect Law Roach, Paper Magazine Chief Creative Officer Drew Elliot, and supermodel and body activist Ashley Graham will continue in their roles on the judges panel from last season, but true fans of the show will be excited to learn that "noted fashion photographer" Nigel Barker will make a guest appearance on the show, as well as Cycle 3 winner Eva Marcille. Fierce!
But the excitement doesn't stop there. In one photoshoot, the aspiring models will be paired with fan-favorites Katya, Valentina, and Manila Luzon from RuPaul's Drag Race. Banks told Entertainment Weekly that some of the models had a hard time keeping up with these incredible drag queens. "They're so friggin' gorgeous and can pose their asses off. That's a difficult model to be in a shot with.… Not all of my models prevailed," Banks shared. "Valentina killed it. I'm sitting there editing film and I'm like, can I get a shot of my girls looking at least half as good as Valentina?" Yikes ladies, sounds like you better step it up.
It seems like fans would be happy even if there were no other special surprises this Cycle, as long as they got their Ty Ty back:
One thing's for sure: 2018 just got a whole lot fiercer, cause Tyra Banks is back home on America's Next Top Model and ready to booty tooch her way back onto our screens and back into our hearts.