Passenger Dragged Off Overbooked United Flight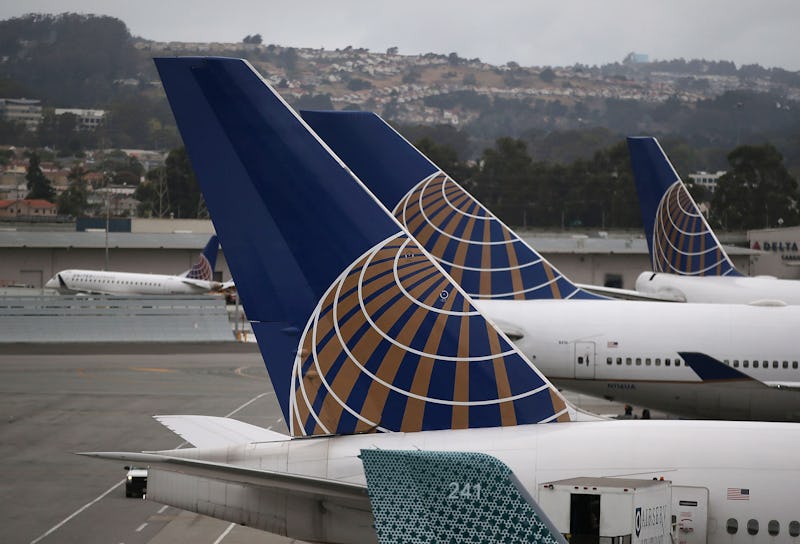 Justin Sullivan/Getty Images News/Getty Images
Videos posted on social media Sunday show an unnamed United passenger being dragged off an overbooked flight. The recordings are highly disturbing, depicting the passenger being forcibly removed from his seat by airport police officers and appearing to be injured in the process. Unsurprisingly, the videos have caused a storm of criticism on Twitter, with many arguing that the airline's forceful response to the situation was unwarranted. Bustle has reached out to United Airlines for comment and will update upon reply. On Monday, United tweeted a statement from CEO Oscar Munoz:
This is an upsetting event to all of us here at United. I apologize for having to re-accommodate these customers. Our team is moving with a sense of urgency to work with the authorities and conduct our own detailed review of what happened. We are also reaching out to this passenger to talk directly to him and further address and resolve this situation.
Multiple passengers on a United Airlines Flight from Chicago to Louisville on Sunday night recorded videos of the incident and posted them on Facebook and Twitter. Passenger Audra Bridges recounted what happened to The Courier-Journal. She said that, before passengers boarded their flight to Louisville, United agents informed them that the flight was overbooked and offered $400 and a night in a hotel to a volunteer willing to fly back on Monday afternoon. After agents had passengers board the aircraft, they told them that four passengers would need to leave the plane, to make way for four stand-by United employees who needed to get to Louisville to work a Monday flight. Passengers were offered $800 to give up their seats.
Bridges said that when no one volunteered to leave, United employees used a computer to select four passengers to leave the plane. When the man in the videos was chosen, he refused to disembark, saying that he was a doctor and that he needed to get to Louisville to see patients on Monday morning.
Bridges told The Courier-Journal that the man became "very upset." Eventually, multiple security officers were brought onto the scene to forcibly remove the passenger; in the process, Bridges recalled, he was flung against his seat armrest and finally dragged away on his back.
"Everyone was shocked and appalled," Bridges told The Courier Journal. "There were several children on the flight as well that were very upset."
You can see the physical encounter take place in videos recorded by passengers Tyler Bridges and Jayse Anspach, below. As he is dragged down the aisle, the man appears to be bleeding from his mouth. (Warning: These videos are disturbing.)
Further video shows that the man eventually made it back onto the plane, though, as Audra Bridges described, he appeared to be "disoriented" and had blood around his mouth.
A description of the incident by Anspach appears to support Audra Bridges' account of what happened.
United Airlines released a statement to BuzzFeed regarding the incident:
Flight 3411 from Chicago to Louisville was overbooked. After our team looked for volunteers, one customer refused to leave the aircraft voluntarily and law enforcement was asked to come to the gate.
We apologize for the overbook situation. Further details on the removed customer should be directed to authorities.
Needless to say, many people who have seen the videos have taken to Twitter to express their disapproval at the way the situation was handled.
This is the second time United Airlines has found itself steeped in controversy in the last few weeks; in late March, the company sparked internet outrage when two girls were barred from a United flight for wearing leggings. At the time, United claimed that the passengers were flying as family members of employees and thus subject to a different set of dress standards than other passengers.