There's Even More To Wes' Shocking 'HTGAWM' Death Than Fans Already Knew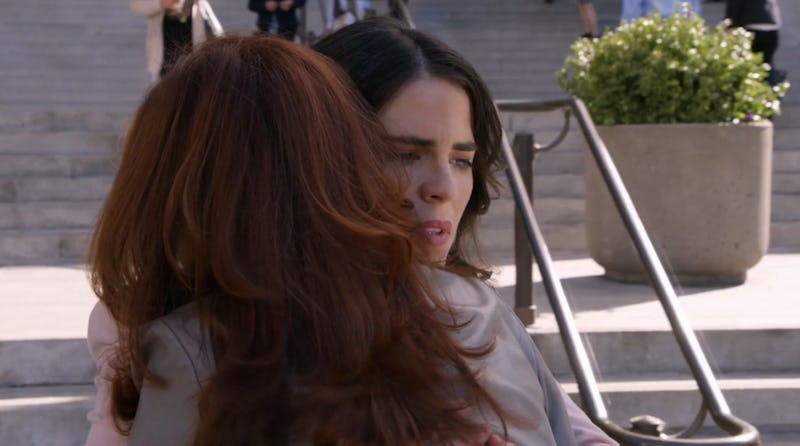 ABC
If you thought things couldn't get any more confusing on ABC's How To Get Away With Murder, think again. Even though Wes died last season in a house fire, each episode reveals a new little nugget about the events leading up to his death. In "He's A Bad Father" the Keating crew worked hard to reunite Laurel and her baby — even allowing her long lost mother to testify on her behalf. But her mother's surprise accent (because who knew Laurel's mom was French?) wasn't even the most shocking development. Turns out Wes and mommy dearest knew and had seen each other before he died. But why exactly did Wes meet with Laurel's mom on How To Get Away With Murder?
Laurel and Wes' "relationship" never included any family get togethers so Wes and her mother couldn't have met through Laurel. But Wes a.k.a. Christophe is somehow tied up with the Castillo family and that's what has viewers scratching their heads.
Hands down, Wes is worse than Patrick Swayze in Ghost. Each time viewers think that he's officially gone, Wes pops up again. Last week, thanks to a voicemail Frank and Annalise learned that Wes had called Dominic — the right hand man of Laurel's father — to say he was in trouble. Laurel's mom had also been calling Dominic. And in this episode Bonnie uncovered surveillance photos that showed Wes and Laurel's mother having coffee like two old friends. Does this mean they met through Dominic? I'm not convinced.
With so much time spent hiding bodies and disposing of evidence, no concrete background information was ever really given about Laurel's family. Well, except that her dad was powerful and wasn't the kind of guy you wanted to mess with. Therefore, not much is known about Laurel's mom besides that she suffers from mental illness.
Since the fire, Laurel has been adamant that her father is evil and that he killed Wes. When her mother first arrived, it seems as if Laurel would actually have another ally in the battle to win back her son. Annalise brutally questioned the parenting skills of Laurel's mother, in an effort to paint Laurel in the best possible light. Her mother remarked that Laurel had spent years helping her work through her mental illness by cooking, bathing and soothing her. In her eyes Laurel would be the perfect mother if awarded custody, because she'd basically already been one.
After such a compelling testimony, everyone in the courtroom expected the ruthless attorney representing Mr. Castillo to rip Laurel's mom to shreds. But in an interesting turn of events, no cross examination occurred. Though, for the rest of the hearing Mr. and Mrs. Castillo kept trading glances across the courtroom. They seemed to be the sour faces exes normally give each other, but after Bonnie's photo discovery, their "we hate each other" routine now appears to be staged. Laurel's mom and dad are clearly working together.
Wes also comes from a shaky familial situation. His mom was an immigrant from Haiti, who was sexually and emotionally abused by the rich Mahoney family. In Season 2, Wes began to look into his paternal family roots after being tipped off that the answer lied within the Mahoney's. Low and behold it did and Annalise learned that the Mahoney's eldest son Charles was Wes' father.
Corporate America can't be that large of a place. It's not far fetched to say that Wes' curiosity about his paternity and the Mahoney's dirty deeds might have in some way caused him to cross paths with the Castillos. Especially when Wes was using his birth name, Christophe, during interactions with their employees — a.k.a Dominic.
Wes was always the type to keep digging and digging until he found out what he wanted to know. If he uncovered something detrimental about Laurel's mother and father in connection to his own parents, while searching and threatened to tell Laurel or the cops, that might explain why her parents killed him.
How exactly Mrs. Castillo and Wes know each other is still completely up in the air, and hopefully will be revealed in coming episodes. But for now one thing is certain: Laurel's mom cannot be trusted.