Gaga's Performance Didn't Need A Political Stunt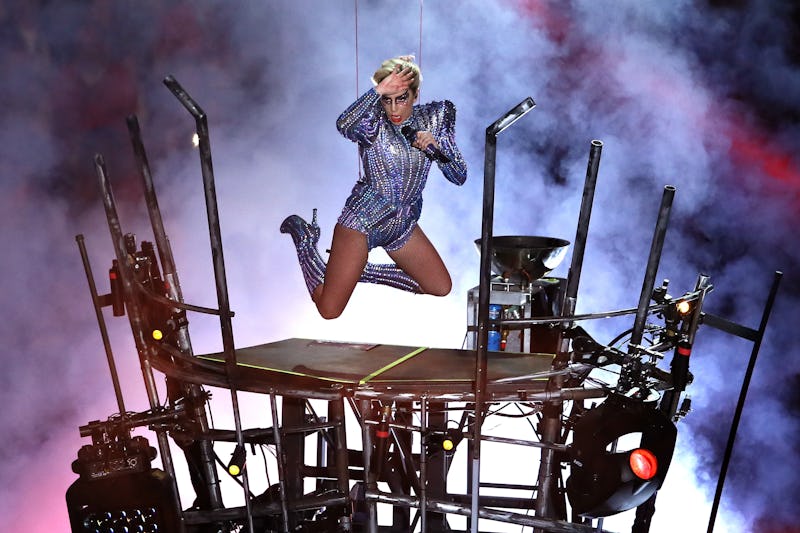 Ezra Shaw/Getty Images Sport/Getty Images
When people first learned that Lady Gaga would be performing at the Super Bowl, it was assumed by many that the singer would not just sing her famous songs, but perform some kind of political stunt during the halftime show. After all, Gaga has long been an outspoken advocate for LGBT rights, among other issues, a subject for which Donald Trump and Mike Pence have shown no support. Yet come halftime, Gaga did not do any kind of political stunt or making any pointed comment about the current administration. But it's not that she stayed silent — instead, Gaga's whole performance was a form of political commentary, even without any specific shout-outs to Trump or Pence.
During the length of her performance, Gaga sang several songs, some her own and some covers, that spoke to the current political atmosphere and made her opinions on certain issues clear. Just take the intro of her halftime performance, which included Gaga singing parts of the very political songs "This Land is Your Land" and "God Bless America." Later, she sang her hit song "Born This Way," which celebrates equality and honors the diversity of all human beings.
These songs had messages of love and acceptance for all, celebrating people's differences and advocating for equal treatment. In a political landscape where such rights are at risk, having the performer of the Super Bowl halftime show, an event seen by tens of millions of people, perform songs about love and equality is a hugely transgressive move.
So while Gaga may not have done any actual political stunt or called out President Trump or Vice President Pence, she did include politics in her performance — simply by being the one to lead the halftime show, and by singing songs that promote the values opposite to what the Trump administration seems to believe.