Mike Pence Refused To Stand For Team Korea At The Opening Ceremony & Twitter Is Calling Him Out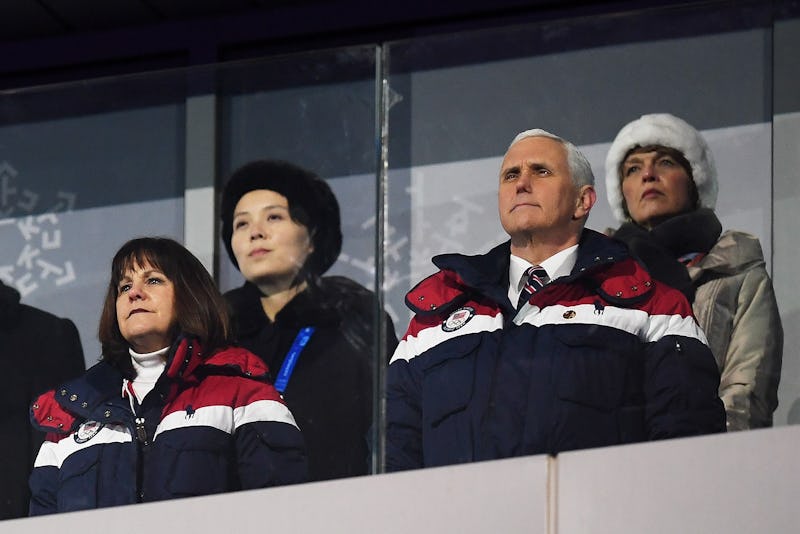 Matthias Hangst/Getty Images Sport/Getty Images
Sporting events are typically raucous affairs thanks to cheering spectators, and while the Olympics are normally no exception, Vice President Mike Pence appears to unable to get into the spirit. While most of the spectators in attendance at the Olympic stadium erupted in a standing ovation for the unified North and South Korea delegation of athletes Friday, Pence reportedly stood and applauded only for Team USA during the Olympics opening ceremony in PyeongChang, South Korea.
According to reports from CBS News, the Associated Press, and the Washington Post, neither Pence nor his wife, Karen, stood to acknowledge the unified delegation of athletes from North and South Korea as they entered the stadium under the Korean Unification Flag. In fact, an unnamed White House official told the Associated Press that Pence "stood only for the U.S. team."
According to Washington Post reporter Anna Fifield, PyeongChang's Olympic stadium broke into "huge cheers" as the unified Korean delegation entered. "From where I was sitting, it looked everyone in the VIP box stood — except VP Mike Pence and Karen Pence," Fifield tweeted Friday.
Perhaps Pence's subdued presence was meant as a political statement. If it was, it wouldn't be the first time the vice president has used a sporting event to stage a political protest. Last year, the vice president stood up and walked out of an NFL game after a number of players kneeled or locked arms during the national anthem to protest social injustice and racial inequality. At the time, Pence said he had left the game because neither he nor President Donald Trump would "dignify any event that disrespects our soldiers, our Flag, or our National Anthem."
Pence and his wife watched the Olympics opening ceremony while seated next to South Korean President Moon Jae-in and Japanese Prime Minister Shinzo Abe. Behind Pence sat Kim Yo Jong, the sister of North Korean dictator Kin Jong Un. The two did not appear to interact while in the box.
However, Pence was neither forced to share a box with Kim nor surprised by her presence behind him. A U.S. official told reporters aboard Air Force Two that the vice president "could have sat with the US delegation and avoided the box but chose not to... knowing the North Koreans would be seated behind him," Voice of America White House bureau chief Steve Herman reported on Twitter. According to the official, Pence wanted to demonstrate the strength of the United State's alliance with both South Korea and Japan. "If they [the North Koreans] had approached him, he would have responded." Herman reported the official said of Pence.
Yet despite a reported willingness to respond to Kim or other North Korean officials, Pence skipped an Olympic dinner planned for earlier in the night where he was reportedly going to have been seated at a table with Kim Yong-nam, North Korea's nominal head of state. According to the BBC, Pence left the reception venue five minutes after arriving.
Prior to the games, Pence told the Associated Press he planned to ensure North Korea didn't "hijack" the Winter Olympics. "We'll be telling the truth about North Korea at every stop," Pence told reporters while touring a missile defense facility in Japan. "We'll be ensuring that whatever cooperation that's existing between North and South Korea today on Olympic teams does not cloud the reality of a regime that must continue to be isolated by the world community."
Pence invited Fred Warmbier, the father of Otto Warmbier, a college student who suffered severe brain injuries and later died after being detained in North Korea last year, to accompany him to the Olympic Games. It was not clear if Warmbier was seated near Kim with Pence during the Opening Ceremony.