*NSYNC Didn't Reunite At The Super Bowl & Fans Can't Handle It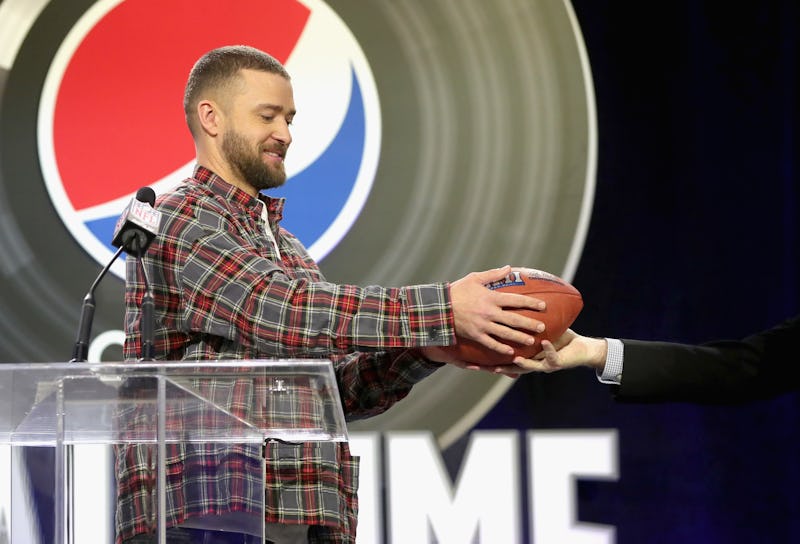 Christopher Polk/Getty Images Entertainment/Getty Images
If you're a late '90s/early '00s kid, you had really one big choice to make in your life — would you align with the Backstreet Boys, or *NSYNC? The correct answer, by the way, is *NSYNC. The band has many, many loyal followers for nearly two decades, and any success the members have is our success, too. That's why it's just delightful that Justin Timberlake's Super Bowl halftime show is here. But what fans really want to know is — why didn't *NSYNC reunite at the Super Bowl?
It was a missed opportunity — Timberlake, the leading singer of *NSYNC is one of the biggest pop stars in the world. He is doing the most massive show of his career, and he can't throw a bone to the band that got him his first break? Long-time fans will remember that *NSYNC did reunite... for about 90 seconds at the 2013 MTV Video Music Awards when Timberlake won the Video Vanguard award, so it isn't like it would be unprecedented to see JC, Lance, Joey, Chris, and Justin all together on stage. This time around, though, it just didn't work out. When Page Six asked Timberlake if *NSYNC would join him on stage, he said, "Well, no." And then he deflected, saying:
"To be honest, I had a ton of grand ideas about special guests. We talked about it a lot. There's a whole list — I think Vegas has a lot of odds on it, I heard. From *NSYNC to JAY[-Z] to Chris Stapleton to Janet, but this year I'm just excited — my band, the Tennessee Kids, I feel like they're my special guests and I'm excited this year to rock the stage. It's gonna be a lot of fun."
Fine, Timberlake. Whatever. That didn't sound like a real denial, but when cornered at a Super Bowl party, Joey Fatone brought up the fact that, if he was about to perform for two billion people, he wouldn't be at a party. He would be rehearsing like an animal at that moment. Fatone even bet a photographer a cool $1,000 that *NSYNC wouldn't be performing. JC Chasez, meanwhile, said in December that *NSYNC is never getting back together. Like ever. He told Us Weekly:
"The answer is no. I know people want to hear a different answer but we felt like we did what we set out to do. By the way, we are all still friends and we all still talk about this stuff. But the way we went about it was we had to be inspired by something. And that's the only way we would do anything... Whatever we do together we have to do it because we are inspired to do it. It's authentic. I think if [fans] are going to invest in you then you should be fair to them. If you're not giving everything that you have then you shouldn't be doing it. That's out of respect for them."
*NSYNC fans probably still need time to mourn, because they let it out on Twitter about how much they were hoping for a five-guy performance instead of just one.
Sure, fans were sad... but at least those feelings were tempered by one hell of a Super Bowl halftime performance. Timberlake buddy Jimmy Fallon opened things up, throwing to his pal for "Filthy." Timberlake serenaded the crowd with "Rock Your Body," "Señorita," "Sexyback," and "My Love." "Cry Me A River" made an appearance. So did "Suit & Tie."
Then, Timberlake worked his way into a few songs before paying homage to Minnesota's greatest, Prince, with a sing-along to "I Would Die 4 U." He completed his set with his Trolls mega-smash "Can't Stop The Feeling," and there went the 2018 Super Bowl halftime show. Timberlake did a fine job, and *NSYNC went without. But all the fans will still be hoping for a reunion — someday, somehow.