Here's Why 'Rent: Live' Didn't Have An Understudy For Roger On Sunday Night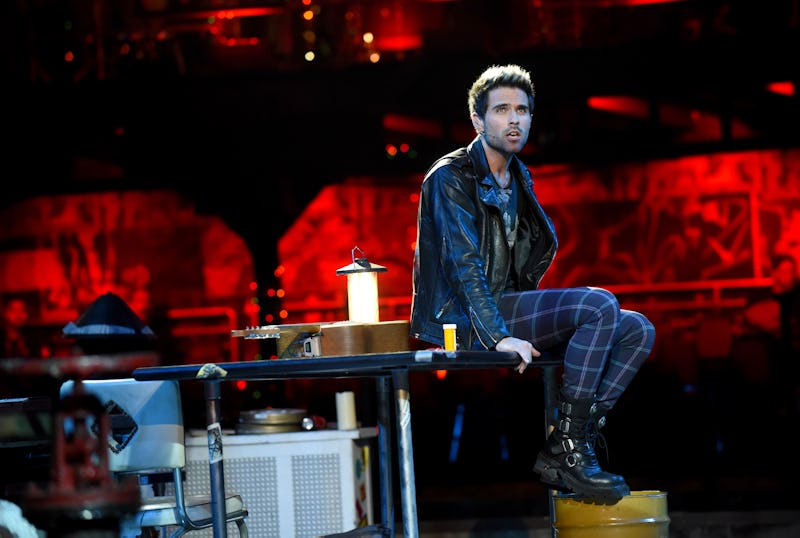 Ray Mickshaw/FOX
Every theater kid knows that the show must go on, no matter what, so it was no surprise that Fox didn't cancel or postpone Sunday night's broadcast of Rent: Live — even though Brennin Hunt, who was cast to play Roger, suffered an ankle injury during a dress rehearsal earlier in the weekend. Still, many fans on Twitter were wondering why Rent: Live didn't have an understudy for Roger and keep the show entirely live. The network cut in taped footage from the dress rehearsal for Hunt's scenes and it really wasn't all that bad, but some purists were a little upset that the show was only sort of live.
At the beginning of the show, they announced that parts of the show would be taped footage from the dress rehearsal in Los Angeles the night before, and that they would rework the final song that everyone would appear on stage together. And although Hunt's performances were top-notch, some people on Twitter (of course) were wondering why there wasn't an understudy for the actor. On Broadway, a show doesn't go on without one — but apparently for these network TV versions of musicals, it's common not to cast understudies at all.
According to Rent: Live director Alex Rudzinski, who also directed Fox's Grease Live, it's just what they do. There is no rhyme or reason behind it. He told reporters during a press day, as per The Hollywood Reporter, "We actually don't have stand-ins. What we do have is a backup recording from the night [before]. The night before we do a full dress rehearsal on camera to tape, so should the metaphorical meteor hit the studio, we can switch to that backup recording, and it's with an audience, and so there is a degree of backup there."
He added that the taped versions come in handy. "Actually, I think on Grease we lost sound for eight seconds and we switched. I think we had to switch to the backup for eight seconds, and no one noticed."
Alas, this time was a little bit different. The malfunction during Grease happened behind the scenes at the last minute. Since people knew about Hunt's injury going into the show (it was reported on late Sunday afternoon and confirmed by the actor in an Instagram post just before the broadcast), it was easier to nitpick about the casting and quick cuts to taped and live versions of ensemble musical numbers.
Given that many of the original Rent movie cast members were at the show, tons of fans on Twitter were wondering why Adam Pascal didn't just hop in for Roger and reprise "One Song Glory" himself.
Maybe going forward, network execs will think about casting understudies for these musical events. Then again, the all-star casts are part of what makes tuning into these things so much fun. Either way, people are bound to find something to complain about. And actually, the Rent: Live broadcast ended up going on without too many other hitches — and you have to hand it to those live editors over at Fox who managed to splice the old and taped footage together. They might be the real all-stars of the evening.